The two most important financial news stories of the week shared a strange common theme: older people getting hurt while playing with their grandkids. 
If only I could find a third example, I could write a trend piece warning all of America's grandparents of the grave personal risk they face when interacting with grandkids! 

But alas, only two.

The first was John Stumpf, chairman and chief executive of Wells Fargo and No. 23 on Bloomberg's latest 50 Most Influential list. He raised a bandaged right hand when he was sworn in to testify before the Senate Banking Committee about the fake-account scandal rocking his bank.  

While it looked suspiciously like an injury a CEO suffers by punching, say, a wall -- or a direct report -- media including the Charlotte Observer were quick to report the official story: He hurt it while playing with his grandkids. 

Next up was septuagenarian hedge-fund manager Leon Cooperman, whose reputation and legacy are heavily bandaged after purchasing some Atlas Pipeline Partners securities on behalf of a grandkid (and other investors) in what the Securities and Exchange Commission is portraying as a blatant case of insider-trading.

Cooperman defended himself with a letter to investors and a conference call, saying the trades were simply part of his longstanding investing strategy, which also includes getting close to the executives of companies he invests in.

Surprisingly, he opened the conference call by talking about an older man who slept with an 18-year-old woman, which made me worry the phone numbers had gotten mixed up and this was actually Anthony Weiner on the line. But it really was Cooperman with the old joke about an elderly man who confesses his exploits to a priest. But you're Jewish, the priest says, why are you telling me? Responds the old man: I'm telling everyone!   

Obviously, this is questionable taste in jokes, but at least his timing was better than Siri's. Still, the joke highlights a commonality between Cooperman's approaches to both humor and investing: techniques successful and acceptable in a bygone era are now way more risky. 

But if you ask who won the business news this week, it was obviously Senator Elizabeth Warren, whose takedown of Stumpf was the most talked-about righteous rant since Jon Stewart retired.

You have to respect her style -- simple yes-or-no questions that allow her maximum microphone share in the allotted time, the answers to which most everyone watching already knows but which still make the subject squirm. Have you resigned? Have you given back any of the millions you earned while this scam was going on? Have you fired any top executives?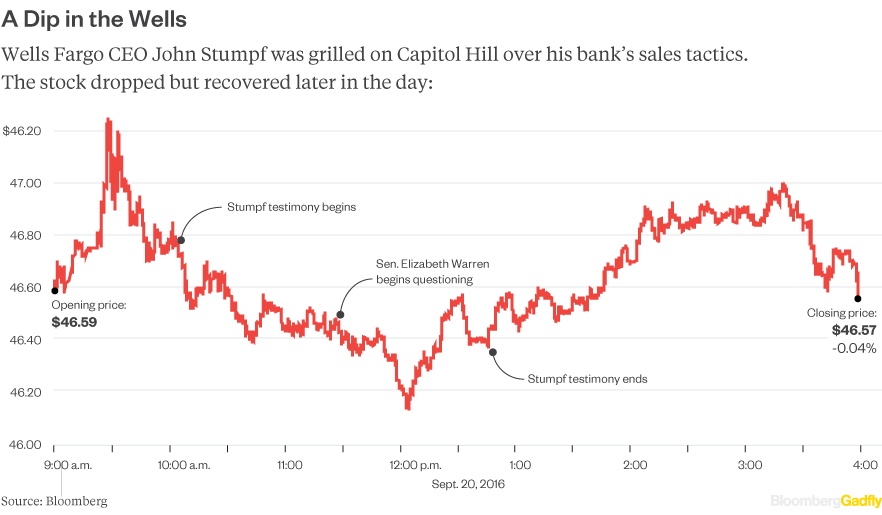 Perhaps Warren's tongue-lashing is the only punishment Stumpf will end up facing, but that's not to say he got off easy.    
If Warren ever decides to retire from politics, she should get a TV show where the protagonists of the most outrageous news stories are asked questions that we all know the answers to already, but still make them squirm like Trump on Letterman. It could be a form of penance for the guests, like what "Dancing With the Stars" is for Ryan Lochte.

So for the sake of old-fashioned deadline-meeting fun, let's go through the rest of this week's hot links and imagine how they'd be handled on this imaginary show. We could call it "Warren's Elizabethan Drama" -- a variation of which, come to think of it, is a good name for the Trade of the Week.

"Thanks for being here, guy who makes vegan mayonnaise without any eggs. You really think it's a valid business practice to send workers out to buy loads and loads of your product and brag about being the No. 1 seller of mayo at Whole Foods?"

"You're next, Transocean executives. You really think it's a brilliant idea to simply turn off those drillships in the Caribbean until oil prices recover, even though this risky move hasn't been done before?" 

"Hey Marissa Meyer, so data on half a billion Yahoo! accounts was hacked two years ago and you didn't confirm it until the Verizon deal was nearing the finish line?"

"Mark Zuckerberg, just because everybody on Facebook exaggerates how happy their home lives are, how much wine they drink, how adorable each other's kids are, and how many marathons they plan to run, do you really think it's OK to exaggerate about how much time people spend watching videos on your site?"

"And finally, thanks for coming on the show, Brad Pitt. Which piece of gossip really did cause Angelina to dump you: that you're a child abuser, a pothead, a cheater, or all of the above? Oh, I see you've hired Charlie Sheen's lawyer . I guess that answers the question."
 
Anyway, that's all the hot links for now. Enjoy the weekend, but stay away from those grandkids because I just remembered a third example from the not-too-distant past: Hillary Clinton got seriously hurt playing with her nietos.
This column does not necessarily reflect the opinion of Bloomberg LP and its owners.
To contact the author of this story:
Michael P. Regan in New York at mregan12@bloomberg.net
To contact the editor responsible for this story:
Beth Williams at bewilliams@bloomberg.net