As most newlyweds know, tying the knot brings an onslaught of marriage advice. Walmart, which officially closed its $3.3 billion deal this week to buy online retailing upstart Jet.com, should brace itself.
You can't fault folks: The Jet.com purchase re-awakened hopes Walmart could offer real competition to Amazon. Consumers, brands and rivals have reason to fear an Amazon monopoly if it's left unchecked by a strong opponent.
In that vein, here are four things Walmart can do now to make the most of its new marriage:
1. Focus on customer needs, not its own.
Walmart was slow to the e-commerce boom in part because it focused on turning a profit, while Amazon siphoned off sales and gained market share by ignoring the bottom line. Now Walmart is forecasting it won't post earnings growth until 2019 because of all the money it's spending on e-commerce, expansion and store upgrades. 
But Jet's entire business model -- predicated on driving down costs -- suggests Walmart might continue to pursue profits over pleasing customers. 
Walmart recently praised Jet's pricing engine, which gives customers incentives to help Jet cut costs. For example, shoppers who put a $999 Vizio 4K Ultra HD television in their Jet.com cart can reduce the price to $898 by adding it to a bundle of other products. Opt out of returns? Pay $878. Use a debit card? Pay $869.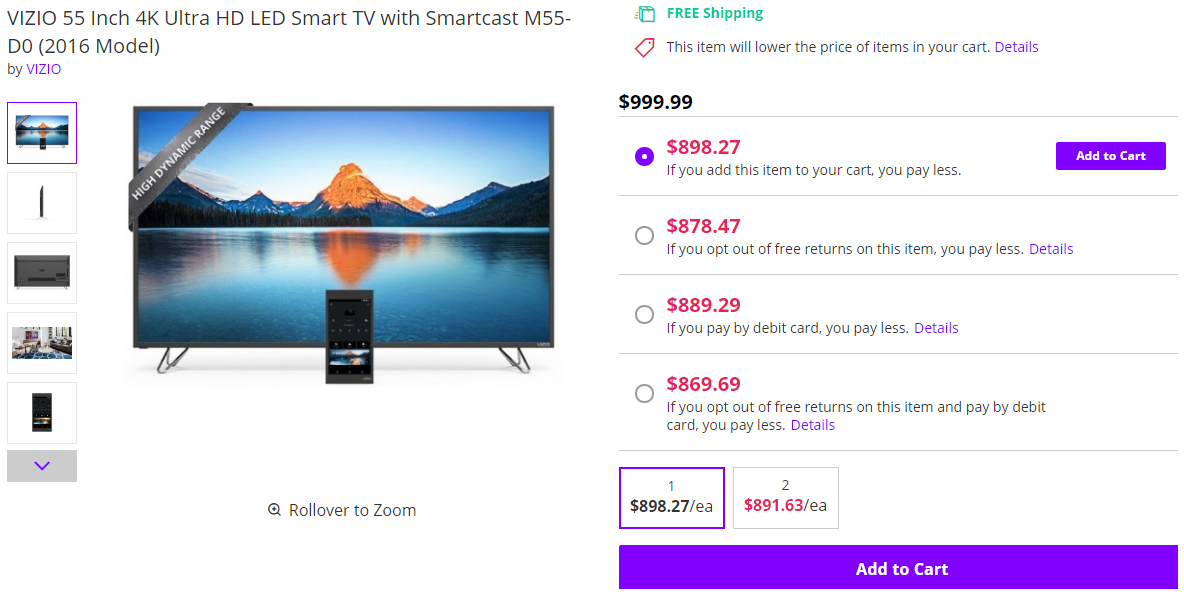 Jet says this scheme gives consumers choices. That might appeal to a subset of shoppers, much like daily deals, auctions, and other gimmicky retail models. But jumping through hoops to cut a retailer's costs shouldn't be a shopper's job. That extra work might have stunted Jet.com's new customer growth -- which, after rising fast from its launch in July 2015 to October 2015, flat-lined from last November through July 2016, according to spending analytics firm TXN . New customer acquisition popped in August 2016 on news of the Walmart-Jet deal. 
2. Build out a viable third-party marketplace and pounce on existing seller frustration with Amazon.
Bulking up its marketplace with smaller merchants helped Amazon rapidly make more items available to shoppers, increasing sales made through Amazon.com. But its contentious relationship with third-party merchants is well-documented: Amazon has a reputation for replicating popular vendor products and undercutting them on price. A ProPublica article this week documented how sellers who opt out of Amazon's fulfillment program lose out on sales.
Walmart can use the rocky relationship to its advantage. It can start luring sellers away from Amazon by reducing the 15 percent or so it typically charges marketplace vendors, which tends to be on par with Amazon's fees .
Walmart also needs to continue making its site easier for sellers to use. Until recently it was impossible to list an item on Walmart.com -- say, a t-shirt -- with dropdown menus offering different sizes and colors. Instead, if a t-shirt had 11 colors and 4 sizes, sellers would have to create 44 different listings, a time-consuming and inefficient process, one seller explained. Walmart has since fixed this but it has more to do. Jet, which built its site to sell others' brands, should be able to help Walmart here. 
3. Focus on categories Amazon has neglected. 
Take home goods and decor: Amazon has overwhelmingly relied on third-party sellers to stock its site with home goods, rather than primarily building out the category on its own. Customers tend not to shop for home goods and decor by brand name, happy to buy private-label offerings from the likes of Wayfair and Home Depot, which have used Amazon's absence lack of activity in the space to grow their online businesses .  
Likewise, Jet focused on getting customers hooked on habit-forming categories such as consumables and grocery. Amazon has vowed to expand its grocery offerings through Amazon Fresh, but has taken a slower approach to food compared with other categories, providing an opening to competitors. 
4. Give Jet CEO and the new head of Walmart's web business, Marc Lore, the room -- and funds -- to upgrade Walmart's supply chain.
Decades ago, Walmart became America's largest retailer in part by pioneering a sophisticated distribution and transportation network that reduced middlemen and costs. But its Bentonville, Arkansas, supply-chain team hasn't been able to adapt those systems to the digital age, creating friction for online shoppers who struggle to get web orders from Walmart as quickly and easily as they do from Amazon.
Amazon has shown shoppers care more about logistics -- and shopping ease -- even more than the once-holy grail of getting the right price or product. Best for the Bentonville logisticians to get out of the way and let someone else have a go.
With its purchase of Jet.com, Walmart has bought itself some short-term street cred to mount an aggressive attack on Amazon. But a lasting marriage is going to take patience and effort.
This column does not necessarily reflect the opinion of Bloomberg LP and its owners.
Commission structure can be variable, not one set percentage for every item. 15% represents a midpoint. 
To contact the author of this story:
Shelly Banjo in New York at sbanjo@bloomberg.net
To contact the editor responsible for this story:
Mark Gongloff at mgongloff1@bloomberg.net