Rocket Internet in Two Easy Charts
Having a co-investor like Kinnevik helps.
By and
With Rocket Internet reporting first-half financial results on Thursday, all eyes remain on the valuation of the web investment group's start-ups  -- especially after two of the biggest holdings suffered steep downgrades in recent funding rounds. Global Fashion Group fell 67 percent to 1 billion euros ($1.1 billion) in April and Home24 plunged 57 percent to 420 millions euros.
As the chart below shows, shareholders trying to get a handle on things have been helped by disclosure from Sweden's Kinnevik, a co-investor in several Rocket holdings. Kinnevik was ahead of the game in marking down Global Fashion Group and Home24. It also started marking up Lazada ahead of Alibaba buying a controlling stake in the Asian web retailer.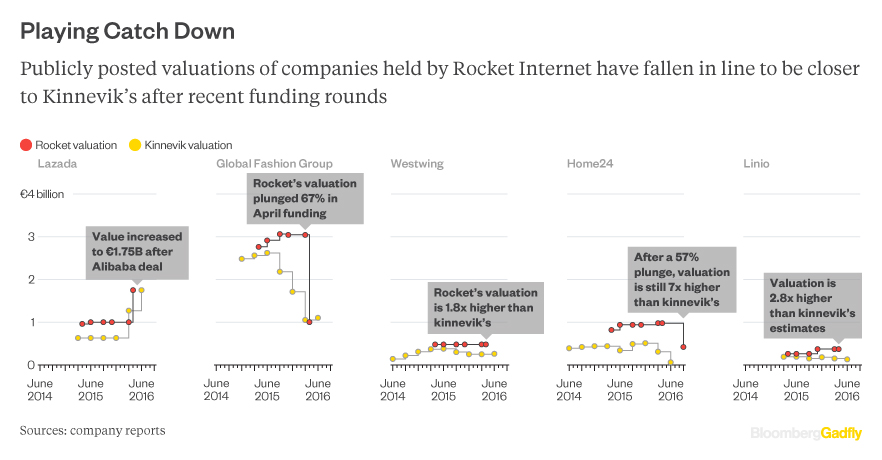 Unfortunately, Kinnevik isn't involved in several other trophy Rocket assets, notably Delivery Hero and HelloFresh, both priming for IPOs. As the chart below shows, the value of those holdings has increased, according to Rocket, but there's little disclosure from outside funds to act as a comparison. 1 Delivery Hero's 2.9 billion euro value isn't outlandish when compared to listed online take-out peer Just Eat and soon-to-be-listed Takeaway.com, though Rocket only provides sales and order figures. The 2.6 billion euros for HelloFresh -- which delivers meal-kits -- is a different matter: it's an unproven business model and there isn't enough disclosure to really get a handle on that lofty value. Rocket will be updating its asset values on Thursday.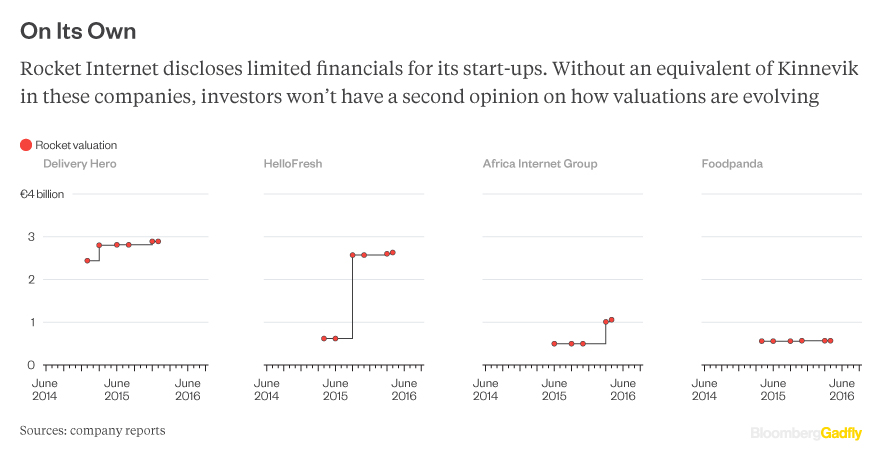 In Silicon Valley, mutual funds such as Fidelity have made it easier to judge how companies such as Airbnb and Uber are faring. As Rocket and Kinnevik show, that's a useful thing to have.
To contact the authors of this story:
Elaine He in London at ehe36@bloomberg.net
Leila Abboud in Paris at labboud@bloomberg.net
To contact the editor responsible for this story:
James Boxell at jboxell@bloomberg.net
Before it's here, it's on the Bloomberg Terminal.
LEARN MORE