Chipotle on Wednesday unveiled a new advertising campaign directly assuring restaurant-goers it's safe to eat at the burrito chain, which is still struggling to rebound from last year's food-safety crisis.
It marks a much-needed change in messaging to win back lapsed consumers -- better late than never. 
Gadfly has repeatedly chastised Chipotle's management for failing to use its advertising dollars to specifically address the reason people stopped eating its giant burritos in the first place -- they were afraid they might get sick.
Chipotle CEO Steve Ells reluctantly apologized on the Today show back in December, but then it was back to the same old advertising spots about how nicely the company treated its farmers. It promoted a short animated film extolling how much healthier Chipotle's ingredients are than those of its fast-food competitors. And it gave away millions of dollars' worth of free burritos.
But none of that was enough to lure customers back to the chain, which recently admitted in a filing it wasn't even sure burrito giveaways actually increased sales. It also didn't help repair the trust Chipotle had built with loyalists.
Consumers' once-solid view of the Chipotle brand cratered in the wake of the food-safety crisis and has only partially recovered:
Finally, after nearly a year of skirting the safety issues in its marketing, Chipotle is changing course. 
"We failed to live up to our own food safety standards, we let our customers down," Ells said in a video and full-page ads in The Wall Street Journal and other publications.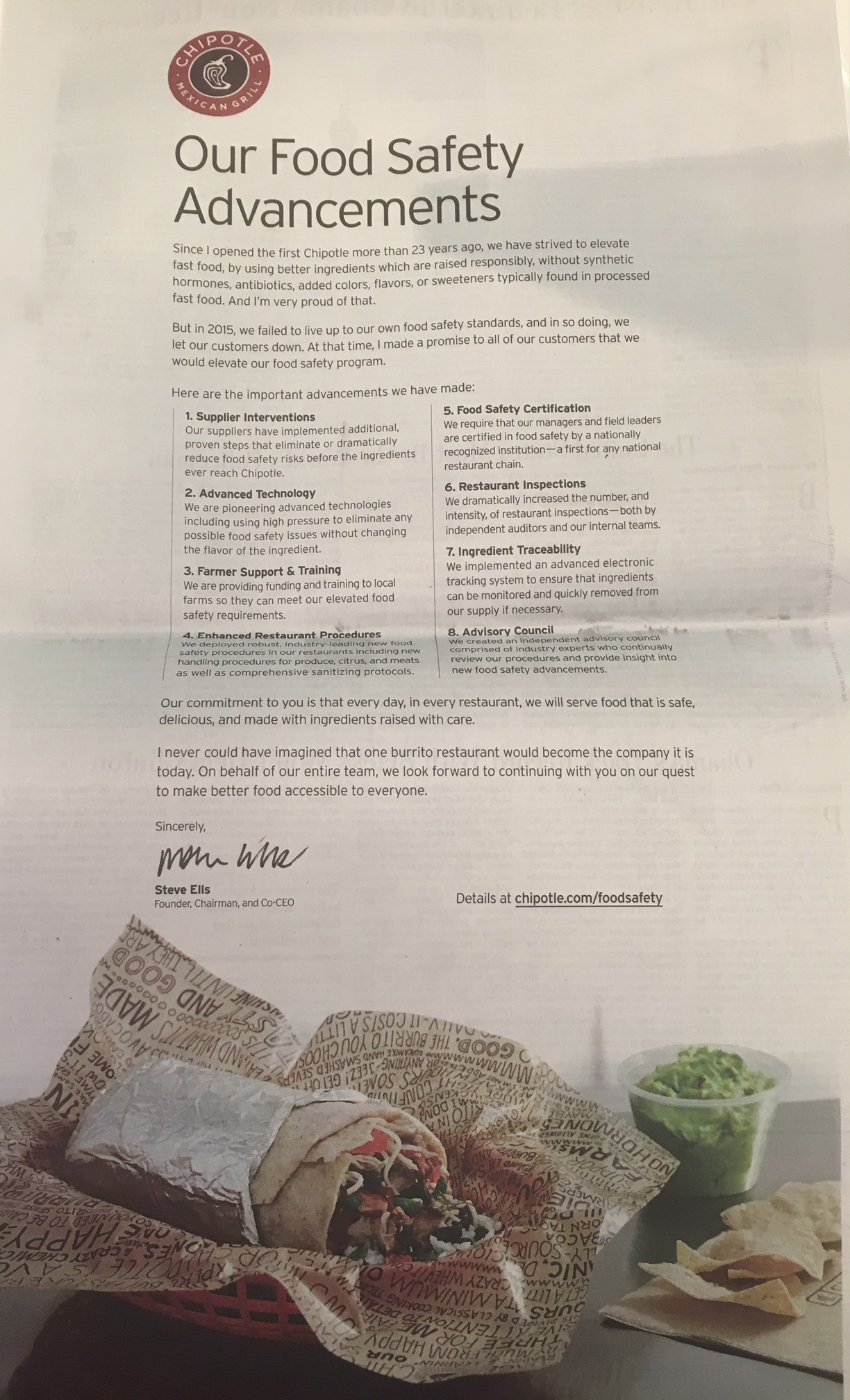 Ells reiterated a promise to bolster Chipotle's food-safety protocols and detailed a number of changes made across the chain and -- this is key -- explicitly reassured customers it's safe to eat Chipotle's food.
This messaging push certainly won't solve all of Chipotle's problems.
For one, while Chipotle has been struggling to recover from its crisis, competitors such as Panera Bread have pulled ahead in the healthy-food race.  Its former growth engine -- building new stores -- has run out of gas. Labor and food-safety costs are rising. Investors are angry with management and entrenched board members. 
Meanwhile, discounts and price wars abound, as U.S. spending at restaurants has slumped after overtaking grocery stores for the first time ever last year. That's going to make it even harder for Chipotle to increase sales. 
And Chipotle can expect harsher scrutiny now that it has activist investor Bill Ackman picking at its food. 
But the change in tone should go a long way in getting customers to come back. About 60 percent of customers surveyed by William Blair earlier this year said knowing it was safe to eat at Chipotle would be the top incentive to get them to eat there more. 
Americans will come back to food they love -- just look at the redemption stories at Taco Bell or Jack in the Box. They just need a little reassurance that it's OK to forgive. Chipotle has taken the first step in bringing them closure. 
This column does not necessarily reflect the opinion of Bloomberg LP and its owners.
To contact the author of this story:
Shelly Banjo in New York at sbanjo@bloomberg.net
To contact the editor responsible for this story:
Mark Gongloff at mgongloff1@bloomberg.net