Wealthy Indonesians are panicking, and the government is indignant on their behalf. Both should relax a little.
Many rich Indonesians have offshore financial assets, and quite a few were purchased with income on which domestic taxes have never been paid.
As much as $8.9 billion of this wealth, held in Singapore, has been declared under a nine-month amnesty program that Jakarta began offering in July. But Reuters reported last week that private banks in Singapore were sharing with the island's police the names of clients taking advantage of the pardon. That's caused a minor kerfuffle, with the Indonesian finance minister calling Singapore authorities and getting an assurance they weren't trying to torpedo her country's tax forgiveness campaign.
A quick Google search would disabuse offenders of the notion that Singapore is targeting them because it doesn't want their money to leave. A July 2015 publication by Singapore's Suspicious Transaction Reporting Office makes it quite clear that banks are supposed to inform the STRO when their clients accept another country's amnesty. It forms part of the financial center's commitment to the Financial Action Task Force, an inter-governmental organization that in 2012 included serious tax offenses on its list of predicate violations for money laundering.
In case anybody had doubts about how private banks in Singapore are to treat such instances, the STRO even has a helpful case study: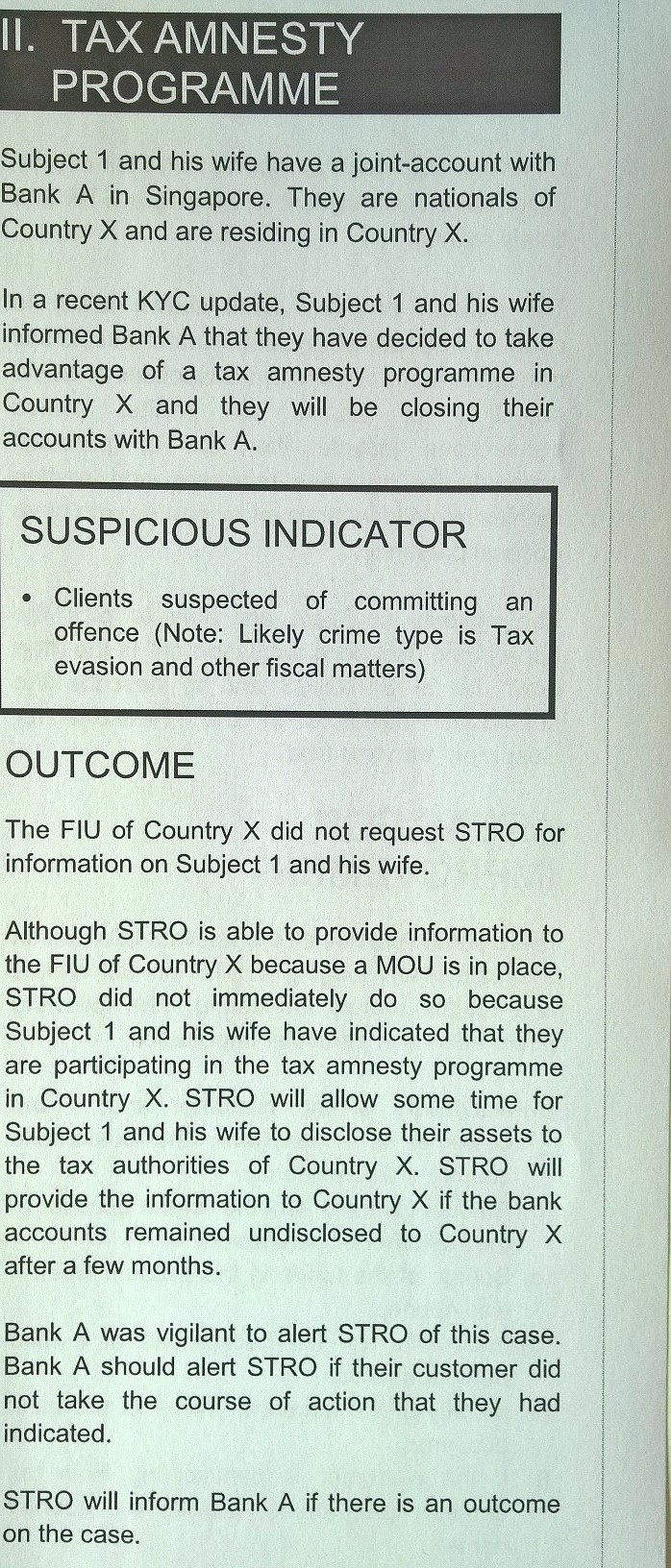 Offenders should be grateful. They're still getting to keep most of their newly tax-paid wealth in the city-state, with only about 12 percent actually being repatriated.
That's partly because there's no incentive to send the money home. Until the end of this month, the tax rate on hidden overseas riches disclosed -- but not repatriated -- will remain a ridiculously low 4 percent. After that, the charge will gradually rise to 10 percent. The first trimester might determine the success of the the pardon.
The prognosis, though, is bleak. As Gadfly noted last month, surging Indonesian asset prices turned the amnesty into a cart overloaded with hope. But with the program generating just 18 percent of targeted revenue thus far, disappointment is creeping in. Unless the offshore wealth actually returns, much of the hoped-for boost to liquidity in Indonesia's banking system won't materialize.
Whether it succeeds or fails, Singapore can't possibly sweeten Indonesia's amnesty by blessing it with anonymity. That would only mar the credibility of the strong message Singaporean authorities have tried to send in the scandal involving 1MDB. Pursuing allegations that billions of dollars have been siphoned out of the Malaysian state fund, the central bank in May ordered Swiss private bank BSI to shut its operations in the city and said in July it was investigating Falcon Private Bank for serious breaches of anti-money-laundering regulations.
Since the Indonesian tax dodgers haven't broken any of Singapore's domestic laws, and Jakarta is anyway pardoning them, the only reason they should still squirm about getting reported to the city's police is that many of them may have been less than truthful to the Monetary Authority of Singapore when they previously declared (via their private banks) their funds in the city-state were all above board.
It isn't a good idea to lie to a regulator of a financial center one has no intention of leaving. That's something to keep in mind.
This column does not necessarily reflect the opinion of Bloomberg LP and its owners.
To contact the author of this story:
Andy Mukherjee in Singapore at amukherjee@bloomberg.net
To contact the editor responsible for this story:
Katrina Nicholas at knicholas2@bloomberg.net