Frank Sinatra famously inspired all manner of New Yorkers by singing: "If I can make it there, I'll make it anywhere."
For those looking to make it in a financial services career, however, it may be time to focus on the "anywhere" part of the dream. As in: anywhere but New York. Or even Chicago, for that matter. 

It will come as no surprise to anyone who works at a big bank that jobs are swiftly being packed up and shipped off of Wall Street, or anywhere within a yellow cab ride of Wall Street, to either overseas cities or low-rent cubicle farms in downtown Nowheresville "centers of excellence" in the U.S. 

But some new analysis from real-estate firm CBRE lays the trend starkly on the table. As financial sector jobs recovered from the recession, New York and Chicago ranked at the bottom when it comes to growth as firms clearly favored low salaries and low rent over high-rise views.
Instead of Ol' Blue Eyes, may we politely suggest a little Garth Brooks or Carrie Underwood as mood music for any of y'all studying for the CFA or CPA exam? 
While this type of migration and the real estate transactions that go along with it may be good news for real estate firms like CBRE, it's obviously not the best of news for enthusiasts of the financial arts who also enjoy a good bagel and lox or pastrami on rye.  

The reason for the trend is obvious, and in fact it has even inspired a doomed-but-lovable political movement: the rent is too damn high in New York. Also, the salaries are too damn high. That too is obvious, but visualizing how damn high both are compared with other cities highlights how wide the gap is and hints at how much more room the trend has to go: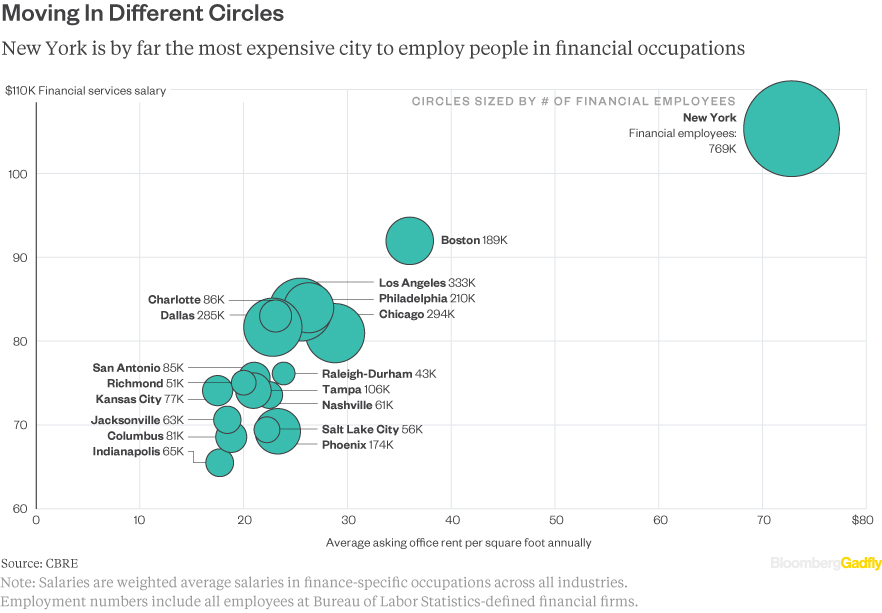 As another new report out from McKinsey & Co. puts it, job cuts alone won't be enough to save big banks -- and this is sort of shocking because McKinsey has traditionally been a big fan of job cuts. 

The flat line in revenue at some of New York's most long-standing firms signals that bargain-hunting for talent and office space is unlikely to go away anytime soon:
So we may just be in the first verses of Wall Street's book of Exodus from New York. The trends "will continue to drive structural shifts in the financial services industry, impacting commercial real estate performance and trends across the country," CBRE's analysts wrote. "Markets offering lower labor and real estate costs will benefit from the drive to reduce costs among financial firms."
Those little town blues are melting away, indeed. Here's hoping your vagabond shoes are longing to stray. 

One alarming take-away from the CBRE study is that risk and compliance talent is in short supply in many of the markets where financial job growth is robust. But, hey, who needs those party poopers anyway, am I right?
On the bright side, although all the news makes it feel as if financial jobs are going extinct as automation wipes out cubicle and trading desk jobs one by one, the career path is (surprisingly) forecast to grow faster than the rest of the job market in coming years: 
But maybe it's time to think about season tickets for the Grand Ole Opry instead of the Metropolitan Opera. 
This column does not necessarily reflect the opinion of Bloomberg LP and its owners.
To contact the authors of this story:
Michael P. Regan in New York at mregan12@bloomberg.net
Rani Molla in New York at rmolla2@bloomberg.net
To contact the editor responsible for this story:
Daniel Niemi at dniemi1@bloomberg.net