We wrote a few months ago about how many of the prominent digital news and entertainment newcomers including BuzzFeed and Vice Media are backed or owned by some of the old media dinosaurs they're trying to usurp. Since then, old media has continued to dip into the new media pool. 
Just in recent days, Comcast's startup-investment arm agreed to invest in Cheddar, a business-news outlet aimed at millennials, and Comcast's NBC News backed a coming new media outlet led by Jim VandeHei, a founder of Politico. Formerly independent digital media outlet Gawker was purchased out of bankruptcy court last month by Univision, the Spanish-language broadcaster that had previously invested in digital news newcomer Fusion. And Time Warner's Turner was among the old media investors in Refinery29, an online publication targeting young women.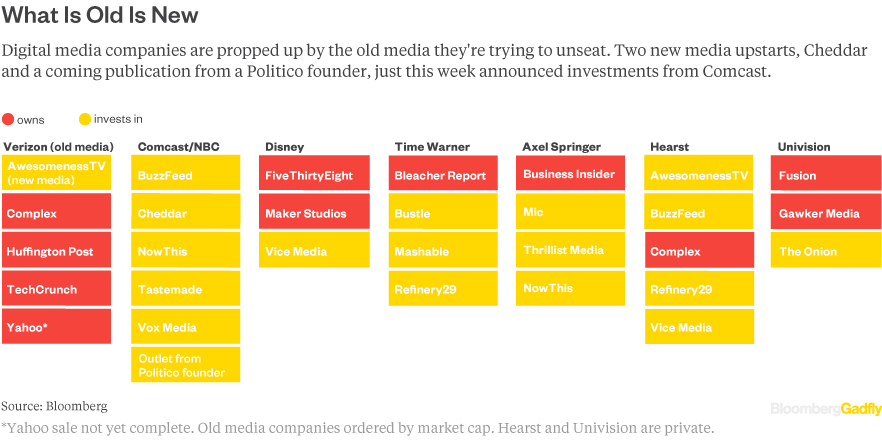 The mixed media marriages are dotted with cases of new media biting the hand that feeds it. In a prominent speech in Scotland last month, Vice founder Shane Smith described media as a "private club, so closed that most young people feel disenfranchised. You have to hand it over to the kids." (Smith is 46, by the way.)  
While he's bashing the ignorance of old-media dinosaurs, Smith is also relying on their money and power. Vice is spreading abroad and expanding its television channel thanks in part to a $400 million investment from old media titan Disney, backing from 21st Century Fox, and TV distribution help from A&E Networks, owned by Disney and Hearst. 
As news and entertainment go through tectonic shifts, the traditional and digital media camps are holding hands and jumping into the unknown together -- with some moments of awkwardness. 
This column does not necessarily reflect the opinion of Bloomberg LP and its owners.
To contact the authors of this story:
Rani Molla in New York at rmolla2@bloomberg.net
Shira Ovide in New York at sovide@bloomberg.net
To contact the editor responsible for this story:
Daniel Niemi at dniemi1@bloomberg.net