An increase in industrial action is usually bad news, but copper producers worldwide should be cheering the souring relationship between Chilean mine workers and pit bosses.
Employees at Los Bronces, the world's 10th-biggest deposit, rebuffed a final pay offer this week from owners Anglo American, while one of the key unions at Codelco's Salvador mine voted against a pay proposal from the government-controlled company. Chuquicamata, another Codelco mine that for long was the world's largest open pit, was also halted this week after an accident.
That should be good news for the red metal, because for much of the past year miners have been victims of their own success. Market disruptions from bad weather, strikes, or engineering and geological problems have been running at their lowest level in at least a decade, according to Deutsche Bank: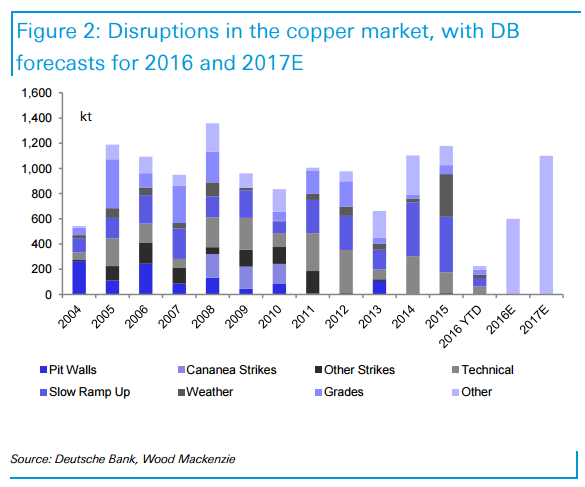 Disruptions will be about 600,000 metric tons this year, the analysts led by Grant Sporre wrote in June, compared with about 1 million tons in more typical years.
That scale of change is significant: The total deficit in the global copper market has averaged about 358,000 tons over the past four years and is heading to balance this year and next, according to the International Copper Study Group.
A slackening in the supply-demand balance is one of the main reasons copper was the worst performer of the LME's major metals this year, so a bigger deficit from any supply disruptions ought to be overdue good news for prices.
There are reasons to think that more problems may lie ahead. Wages and salaries at Codelco pulled ahead of Ebitda last year, and the company has plunged into losses that have left it "extraordinarily fragile," according to Chief Executive Officer Nelson Pizarro. That's a ripe situation for labor disputes, especially as consumer price inflation is running at a relatively robust 4 percent despite a slowing economy.
Contract talks may be pending in the second half of the year at Chuquicamata as well as at BHP-controlled Escondida -- the world's biggest copper mine -- and the Candelaria pit run by Lundin Mining, according to Deutsche Bank.
These black swans can cut both ways. There's also a likelihood of a La Nina event developing in Chile's offshore waters, which may make it easier for miners to extract ore and export it. La Nina tends to increase the extremely scant rainfall in the Atacama region where Chile's biggest copper mines are located, providing extra water for processing plants. It also can lower wind speeds and calm the oceans, making exports smoother. That would tend to increase supply and weigh on prices.
Predicting the weather is a challenging science, and it's a decent metaphor for the difficult place copper miners find themselves in right now. Hoping for unplanned disruptions to juice the price of your product is like crossing your fingers that a drought will break -- closer to a prayer than a strategy.
This column does not necessarily reflect the opinion of Bloomberg LP and its owners.
To contact the author of this story:
David Fickling in Sydney at dfickling@bloomberg.net
To contact the editor responsible for this story:
Paul Sillitoe at psillitoe@bloomberg.net