Buyout Firms: Back From the Beach Already
This week has seen a surge in firms selling their shares in European companies.
By and
Private equity firms have cut short their summer vacations.
This week has seen a splurge in stock sales by leveraged-buyout firms trying to cut stakes in European companies they have previously taken public, but not fully exited.
It's been the busiest week for such offerings since the Brexit vote, and the second-busiest all year, as this chart shows.
While there is always some pickup in activity in September once deal-makers have got back from the beach, it usually doesn't happen until the first full week following the U.K.'s summer public holiday -- not the traditionally sleepy four days immediately afterwards.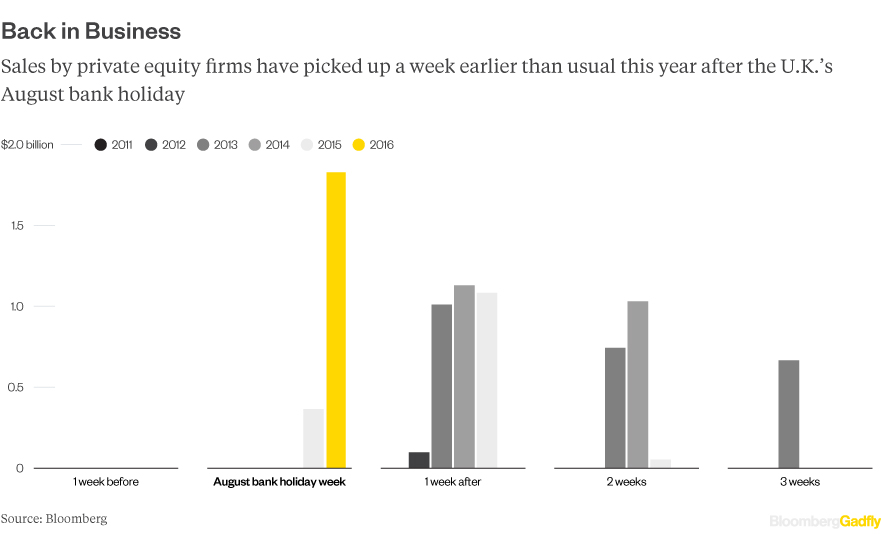 There were seven offerings this week, raising $1.83 billion. That's more than the five deals that raised a paltry $587 million in the period between the June 23 referendum and the Aug. 29 holiday. Only the last week of April was busier.
As Gadfly pointed out in June, uncertainty before the Brexit vote had put a dampener on sales by private equity firms. That left the threat of stampede for the exits after the vote. That rush was, of course, delayed by the surprise vote in favor of leaving the European Union.
But as stock markets have rebounded and volatility has abated, the logjam has now broken. If markets hold firm, expect a busy September.
To contact the authors of this story:
Chris Hughes in London at chughes89@bloomberg.net
Elaine He in London at ehe36@bloomberg.net
To contact the editor responsible for this story:
Edward Evans at eevans3@bloomberg.net
Before it's here, it's on the Bloomberg Terminal.
LEARN MORE