Hacking Into Your Heart
Eras end as we rage against the dying of the summer light.
By
It's hard not to feel a twinge of melancholy at the end of summer, so grab some tissues because this week's recap of the most important financial news is a bit heavy on sadness. 

First up, the Big Apple Circus will fold its tent after dazzling fans every year since 1981. This news is a tearjerker for anyone who has seen this circus, or dreamed of running off to Lincoln Center to join it. And it especially stings for cheapskates like me who scored freebie tickets for the whole family from work. 1  

This circus stood out for many reasons. For its focus on feats by human acrobats, trapeze artists, clowns and contortionists rather than sad-looking elephants and lions. For its funky house band. But mostly for the fact that it's a nonprofit circus that gave away tens of thousands of tickets a year to kids who couldn't otherwise afford it. For enthusiasts of the financial arts, it's doubly sad because the reason for its demise is that donations from the clowns on Wall Street never quite recovered after the financial crisis.  

Sadly, it wasn't the only beloved New York-based circus that went dark this week: Gawker.com also delivered its last post after Hulk Hogan sued the snarky blog of record into oblivion. I'm not sure I'm willing to make an argument that our Founding Fathers would have approved of the First Amendment being used as a defense for posting videos of Hulk Hogan's trysts, but I am sure that I will miss Gawker for its more serious journalism, like its in-depth investigation into Donald Trump's hair.  

Elsewhere in sadness, it's quite sad how much people love to hate on McMansions (especially those of us who can only afford McColonials). They've really become the cargo shorts of real estate. Patrick Clark rubbed salt in the wounds by pointing out what a lousy investment McMansions have been. For example, the premium buyers can expect to pay for a McMansion in Fort Lauderdale, Florida, declined 84 percent from 2012 to 2016. And that's just Fort Lauderdale. Can you imagine what's happened to the prices of McMansions in St. Petersburg that Florida Man Hulk Hogan's been romping around in? 

Sorry, but it's only going to get more sad from here: DoubleLine Capital portfolio manager Bonnie Baha died tragically in a car crash at the age of 56. If we were to hand out a Gadfly Trade of the Century award, Baha would be in strong contention for having the foresight to order TCW Group to sell Lehman Brothers debt in the first week of September 2008, when the paper was trading at more than 90 cents on the dollar. (A few days later it would be worth less than a dime.) She'd probably be in the running for the silver medal, too, for ordering the desk at DoubleLine to stop dealing with MF Global right before Jon Corzine's firm went belly up. 

So when it comes to determining the winner of the Trade of the Week, it's clear it needs to be an especially sad tale to stand out in this especially sad week. There was plenty of competition. There was more evidence of how much smarter the hedge-fund robots are than the rest of us. There was everyone's favorite amphibious punching bag Ryan Lochte, who traded a bright, bro-tastic future spent swimming in millions of dollars from endorsement deals for an uncertain future where he'll have to go Dancing With the Stars to make a buck. The elusive hunt for yield has become so desperate that people are looting Nazi graves.  And then there's the poor British bloke who woke up after a bender in Ibiza to discover he'd shelled out almost $40,000 to buy a bus. 

But there is one sad story involving a sad trade that stands out above all the rest this week: short-seller Carson Block's campaign against St. Jude Medical. He's teamed up with hackers who say they have discovered security vulnerabilities in the company's pacemakers and defibrillators, raising all sorts of ethical questions about this odd coupling.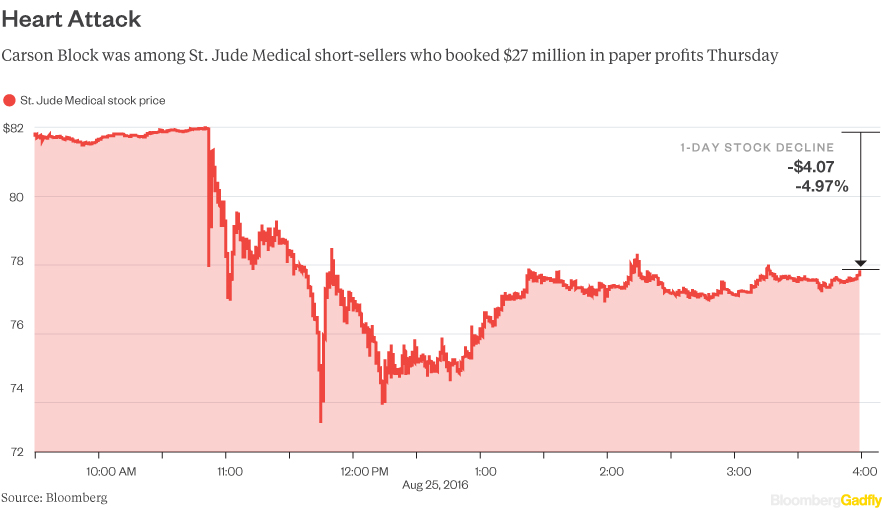 "The nightmare scenario is somebody is able to launch a mass attack and cause these devices that are implanted to malfunction," Block told Bloomberg TV's Erik Schatzker, in explaining his mass attack that caused St. Jude's stock to malfunction.
St. Jude called the report issued by Block's firm, Muddy Waters, "false and misleading." Still, the campaign spooked investors so much that some $1.7 billion in market cap has been vaporized so far.
However, let's not go into the weekend on a sad note. There was one story that served as a reminder that there's still a bit of summer left to squeeze some fun out of. It's about people getting their kicks out on Route 66 in Albuquerque by participating in an unlicensed music video shoot. As the Associated Press succinctly summed up:
A hip-hop video shoot shut down parts of Route 66 in New Mexico last weekend because lowriders were driving around in circles as a crowd of hundreds twerked in the street.
That's not the best line in the story. This is: "No arrests were made and no citations were issued during the peaceful event."

Now all aboard my new party bus!
To contact the author of this story:
Michael P. Regan in New York at mregan12@bloomberg.net
To contact the editor responsible for this story:
Daniel Niemi at dniemi1@bloomberg.net
Before it's here, it's on the Bloomberg Terminal.
LEARN MORE