Launching Rockets Is One Way to Lift a Share Price
Despite jitters after SpaceX explosion, satellite shares tend to do well around launches.
By and
Shooting communication satellites into space is inherently risky. You strap a highly-engineered hunk of metal worth up to $200 million onto a fiery rocket and pray it reaches its intended orbit.
No wonder investors hold their breath on launch days. Two spectacular failures last year, including one at Elon Musk's SpaceX, didn't help confidence. Yet it's worth getting past the fear. More than 90 percent of launches are successful, according to estimates from operators and insurers.
In fact, if you look more closely, it appears that shares in satellite companies do relatively well around launch dates, according to an intriguing analysis by Macquarie's Andrew De Gasperi.
His curiosity piqued by the sell-off of satellite stocks after the SpaceX explosion, De Gasperi crunched the numbers around 23 launches done by six companies over five years. And it turns out that operators outperform their respective indices by between 4 and 5 percent on average around a launch, regardless of the holding period (see chart below).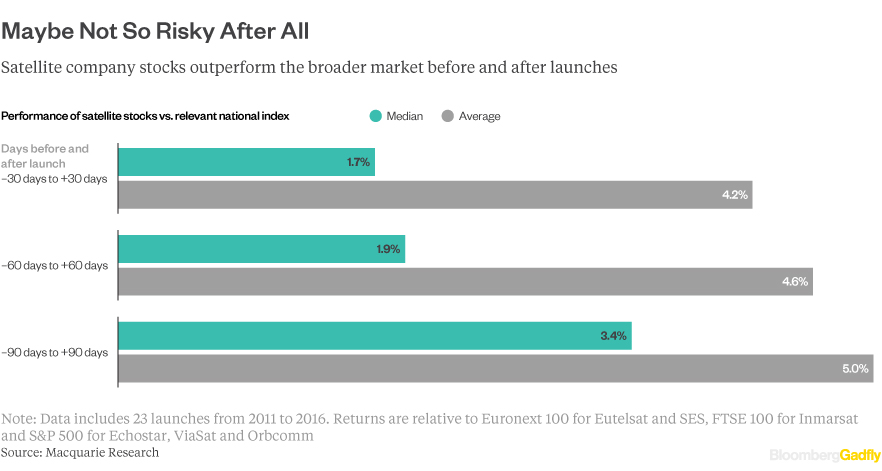 With a busy launch calendar for the rest of this year and next, De Gasperi will have plenty of opportunities to test his theory.
And there's another interesting quirk in the performance around launches. Operators sometimes put up networks of satellites, known as "constellations", to cover the globe. Around the launch of the second or third satellite in these networks, their shares tend to outperform by double digits (see below for a couple of examples). That looks like the market might be over-pricing risk.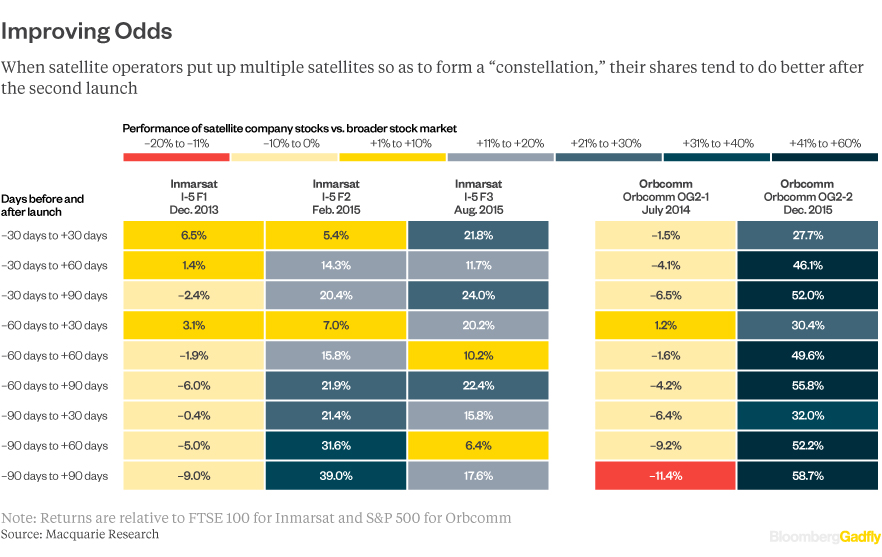 Again, with U.S.-based Iridium putting up a new constellation, we'll soon have more data to test this idea. The calendar for launches in general looks busy:
Of course, the satellite operators are wrestling with deeper concerns about their business model. The industry, long known for fat profit margins and strong cash flows, is in a period of slower growth caused by overcapacity and lower prices. There's a debate about whether this is temporary or whether competition and new technology mean a permanent reset. Eutelsat shares have fallen 35 percent since a May profit warning, taking some competitors with it.
Still, any good news is welcome at the moment. If rocket launches are less risky than feared, that's a real booster.
To contact the authors of this story:
Leila Abboud in Paris at labboud@bloomberg.net
Elaine He in London at ehe36@bloomberg.net
To contact the editor responsible for this story:
James Boxell at jboxell@bloomberg.net
Before it's here, it's on the Bloomberg Terminal.
LEARN MORE