Bill Ackman is hopping off the train and scoping out the neighborhood. That means some lucky CEOs may soon spot a peeping Bill with $1.5 billion in his pocket, drawing up new plans for their companies.
Ackman's hedge fund, Pershing Square Capital Management, said Wednesday evening that it was exiting its entire stake in railroad company Canadian Pacific, a nearly five-year investment that has served the fund well, even if not everything went according to plan.  The proceeds would be around $1.5 billion, based on Canadian Pacific's current share price. And that money will be put toward one or more new investments, which for Pershing Square tend to be of the activist variety.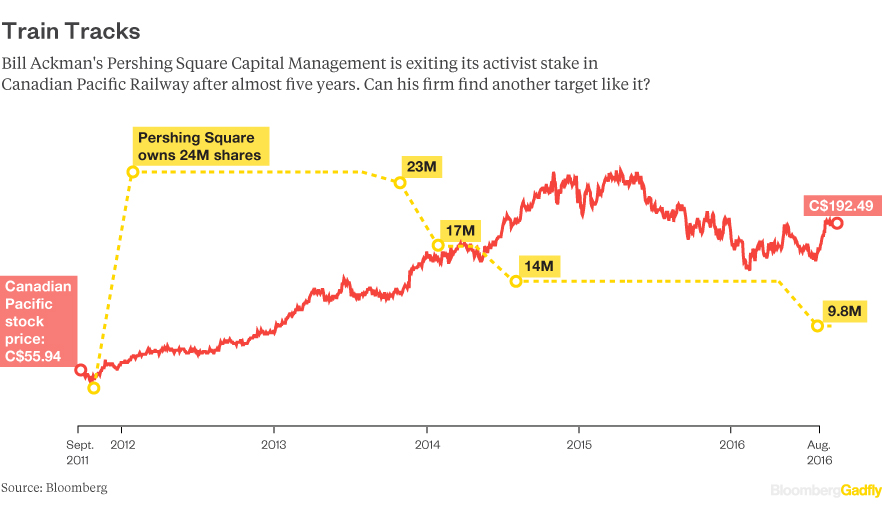 As everyone knows, Ackman, 50, hasn't quite hit the bull's-eye lately. He made a huge bet against Herbalife, the seller of nutrition products, contending it's a pyramid scheme that preys on poor people. In what is being called a pyrrhic victory for Ackman, Herbalife agreed last month to pay $200 million to settle with the U.S. Federal Trade Commission after the agency determined the company misrepresented how much money members are likely to earn. But the FTC didn't shut Herbalife down, nor did it actually label the company a pyramid scheme. Apparently, that was good enough to keep the stock up 25 percent for the year and more than 50 percent since Ackman first began shorting it.
Pershing Square is also the largest owner of Nomad Foods, an acquisition vehicle that has disappointed since switching to a New York listing in January, as well as Platform Specialty Products, a chemical maker that has tumbled 58 percent in the past 12 months. (Both Nomad and Platform are among businesses started by serial dealmaker Martin Franklin.) Ackman's fund has already trimmed positions in two of its better performing portfolio members this year -- animal-health company Zoetis and Oreo maker Mondelez.
Then there's Valeant Pharmaceuticals, the beleaguered drugmaker that for some reason only continued to appeal to Ackman the more poisonous it became. Ackman has his hands full there because not only is Pershing Square the largest holder, he's also on Valeant's board and has tasked himself with helping to turn things around after this:
Ackman's next target will be his most important yet. He went from being on top of the hedge fund world, according to a ranking by Bloomberg Markets magazine in 2014, to a manager whose judgment was repeatedly called into question last year as he stubbornly stood by Valeant despite the troubling information that was coming out about the business. 
Instead of being a crusader as he has tried at Valeant and Herbalife, he needs to return to his activist roots and find a target more akin to Canadian Pacific. He replaced Canadian Pacific's CEO with a respected industry veteran, which helped lead to a huge reduction in the carrier's operating costs as the industry grapples with a commodities slump. It was classic activism and produced long-term results that have so far benefited both shareholders and the business itself. It's similar to the successful approach Jeff Smith's Starboard Value has taken at Olive Garden parent Darden Restaurants and chip maker Marvell Technology. 
The question is whether Ackman's ego can manage taking on a more measured activist campaign this time to restore his reputation or if he can't help but make huge waves at the risk of getting toppled again.
--  Rani Molla contributed graphics.
This column does not necessarily reflect the opinion of Bloomberg LP and its owners.
To contact the author of this story:
Tara Lachapelle in New York at tlachapelle@bloomberg.net
To contact the editor responsible for this story:
Daniel Niemi at dniemi1@bloomberg.net