Michael Lewis famously gave high-frequency traders the nickname "Flash Boys." But looking at the share prices of the two high-speed firms that are publicly traded companies, maybe a better moniker would be "Crash Boys."
Shares of Virtu Financial are down about 35 percent from their high in October. They reached a new low on Wednesday and haven't traded above their IPO price since May. In Europe, shares of Flow Traders are off a similar amount from their high in February and trading right around their IPO price. Flow Traders, which makes markets in exchange-traded funds and other similar products, is part of Amsterdam's burgeoning speed-trading scene and floated its shares in June 2015.
Why the pessimism? For one, despite a brief spasm of heavy trading and volatility around Britain's referendum to leave the European Union at the end of June, it was yet another quiet quarter for trading. And that is sort of the Catch-22 for high-speed traders that are public companies -- they make the most money during volatile periods, but those are also the periods when risk-off sentiment becomes an epidemic among investors who might be interested in buying their shares. And the unpredictable nature of volatility makes revenue growth for these firms similarly unpredictable. 

Total revenue at Virtu in the latest quarter was $174.2 million, the lowest of the six quarters it has reported as a public company. At Flow Traders, which reports results on Aug. 12, quarterly trading income has flatlined at around 64 million euros, lower than 2015 levels.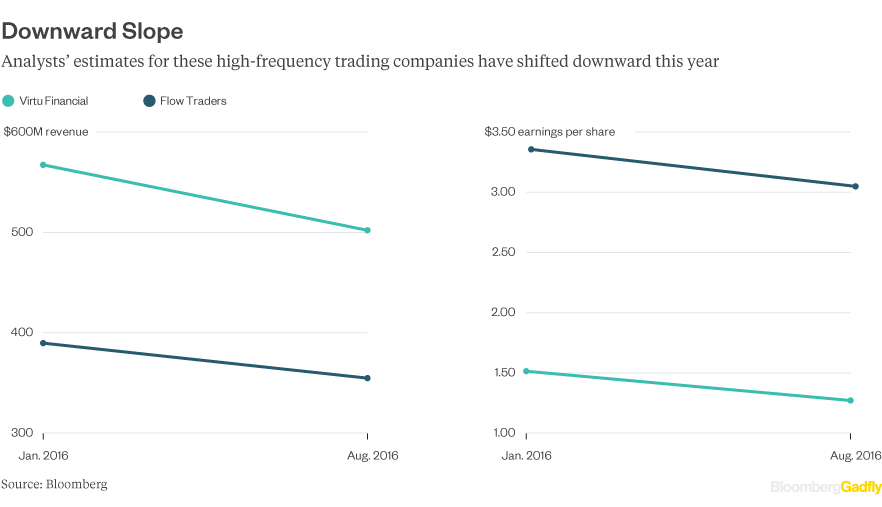 Then there is the threat of new regulations. Hillary Clinton has proposed a tax on canceled orders, which raises many questions about whether high-frequency trading strategies will need to adapt. In Europe, rules are pushing for more transparency (for which Flow Traders says it's fully ready, but still).

Add in the the gradual commoditization of once cutting-edge, low-latency trading technology. Flow Traders had to write down the value of some infrastructure in the first quarter. Low latency, or the quickest way to send data between exchange computers, was once one of the most competitive aspects of high-frequency trading. But, as Flow Traders said last quarter,  "latency has become more of a commodity in this space."

 That's not to say these companies are sitting still. Flow Traders says it wants to expand the number of products traded and improve its platform to bolster growth. Virtu announced that it had struck a deal with JPMorgan Chase to allow the bank to use its technology to trade U.S. Treasuries. But for now it looks as if the market is still only giving these shops credit for capturing cyclical upswings -- which have been in short supply this year. So efforts to diversify and expand beyond their core business models may be the key. 

"We've really opened up the kimono to show them how we operate," Virtu Chief Executive Officer Douglas Cifu said of the deal with JPMorgan. 

It's an interesting move, opening that kimono. It sure gives new meaning to the term "flash boys." 
This column does not necessarily reflect the opinion of Bloomberg LP and its owners.
To contact the authors of this story:
Michael P. Regan in New York at mregan12@bloomberg.net
Lionel Laurent in London at llaurent2@bloomberg.net
To contact the editor responsible for this story:
Daniel Niemi at dniemi1@bloomberg.net