Technology Conquers Stock Market
This sweep of the market's top rungs didn't even happen during the dot-com bubble.
By and
Notch another milestone for the technology industry.
As of the close of U.S. stock trading on Monday, the five biggest companies in the world by market value were all U.S. tech companies, according to Bloomberg data. This tech sweep of the market's top rungs didn't happen during the heights of the dot-com bubble in 2000 and hasn't happened since. (Tech companies have previously taken the top four spots, briefly.)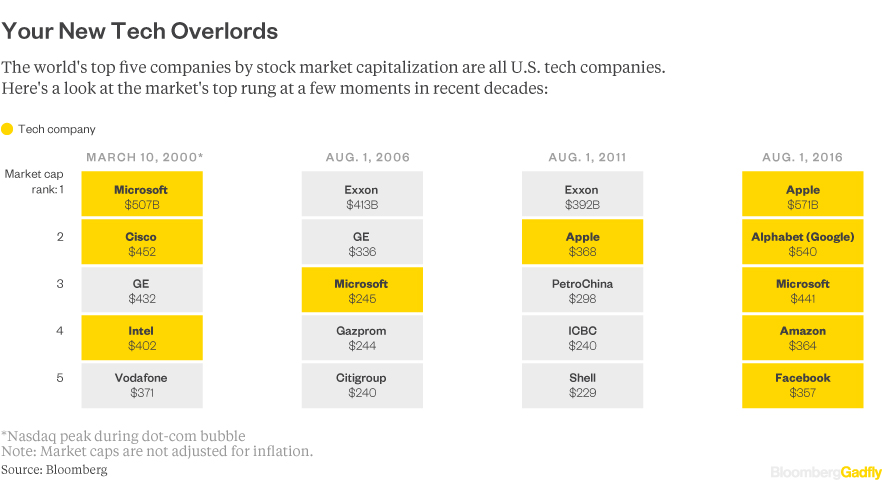 The market value rankings over the last couple of decades offer a glimpse at the world's changing economy. At the peak of the dot-com bubble in March 2000, tech companies including Microsoft, Intel and Cisco were among the biggest companies in the world -- and they are still giants. Ten years ago, big banks, Chinese industrial and financial companies and global commodities firms crowded the market cap big leagues. Five years ago, Apple became the biggest company in the world by stock value, a position it has occupied with some interruptions since then.
In addition to Apple, the growing might of Google, Amazon and Facebook have lifted those companies to new heights and Microsoft's market value has rebounded under a new CEO. Non-tech titans like Exxon and GE have slipped a bit. Stock investors are now willing to pay more for a dollar of future earnings for the tech superpowers than they are for most other corporations. Of course, technology's Fab Five may not last in their lofty perch. The streak could end after one day. Good times never last. But for the moment, technology is on top of the world. 
To contact the authors of this story:
Shira Ovide in New York at sovide@bloomberg.net
Rani Molla in New York at rmolla2@bloomberg.net
To contact the editor responsible for this story:
Daniel Niemi at dniemi1@bloomberg.net
Before it's here, it's on the Bloomberg Terminal.
LEARN MORE