The technology industry's superpowers are having a great run.
Each of the Big Five tech companies -- Apple, Google parent company Alphabet, Microsoft, Facebook and Amazon -- beat Wall Street's second-quarter financial estimates and were richly rewarded for it. Through Friday, investors had pushed up the companies' collective market value by $110 billion -- more than the value of McDonald's -- since the tech earnings season started July 15. The rally has pushed the tech giants into five of the top six slots of the biggest U.S. companies by stock market value.
Apple was the biggest beneficiary of investor enthusiasm for better-than-expected earnings. The company's revenue reported Tuesday topped Wall Street expectations by less than 1 percent and its per-share earnings were about 2.5 percent higher than analysts had forecast. That was more than enough for investors to cheer a company mired in an unprecedented stretch of falling revenue. Shares rose 6.5 percent the next day. 
For the rest of corporate America, this earnings season hasn't been as rosy. Of 316 companies in the S&P 500 that reported their second-quarter results through Friday, in aggregate they exceeded the average of analysts' estimates by 1.2 percent on revenue and by 4.5 percent on adjusted earnings per share, according to Bloomberg data. Investors yawned. Those S&P companies' stock prices inched down an aggregate 0.2 percent on the day after earnings reports.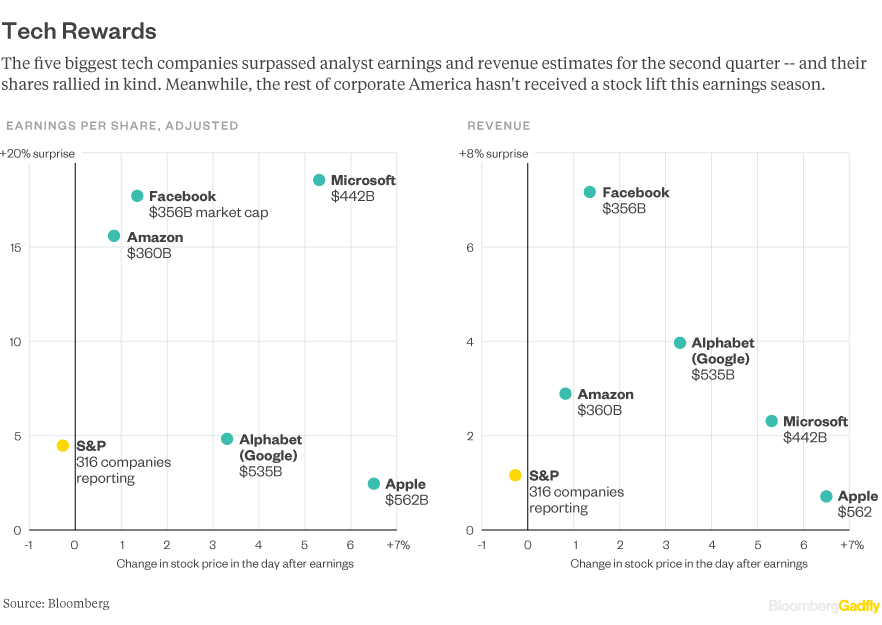 This column does not necessarily reflect the opinion of Bloomberg LP and its owners.
To contact the authors of this story:
Shira Ovide in New York at sovide@bloomberg.net
Rani Molla in New York at rmolla2@bloomberg.net
To contact the editor responsible for this story:
Daniel Niemi at dniemi1@bloomberg.net