What effect is the sliding pound having on Britain's biggest companies?
In theory, the pound's 10 percent decline since the U.K. voted to leave the European Union on June 23 should make sales in other currencies more valuable when translated back into sterling. But borrowings in other currencies also become costlier to service, and imports become more expensive. 
The reports present a mixed picture. This snapshot is based on companies publishing earnings on Thursday, one of the busiest days of the year for corporate results. It shows the effect of sterling's decline on profit growth. 
Profit at Rolls Royce, for instance, was 4.2 percent higher than it would have been on constant 2015 exchange rates. 
These results capture a sliver of the currency market turmoil since the surprise referendum result.  Third-quarter results might be an occasion for some serious Brexit drama.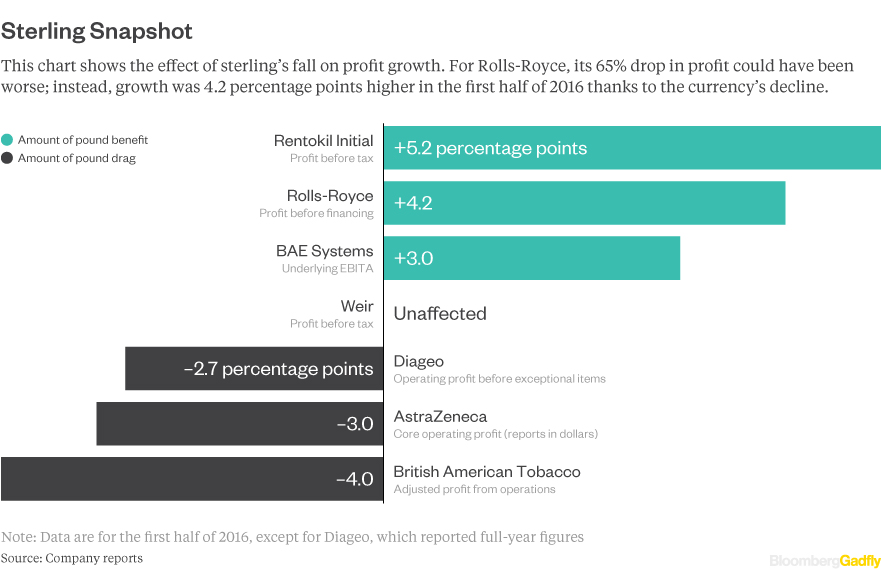 --Bloomberg Gadfly's Elaine He contributed graphics.
This column does not necessarily reflect the opinion of Bloomberg LP and its owners.
To contact the author of this story:
Jennifer Ryan in London at jryan13@bloomberg.net
To contact the editor responsible for this story:
Edward Evans at eevans3@bloomberg.net