If you want to avoid disappointment on the dating scene, it's best to know what your partner is into. There's a lesson in that for Indian billionaire Anil Agarwal.
Anglo American has rebuffed an approach from Agarwal seeking a combination with his group of companies controlled by Vedanta Resources, people familiar with the matter told Bloomberg's Ed Hammond, Aaron Kirchfeld and Dinesh Nair.
Such a merger would certainly create a giant -- the world's biggest pure-play miner in revenue terms after BHP Billiton and Rio Tinto . But Anglo American is on the rebound after being burned trying to keep up with that pair during the commodities boom. It's now looking for something different.
Chief Executive Officer Mark Cutifani's tastes aren't exactly a secret. The fashion these days is for miners to jettison the diverse assets they assembled during the 2000s and concentrate on a few core commodities where they can be world-beaters.
Since Cutifani's plan was first laid out in February, the company has been working to shed phosphate, niobium, nickel, coal, iron ore and lower-grade platinum mines to focus on a core of diamonds, platinum and copper.
There's short- and long-term thinking behind that strategy. In the immediate future, Anglo's garage sale is a quick way of reducing net debt, which is already pretty close to Cutifani's year-end target of $10 billion after factoring in the agreed sale of those phosphate and niobium mines.
In the longer term, an Anglo American that's quit all that coal and iron ore would wind up looking flatteringly different to its peers. 
Most of the world's big miners worked hard over the past decade or so to build up capacity in the sorts of heavy industrial commodities that China has needed to fuel its breakneck growth -- in particular, iron ore and coal. That's left them overexposed now that the country is looking to use less steel and move toward cleaner forms of power generation.
If rising incomes in Asia leave us with a global economy that's driven more by consumption of electronics, cars and jewelry than tower blocks, ships and railways, Anglo American's target suite of assets will be perfectly positioned to take advantage. That's a point Cutifani highlighted in his presentation at first-half results Thursday: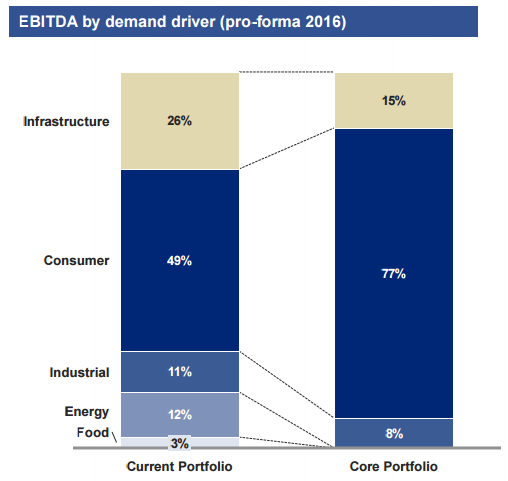 How does Vedanta fit into that picture? Not so well. Its most attractive asset right now is its controlling stake in Hindustan Zinc . That metal is one of the sexiest on the London Metal Exchange, rising 37 percent so far this year, though is mainly used for galvanizing construction steel, another heavy industrial commodity.
There are copper and aluminum units, but the former is inferior to Anglo's own assets, while the latter would expose it to a metal that's perennially oversupplied despite superficially attractive demand characteristics. Cairn India -- another Vedanta affiliate that's undergoing a difficult merger with its parent -- has a significant collection of oil and gas assets. Still, few outsiders are rushing to join that industry.
While it's not clear exactly what sort of tie-up Agarwal would like, it's hard to see Vedanta acquiring Anglo, given that it's substantially smaller and encumbered with a heavy debt load. A share-based merger would be one alternative, but would look like a step in the wrong direction for Anglo given Cutifani's stated preferences. The London-based company has its own debt issues, so doesn't seem to be in the market for outright takeovers.
At some point, Vedanta's diverse commodities and exposure to the next big resources market in India may well make it attractive prey. Anglo American in its current form, though, is no predator. Indeed, Bernstein's Paul Gait has argued that Cutifani's pruning exercise looks like an attempt to turn his company into a target for a hungrier BHP, Rio or Vale a few years down the road. When you're busy primping yourself for the role of damsel, you're not likely to saddle up as a white knight.
This column does not necessarily reflect the opinion of Bloomberg LP and its owners.
We're not counting Glencore, which derives the bulk of its revenues from trading commodities rather than producing them.

Vedanta's sprawling group has a fiendishly complex corporate structure that feels not dissimilar to Anglo American, which runs a web of companies such as De Beers and Anglo American Platinum through controlling stakes. London-listed Vedanta Resources has a controlling stake in Goa-based Vedanta Ltd. by way of shell companies in the U.K. and Mauritius. Vedanta Ltd. in turn has 65 percent of Hindustan Zinc and is in the process of merging with oil and gas producer Cairn India, which is already indirectly controlled by Vedanta Resources. For the sake of simplicity we're talking about all four Vedanta-affiliated companies as a single entity.
To contact the author of this story:
David Fickling in Sydney at dfickling@bloomberg.net
To contact the editor responsible for this story:
Matthew Brooker at mbrooker1@bloomberg.net