At just three years of age, Japan's economic experiment is having a bit of a midlife crisis. The spring of 2013 -- when the central bank embarked on an unprecedentedly bold monetary easing program, the yen weakened past 100 to the dollar for the first time in four years, Toyota's per-share earnings tripled and Triumph International launched an "Abenomics" line of bra -- has long gone.
Investors are now fearful deflationary concerns will return, which could cripple Japan Inc., especially if the yen goes back above 100 (an outcome Bank of Japan Governor Haruhiko Kuroda is no doubt worrying about as he leads the monetary-policy board into its much-awaited Friday meeting).
Over the past three months, analysts have whittled down Toyota's per-share earnings expectations for the current year by 23 percent, and pared back their consensus forecast for Panasonic, Honda Motor and Suzuki by between 13 percent and 19 percent.
To see what's at stake for investors, consider how big a success Abenomics has proved to be for them.
While economists crib about delayed structural reforms and incomplete fiscal consolidation, stock owners would give Prime Minister Shinzo Abe's economic revitalization plan more than a passing grade. When it comes to return on equity, 143 companies in the Nikkei 225 index are in better shape now than they were four years ago, whereas only 72 have seen their fortunes dwindle.
Breaking down return on equity into its constituents, it's clear much of the improvement is a product of healthier profit margins. Companies have succeeded in turning a weaker yen into a competitive advantage, which is why the fear of the exchange-rate tailwind turning into a headwind is demoralizing investors.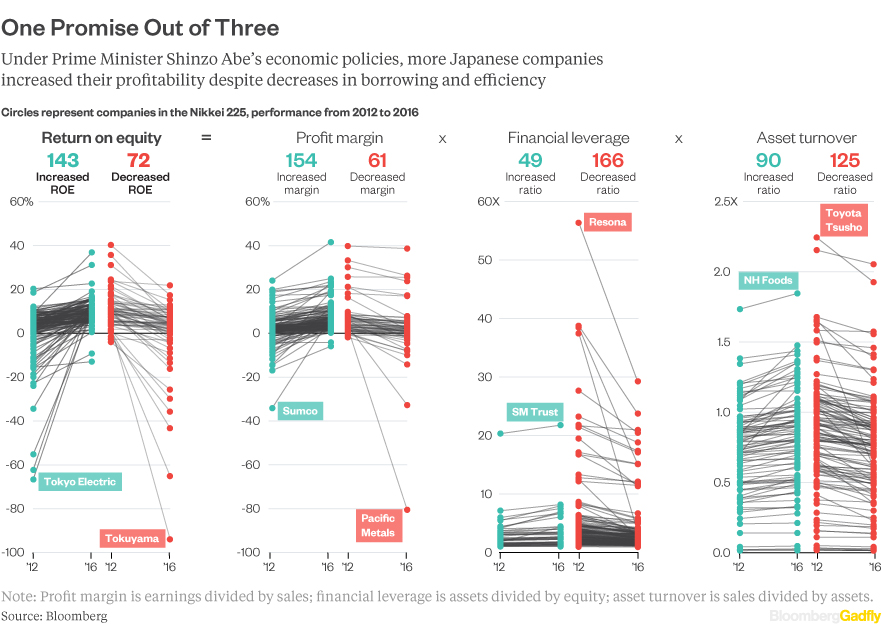 Beyond a cheap yen, Project Abenomics has little to boast about.
No doubt there's been some attempt at reinventing old companies. Take Panasonic, which has for the past five quarters earned returns on equity in excess of 10 percent, its best performance in at least the last 17 years for which Bloomberg has data. The company is shifting its focus from consumer electronics, where its products are facing a stagnant market, to commercial refrigerators and in-flight entertainment systems, according to Bloomberg Intelligence.
But Abe's push for superior corporate governance standards is a mixed bag at best. Toyota's lowball bid for Daihatsu is a neat example of just how little respect stock holders actually get. Meanwhile, greater investor scrutiny has caused heartburn among executives, several of whom say meeting shareholders is a waste of time.
Maybe because they were such laggards to begin with, more Nikkei 225 companies have boosted their ROE track record in the last four years than companies on the S&P 500, the FTSE 350 or the Euro Stoxx index.
Still, for all its prowess in restarting the stalled profit engines of local companies, Abenomics has had much less luck with either boosting efficiency or getting corporate borrowers to stop deleveraging. A majority of Nikkei 225 firms, including the likes of ad agency Dentsu and Sumitomo Metal Mining, have seen asset turnover -- sales generated by machines, plants, stores and industrial robots -- decline in the past four years. In other words, the bulk of Japan's star performers are wringing less revenue out of every single yen of their assets.
Ditto for leverage. Being able to borrow practically for free should, in theory, revive investment. Instead, the recent $32 billion bid by SoftBank for ARM Holdings remains an exception. As many as 166 firms have seen their asset-to-equity ratio decrease. Among the few that have pushed ahead with debt-fueled expansion is Aeon. Japan's shrinking and ageing population make it crucial for the retailer to expand overseas. For many others, though, demographics might prove too big a hurdle to cross.
Abe's experiment is now at a crossroad. If even half the 28 trillion yen ($266 billion) of fiscal stimulus promised next week is new spending, it works out at 3 percent of GDP -- not an amount to be scoffed at.
Of course, Abe can spend all he wants as long as the BOJ is standing ready to print money. Any change in this arrangement could mean an abrupt reversal in Japan Inc.'s improved track record of shareholder returns. Which begs the question, is there anything more to Abenomics than stimulus? Or indeed, if there ever was.
This column does not necessarily reflect the opinion of Bloomberg LP and its owners.
To contact the authors of this story:
Andy Mukherjee in Singapore at amukherjee@bloomberg.net
Rani Molla in New York at rmolla2@bloomberg.net
Nisha Gopalan in Hong Kong at ngopalan3@bloomberg.net
To contact the editor responsible for this story:
Katrina Nicholas at knicholas2@bloomberg.net