Airbus might just be at the beginning of the end of rather a big problem. On Wednesday, it offered tentative signs it was getting a grip on recent production woes, raising the prospect that more cash could soon follow. 
To be sure, the European aircraft maker took 1.4 billion euros ($1.5 billion) of charges in the second quarter against problems getting its A350 widebody and A400m military transport plane out of the factory door.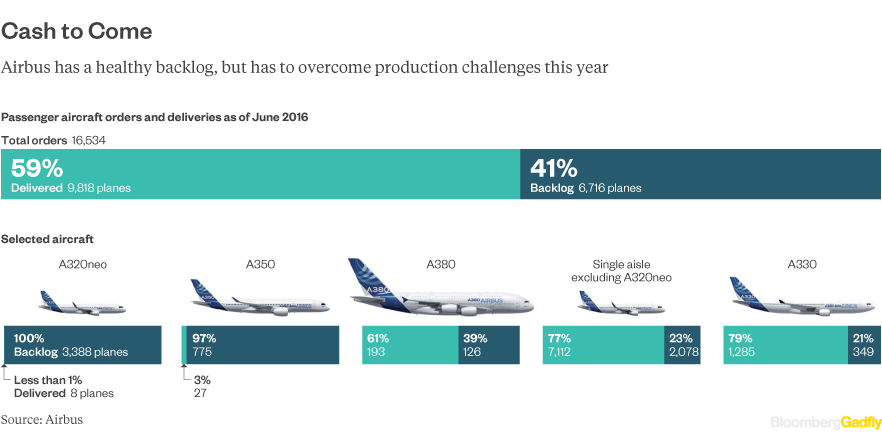 Its net cash position shrank 28 percent over the first half of the year to to 7.2 billion euros and it warned that a target to deliver stable free cash flow in 2016 had become harder to achieve.
To make matters worse, it reported that it managed to deliver only 12 A350s in the first six months of the year, well short of its full-year goal of 50 aircraft.
However, the shares rose more than 5 percent. That's not a crazy response -- investors were probably reassured that Airbus' free cash flow deteriorated by only 250 million euros quarter-on quarter despite all the production hold-ups, a large part of which was due to being let-down by some suppliers. That suggests the company's efforts to preserve cash in the rest of the organization are going quite well.
The supply chain problems aren't entirely solved, but it's reassuring that Airbus has more than 40 of its A350s in final assembly, awaiting only the installation of cabin seats and the like. Teething problems with its A320neo's engine now look managable. That leaves the A400m as the perennial trouble maker, afflicted this time with problems related to the propeller gearbox. 
It's worth comparing these issues to Boeing's ills with its 787 Dreamliner. That aircraft was dogged by very serious supply-chain problems that took years to resolve. These make issues such as toilet shortages on the A350 seem like a walk in the park.
Manufacturers typically burn through cash as they launch new models, and Airbus is no exception. 
But if, as seems likely, the recent production problems prove temporary, so will the dip in cash flows.
--Gadfly's Elaine He contributed graphics.
This column does not necessarily reflect the opinion of Bloomberg LP and its owners.
To contact the author of this story:
Chris Bryant in Frankfurt at cbryant32@bloomberg.net
To contact the editor responsible for this story:
Jennifer Ryan at jryan13@bloomberg.net