The sun is shining, Wimbledon's underway, the tree is trimmed and the turkey's on the table. Oh, it must be Christmas in July.
But it looks like Brexit has already stolen all the fun.
Retailers traditionally spend the first proper month of summer in a winter wonderland of lavish shows to highlight their festive wares for the benefit of magazine writers. The hope is that products will feature in their Christmas gift guides -- a sure ticket to soaring sales.
The kinds of products on show give a taste of the sort of holiday season retailers are expecting. When Britain was mired in recession, one-pound Christmas decorations and three-bird roasts from discounter Lidl were all the rage. As growth resumed, tree trim prices tripled and indulgent desserts were back in stock.
This year, a luxurious holiday is on offer. Unfortunately, Brexit has thrown a supersized snowball in the works.
The hit to consumer confidence from the vote to leave the EU and the resulting economic headwinds raise a substantial risk that many of the gifts and food ordered won't appeal to cautious shoppers finding their feet in a post-Brexit world.
Take Aldi, for example. The British arm of the German discounter is expanding its super-premium offerings for Christmas. Its 14 Specially Selected Exquisite products include a whole side of smoked salmon with board and knife for just under 20 pounds ($26.43), and a hand-plucked turkey for around 45 pounds.
This could prove smart in case the cash-strapped middle classes trade down from the offerings from premium grocers such as Waitrose, which is offering a 30 pound box of Christmas crackers that includes a selfie stick among the hidden gifts.
But there's also a risk that high-end mince pies and chocolates could alienate the discounters' core price-conscious customers. That may offer some relief to traditional grocers such as Tesco and Asda, that have been hit hard by the no-frills supermarkets.
The sting for clothing retailers this year is that, in addition to the discounting they've had to introduce to lure customers in recent years, the extra spending that normally gives them a year-end boost could be jettisoned. Novelty toys used as stocking fillers and infrequently worn sparkly party dresses might well be casualties of tighter household budgets.
Retailers had seen a drop-off in demand before the referendum, and independent retail analyst Richard Hyman forecast a 1.25 percent increase in the value of sales in 2016 -- the weakest for over a decade. Brexit makes even that look optimistic, and he says sales could now struggle to grow at all this year.
Though consumers certainly have been enjoying growing spending power, less and less of their extra cash is finding its way into the shops. Instead, they've been spending on holidays, sprucing up their homes, new cars and eating out. Hyman forecasts that retail will account for less than 29 percent of consumer spending this year, down from about 31 percent in 2000.
A glimmer of festive cheer might nevertheless be in store. The pound's nosedive has made foreign holidays more expensive, and tighter household budgets may squeeze spending on entertainment and eating out. So retailers may have a bit less competition for the pound in peoples' pockets.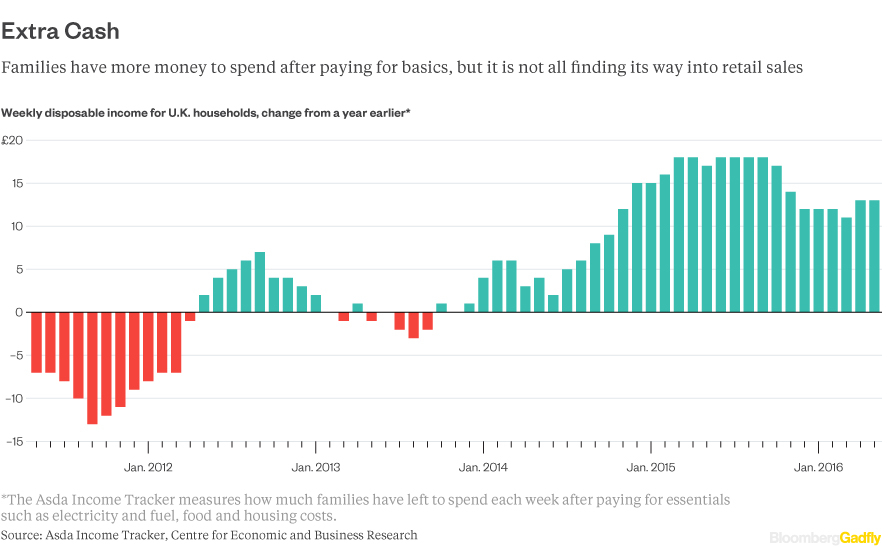 But that will be cold comfort for an industry dependent on strong consumer sentiment. The political and economic environment are both deeply unsettled and full of ominous warnings, and so far shoppers are staying away in droves.
There's always potential for a big swing back to optimism before stores start counting down the shopping days till Christmas. Though that's unlikely, a big stimulus, such as a sales-tax cut, would certainly help matters. 
The joke about retailers' Christmas in July shows is that it's usually accompanied by a freak London heatwave. This year, the clouds and rain meant there was hardly a sandal in sight among attendees. The chill winds of Brexit may know no bounds.
This column does not necessarily reflect the opinion of Bloomberg LP and its owners.
To contact the author of this story:
Andrea Felsted in London at afelsted@bloomberg.net
To contact the editor responsible for this story:
Jennifer Ryan at jryan13@bloomberg.net