Here's a fact bound to upset anyone who's ever been forced to pay an airline a hefty excess baggage fee: on long-haul flights, there's a fair chance the hold in the plane's belly isn't close to being full.
Passenger air travel is booming -- but in freight, growth in capacity has outpaced tepid demand. For airlines, freight companies and aircraft manufacturers that means lost revenue and wasted capital. Removing this surplus is essential but it won't be painless.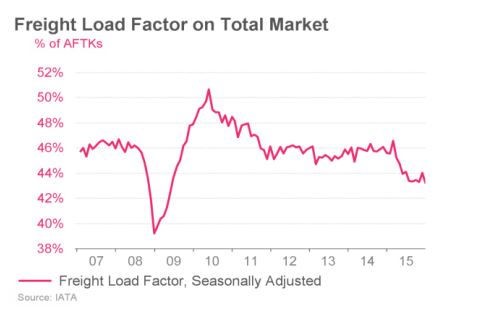 Transporting goods by air is many times more costly than putting them on a ship, so tends to be reserved for time-sensitive or high-value products like pharmaceuticals. Although it represents just 1 percent of global trade by tonnage, air freight accounts for more than one third of the value. Your new iPhone probably took the plane to reach the Apple Store.
The old industry rule of thumb holds that air freight grows twice as fast as GDP. Since the global financial crisis that relationship has come unstuck. Average annual air cargo traffic growth was a paltry 1.5 percent between 2010 and 2015, while passenger air traffic increased 6 percent a year in that period.
Global trade remains sluggish and supply chains are getting shorter. Goods are increasingly produced where they are sold. With container shipping rates also plunging to record lows, some goods are being sent by sea instead.
But that's not all. Airlines typically try hard to match passenger seat capacity with expected demand -- but they haven't applied nearly as much rigor to adding cargo space.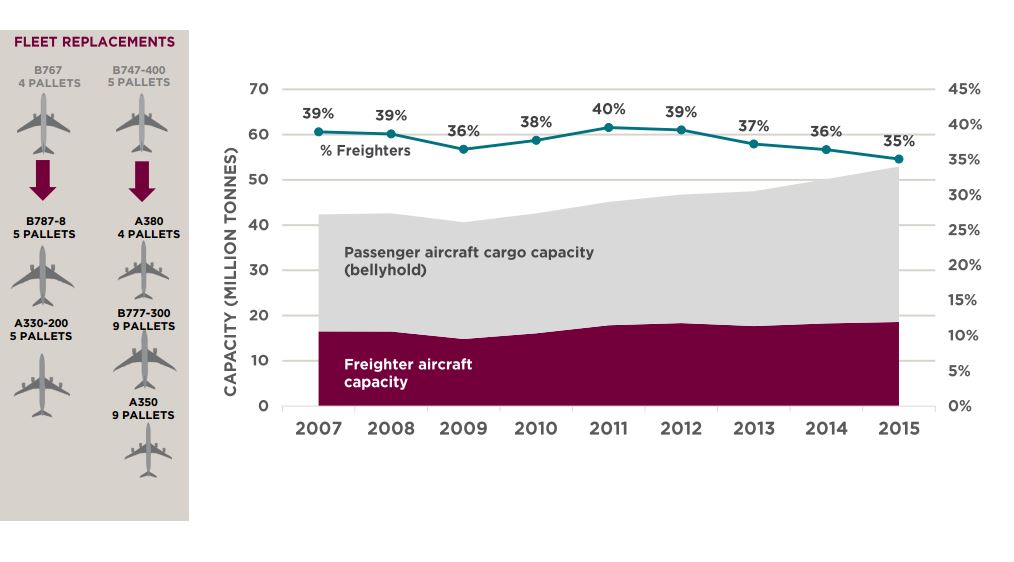 Airlines are adding lots of new passenger jets, and modern wide-bodied aircraft hold far more freight than their predecessors. The recent entry into service of Airbus's A350 will only worsen the problem.
You'd think the fall in the cost of jet fuel would help air cargo carriers -- but the opposite is the case. A fall in the price adds to overcapacity by delaying the retirement of less-fuel efficient aircraft. It also means airlines can't impose the fuel surcharges they levy when the price is high, so yields have fallen.
Freight was traditionally a good way for European airlines to supplement their seat income -- but those days are gone. Competitors from the Middle East have added huge amounts of capacity, increasing supply and driving down prices. 
Air France KLM's money-losing cargo unit had 25 dedicated freight aircraft in 2008. By last year had cut this to just nine. Sensibly, IAG, owner of British Airways, has given up operating all-freight aircraft altogether. 
Operating profit at Lufthansa's cargo unit shrank 98 per cent to just 3 million euros ($3.3 million) in 2015. The German group is cutting 800 jobs and will remove two freighter aircraft from service this year.
Even logistics company Fedex is also retiring aircraft and sending more lightweight goods in the bellies of partner airlines.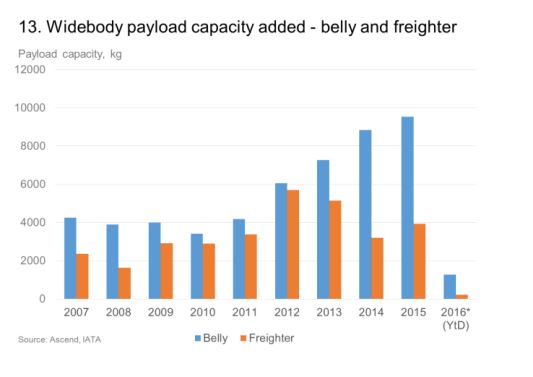 But, if you listen to Boeing, you'd struggle to guess that this surplus space on passenger planes is a big problem.

The U.S. company is still bullish about demand for dedicated freighters. But then it has to be. With orders for the passenger version of the 747 jumbo jet drying up, the company is relying on freighter orders to keep the program going.
Boeing expects the volume of air cargo will grow by an average of 4.2 percent a year over the next 20 years -- almost three times the average rate over the past five years. This growth, it says, will require 930 new freighter aircraft. Will it?
There will always be a place for all-freight planes which can fly routes and schedules that passengers shun. Some hazardous cargo, like lithium-ion batteries, can't be transported on regular passenger flights. With Amazon now leasing its own cargo aircraft, e-commerce looks set to remain a growth area for freighters.

Still, it's curious Airbus's view of the freighter market is different. So far this year, it hasn't received a single order for its A330-200 freighter, and seems to have taken that to heart. This week, the company cut its 20-year estimate for new freighter deliveries by 20 percent after previously warning that belly capacity will "dramatically impact" the prospects for large freighters.
Fans of the aging 747 jumbo better hope Airbus is wrong.
This column does not necessarily reflect the opinion of Bloomberg LP and its owners.
To contact the author of this story:
Chris Bryant in Frankfurt at cbryant32@bloomberg.net
To contact the editor responsible for this story:
Edward Evans at eevans3@bloomberg.net