At first glance, it's been an amazingly good year for bond investors.
Almost every type of bond has done well. Their values have soared in the face of seemingly endless central bank stimulus.
And yet here's the paradox of bond investing in 2016: While U.S. government bonds have posted their biggest return for a similar period since 1995, this is probably the most harrowing time in history for people who are responsible savers -- those who count on these safer notes for regular, reliable income.
This year's tremendous returns have stemmed almost entirely from increasing bond prices. But prices aren't reliable -- they fluctuate on rumors, the weather, random policy maker statements and any number of ephemera.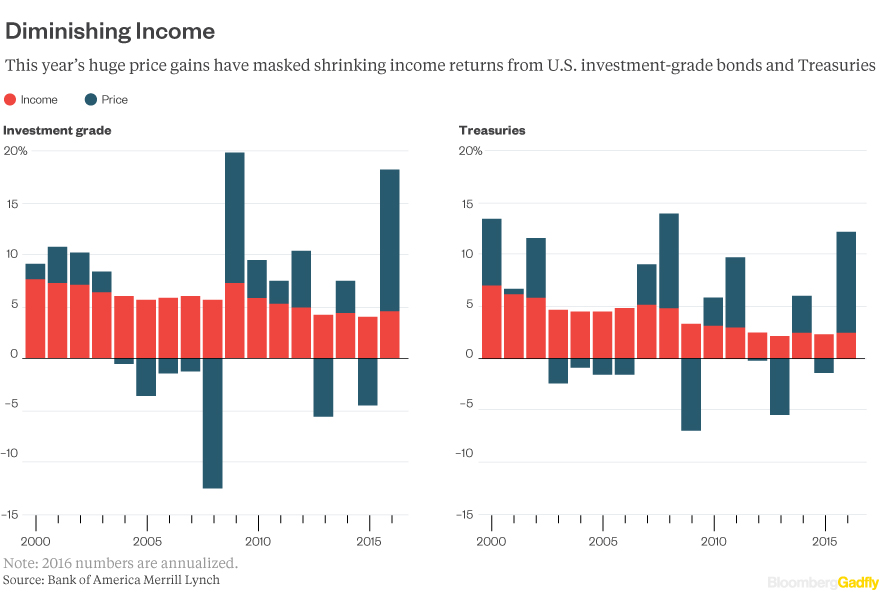 Many bond investors don't want price-dependent risk. They rely on the debt because it typically provides regular, scheduled interest payments, or else they don't care and just use it as the stable component in their portfolios.
Buyers of these "safe" bonds are now betting that prices will continue their trajectory into mind-boggling high levels, or else they're so worried about Armageddon that income is taking a back seat. Regardless, it is becoming much more expensive for savers to buy even a modicum of income. 
Given the backdrop of slowing global growth and record low interest rates, prices may rise further. Still, the more bonds continue their historic performance, the less comfortable it is to own them for the safety set.
This column does not necessarily reflect the opinion of Bloomberg LP and its owners.
To contact the authors of this story:
Lisa Abramowicz in New York at labramowicz@bloomberg.net
Rani Molla in New York at rmolla2@bloomberg.net
To contact the editor responsible for this story:
Daniel Niemi at dniemi1@bloomberg.net