Ari Emanuel is stepping inside the Octagon.
Emanuel's WME-IMG said Monday it's paying $4 billion for mixed martial arts empire UFC. It's a transformative deal that differentiates it from rival Creative Artists Agency and shows just how serious WME-IMG is in striving to extend its reach beyond its roots as a talent agency with a hand in sports and entertainment events into a broader content provider.
The deal comes as UFC's viewership steams ahead (Tom Brady and Justin Timberlake were front row at an event Saturday night in Las Vegas), thanks to the popularity of its leading athletes such as Ronda Rousey and Conor McGregor. While it does trail other sports considerably, the upside is that it's favored among millennials and there's a long runway for additional growth, something private equity and just about any other type of investor likes to see.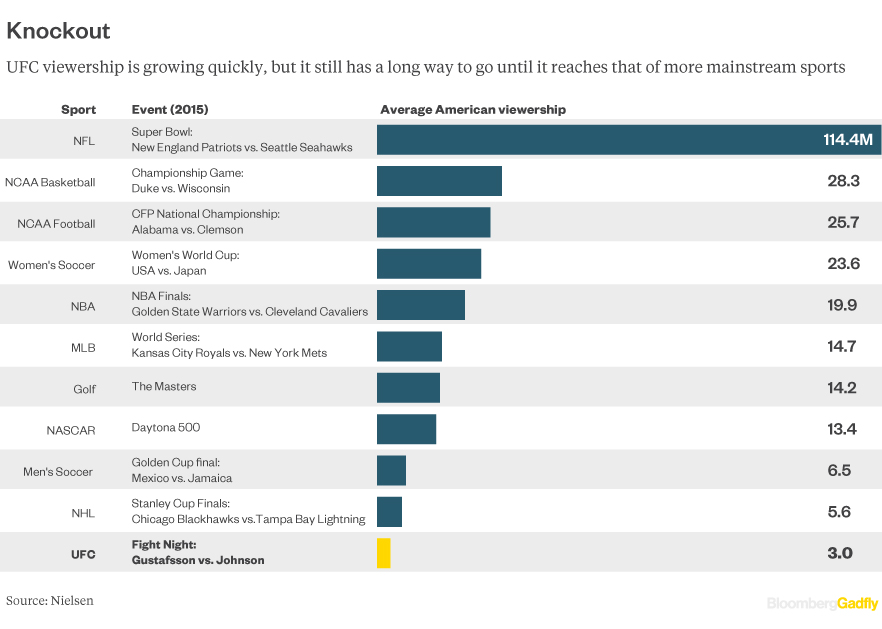 If WME-IMG can replicate or better the success that it appears to have garnered from its April 2015 purchase of the more niche Professional Bull Riders, its investors will have much to cheer.  Already, it says PBR's Built Ford Tough Series has broken attendance records and seen television viewership rise more than 20 percent since the acquisition. 
The UFC transaction is being financed by WME-IMG's longtime investor Silver Lake, one of its occasional partners KKR and Michael Dell's investment firm. It's yet another example of buyout firms electing to put some of the billions of dry powder to work by making acquisitions through companies they already own instead of making a splash with new, pricier and arguably more risky targets.
And Silver Lake's been to this well before. The firm, which invested in WME in 2012, also wrote a check back in the winter of 2013-14 when the company combined with IMG. At the time of the merger, Silver Lake's Egon Durban said it would be "one of the highest-returning investments" in its history. Indeed, it's hard to see the firm walking away from WME-IMG -- whenever that may be -- as anything but a winner. 
The deal values UFC at around 16 times its recent full-year earnings before interest, taxes, depreciation and amortization , which means WME-IMG scored a relative bargain: It's paying less than what any would-be buyer of its publicly-traded rival World Wrestling Entertainment would need to fork out. 
That provides a deterrent -- not that founder Vince McMahon needs one -- to a WWE sale. If UFC's suitors (including China Media Capital and Dalian Wanda Group, according to ESPN) weren't inclined to pay up for UFC, they'd be less likely to do so for WWE. It generated a third or less of UFC's Ebitda in 2015 , and smaller, less-profitable properties rarely command a premium. 
That didn't stop WWE's shares from rising as much as 3.5 percent on Wednesday to an eight-month high. Still, with short interest at roughly 15 percent of the company's free float -- north of its 10-year average of 9.7 percent, according to data compiled by Markit -- investors, like wrestlers, would do well to maintain their defenses. 
-Rani Molla contributed graphics to this article. 
This column does not necessarily reflect the opinion of Bloomberg LP and its owners.
To contact the author of this story:
Gillian Tan in New York at gtan129@bloomberg.net
To contact the editor responsible for this story:
Beth Williams at bewilliams@bloomberg.net