The next wave of science can often sound a little science fiction-y.
But one of the most outlandish-sounding advances is close to becoming reality. Cell therapies -- where immune cells are removed from the body and engineered to hunt cancers -- may be available in the U.S. as soon as next year. They offer a potential one-time cure for deadly blood cancers that resist all other treatment. 
It sounds too good to be true, and it might be. Already acute safety concerns were heightened by the news late Thursday that the FDA had halted a clinical trial for Juno Therapeutics' lead cell-therapy treatment after three patients died. The tragedy was a reminder these treatments are exceptionally risky, despite their often extraordinary effects. 
Juno shares fell 31 percent Friday along with some other cell-therapy companies. 
Juno believes the patient deaths were due to a change in the type of chemotherapy given to patients as part of a "conditioning" regimen in preparation for its treatment. It hopes to quickly resume the trial by going back to its previous conditioning method. But it said on a conference call Thursday it expects its first FDA approval in 2018; it had previously hoped for 2017. 
Analysts don't expect the news to have a big impact beyond Juno, but that's no sure bet, as nobody knows exactly what went wrong here. This is unlikely to be the last scare or delay for these drugs. 
And safety issues aren't the only hurdle for cell therapies. They are complicated and expensive to produce and will likely carry high price tags. They have still only been tested in very small numbers of patients at just a few locations. 
That hasn't stopped a whole lot of money from flowing into them. Beyond Kite and Juno, Cellectis, Bellicum, Bluebird Bio, and Ziopharm have major programs focusing on chimeric antigen receptors (CAR-Ts), a particular approach to cell therapy. Combined, those six public firms have raised billions through IPOs and share sales and had $3 billion in cash on their books at the end of the first quarter. Investors have flocked to the companies, whose combined market cap is $9 billion. Last year, during biotech's bubbliest periods, it exceeded $16 billion.
Big firms are joining these biotechs in the race to market, either as competitors -- in the case of, say, Novartis -- or partners. Celgene paid Juno nearly $1 billion for a cut of its cell-therapy haul last year, one of the largest up-front partnership payments ever.
These treatments can be startlingly effective. During its conference call discussing the patient deaths, Juno disclosed results for the first time from a different trial in a different type of cancer, in which 70 percent of patients saw their cancer vanish. Other firms have reported similar or even better results. 
But as Thursday's news emphasizes, side effects like neurotoxicity (believed to have caused these deaths) are a major concern. In the short term, at least, use of these therapies will require expensive monitoring and supportive care. That may make doctors reluctant to prescribe them.
It's one reason sales expectations for these treatments vary wildly. Analyst estimates for 2020 sales resulting from Kite's lead program range from $225 million to $1.4 billion. 
Companies are also targeting small subsets of patients to start. Kite initially plans to file for approval to treat patients with a certain type of aggressive non-Hodgkin lymphoma that haven't responded to other treatments. In time, drugmakers hope to expand their reach. But that expansion may never materialize, especially if safety concerns linger.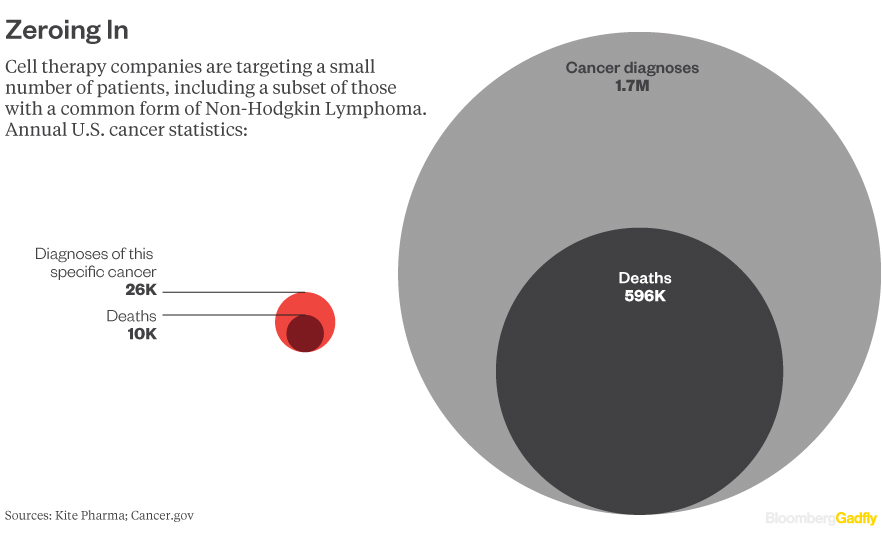 Cost is another big issue. Kite and Juno make their treatments on a per-patient basis, a time-consuming process. They've spent a lot to build capacity, but making and using these bespoke treatments at commercial scale will be difficult. Cellectis and others are working on so-called "off the shelf" treatments that can be made from donor cells instead of a patient's own, which should be quicker and cheaper to produce. But these are relatively unproven and likely a long way off. So are treatments, including Bellicum's, that have so-called "off-switches" to limit side effects. 
To be profitable, these treatments will likely be priced at unprecedented levels -- more in the realm of ultra-rare disease drugs (Alexion charges more than $400,000 a year for rare blood disease drug Soliris) than what is standard in the already expensive realm of cancer drugs. That's also likely to curb prescriptions and may spark a renewed drug-pricing debate. 
All of these issues leave these drugs wide open to competition from other types of therapy, such as advanced forms of antibodies. 
Juno's stock has tumbled to $28 from more than $68 at its peak last summer. Many of its rivals are stuck in the same valley. In an already risk-averse time for the industry, a rebound may be a long time coming. 
-- Graphics by Rani Molla  
This column does not necessarily reflect the opinion of Bloomberg LP and its owners.
To contact the author of this story:
Max Nisen in New York at mnisen@bloomberg.net
To contact the editor responsible for this story:
Mark Gongloff at mgongloff1@bloomberg.net