After months of playing defense against Sanofi's aggressive takeover pursuit, cancer drugmaker Medivation is now rolling out an ambitious offense.
In what seemed to be an attempt to spark a bidding war Wednesday evening, Medivation held a long call with analysts and investors about its developmental cancer drug talazoparib. Promising Phase 3 trial results for a similar drug more than doubled shares of competing biotech Tesaro last week. That gave Medivation CEO David Hung some leverage to try to pump up the value of Medivation's drug, and he's clearly trying to take the fullest advantage of it.
On Wednesday's call, Hung said Medivation's drug is 50 times more potent than Tesaro's in one respect and a potential best-in-class treatment. But his claims barely moved Medivation's stock price, and they may not do much to inspire a higher competing bid for the company. 
Medivation now must convince buyers talazoparib is worth way more than the $3 per share in extra milestone-based payments Sanofi offered for it, on top of the $58 per share it offered for the whole company. Medivation rejected that improved bid from Sanofi late Tuesday, successfully fending off the French drugmaker's hardball tactics, though it did let Sanofi and other possible suitors look at its books.
But while Tesaro's results somewhat validate Medivation's push for a bigger bid, they also set a high bar for Medivation to clear, especially as it has claimed its drug is vastly more powerful than Tesaro's. So far, it has limited late-stage proof to back up its assertions about the drug's potency, which may not translate to outsize benefit in patients.  
As you can see in the slide below, Medivation says there is a potential $30 billion plus market for its drug. But that is a teetering edifice based on a whole lot of assumptions and very early trial data. It assumes the drug will succeed in a wide variety of cancers beyond the narrow subset of breast-cancer patients included in its one late-stage trial. Biotech is rife with years-out projections of multi-billion-dollar sales; but even in that context, this is a doozy of a claim for a drug that hasn't completed Phase 3 trials yet.
And there's a worrying lack of clarity as to what Medivation is actually suggesting. When Bloomberg News asked the company if the $30 billion figure referred to talazoparib alone or to all drugs in its class, known as PARP inhibitors, and if $30 billion was an annual or cumulative sales figure, the company declined to comment.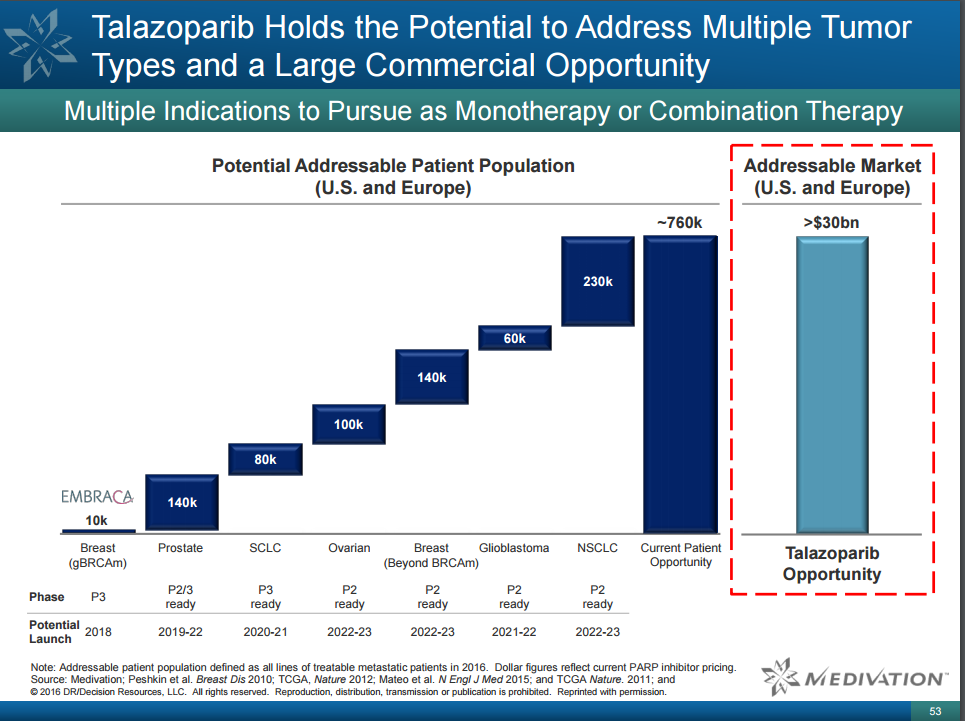 Medivation bought the drug from BioMarin for $410 million last year. That's not chump change; but if the drug is what Hung says it is, then it was a steal. It's possible Hung saw something others missed and got a blockbuster on the cheap. But it's also possible BioMarin let it go, and other buyers stayed away, for a reason. 
Medivation isn't in the strongest position to play hardball. It not only has to convince buyers to pony up big for this drug, it also has to convince investors it's worth holding out until a buyer is willing to do that -- a risky proposition, with Phase 3 data not due until next year. 
Medivation likely can't wait for the data -- and may not even want to, given the inherent risk. So its best shot at a higher price is to aggressively pitch what it has. Any potential buyer will be looking at the 50-odd pages of Hung's Power Point with plenty of skepticism. 
The company is structured in a way that makes it tough for management to hold out for a long time in the face of an attractive offer. All it takes to remove Medivation directors is the consent of a majority of shareholders, a loophole Sanofi unsuccessfully tried to exploit. The next attempt might have a different result.
Another reason Medivation may not hold out forever: Sales of its lead prostate cancer drug Xtandi -- the prize asset driving all of this M&A interest in the first place -- may be moderating. Sales fell sequentially in the latest quarter, and Cowen analyst Eric Schmidt just cut his sales estimates for the current quarter.
Medivation will probably get more than $3 a share for talazoparib. But it needs to be realistic about getting a best-in-class valuation for the drug -- or the nearly $3 billion market-cap boost Tesaro's data inspired -- without more proof. Getting even moderate value for the drug ahead of late-stage results would be a win for stockholders.
This column does not necessarily reflect the opinion of Bloomberg LP and its owners.
To contact the author of this story:
Max Nisen in New York at mnisen@bloomberg.net
To contact the editor responsible for this story:
Mark Gongloff at mgongloff1@bloomberg.net