As Britain has agonized over the  past couple of years about splitting from Europe, one of its biggest companies has been doubling down on the continent. Since 2013, Vodafone has done about 17 billion euros ($19 billion) of deals in Germany, Spain and the Netherlands as it lessens its reliance on mobile phones and moves more into broadband and pay-TV.
Those bets have made Germany Vodafone's biggest source of operating free cash flow, ahead of countries with many more customers such as India and South Africa. Crucially, the German cash contribution is larger than that of Vodafone's U.K. home market.
Now the Brits have voted to leave the EU, Vodafone says it's considering moving its corporate HQ out of the country if post-Brexit regulation, tax, and labor laws are no longer favorable. (EasyJet and Visa have made similar warnings.) Leaving would mean relocating the company's legal residency and corporate workers, though the 13,000 or so people that staff the shops and call centers and maintain the network would stay.
The company's history and sense of identity will weigh on its deliberations about whether to quit home. But they shouldn't. Even without Brexit, there's no special reason for Vodafone to remain wedded to the U.K.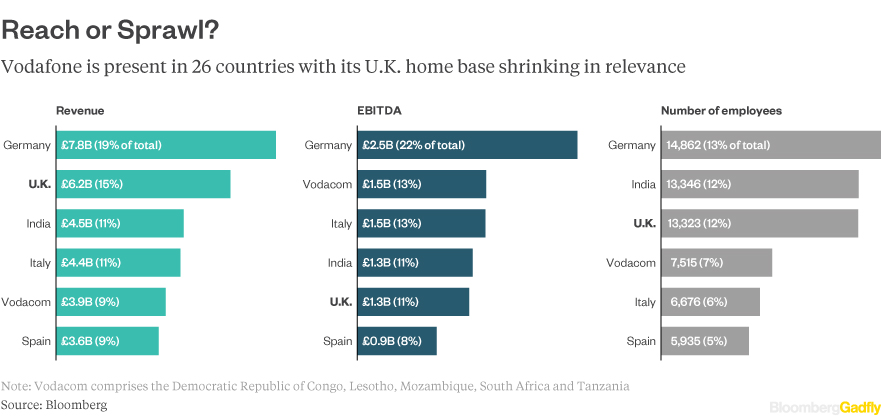 While its presence in 26 countries harks back to a global expansion that made it the world's biggest mobile operator (a crown now worn by China Mobile), it's been far less interested in flag-planting since 2010. There are few cost savings or benefits from being in a slew of countries; procurement gains are minimal at best and regulation remains stubbornly national. CEO Vittorio Colao has been unsentimental about selling, exiting the U.S., Japan, China and France.
So why should he be any less hard-headed about Britain? It's now one of Vodafone's weakest European markets and hasn't found an answer yet to the nascent trend of offering bundles of mobile, broadband fixed line and TV services -- unlike market leader BT. It doesn't own its own fixed network there, so it has to rent space from BT.
Plus moving the headquarters could liberate Vodafone to move to a structure that bankers have been pitching for years: breaking up the behemoth into three listed companies. One would contain the Indian mobile carrier; another the European businesses; and the last the African units that stretch from Egypt to South Africa.
Investors could choose where they wanted exposure, and the different shares would trade at multiples that better reflected local realities. Regional managers would be more focused, plus they'd have more options for regional M&A since deals could be done in their own shares.
Investors used to ask Colao about the break-up all the time, especially when the value of the European and emerging market assets diverged. The narrowing of that gap has quieted some of those calls recently, yet that doesn't mean the logic of a split has disappeared. It would certainly make it easier to do a deal with Liberty Global's John Malone, who was interested in Vodafone's European business but not in the emerging markets units. A more dispassionate relationship with the U.K. could, for example, let Vodafone consider handing over its domestic business in some kind of asset swap with Malone.
Colao has time to mull all this as sorting out Britain's role in Europe looks like it will take years. In October, he said a split wouldn't create value. But much has changed. The Indian business is being prepared for possible IPO next year, the British telecoms market is in M&A flux, and Liberty's share price has tanked (making a deal less expensive for Vodafone). Brexit or not, leaving home behind shouldn't be taboo.
This column does not necessarily reflect the opinion of Bloomberg LP and its owners.
To contact the author of this story:
Leila Abboud in Paris at labboud@bloomberg.net
To contact the editor responsible for this story:
James Boxell at jboxell@bloomberg.net