The nation's largest banks can finally exhale for the most part.
For the second consecutive year, the Federal Reserve did not reject the plans from any large U.S. bank to return capital to shareholders.
The results weren't spotless: Morgan Stanley won approval on condition it shore up its capital-planning processes and resubmit its proposal, while the U.S. units of Deutsche Bank and Banco Santander failed because of weaknesses in their capital plans, as Dakin Campbell reported.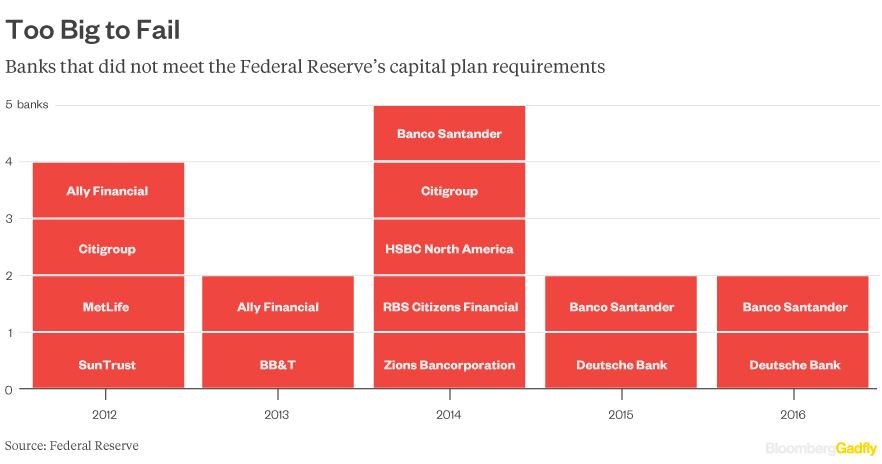 Still, the celebration started almost immediately: Shares of many of the banks that were tested climbed in after-hours trading as firms including Bank of America, Goldman Sachs, Citigroup, JPMorgan Chase and even Morgan Stanley announced plans to increase the amount of capital they were returning to shareholders.
These yearly tests act as a necessary counterweight to the types of shareholders who would otherwise pressure banks to increase dividends and buybacks to the maximum amount without worrying about such an in-depth study of how they would fare in an economic crisis. Still, there are interesting details that could provoke some healthy debate about the tests' usefulness and discussions about whether they can be improved.
For one thing, it's encouraging that Fed officials have said recently that they are reviewing the stress tests and considering easing some requirements for smaller banks. While these tests are proving to be a useful checks-and-balance tool for the banking system, the last thing they were meant to do was encourage big banks to get even bigger, an unintended incentive of the current tests, at least when it comes to regional banks.
The largest too-big-to-fail banks tended to fare better than the smaller ones in the first batch of stress test results released last week. The median increase in capital ratios at the six largest U.S. banks was larger than the median for all 33 companies tested, Bloomberg Intelligence pointed out, as the "severely adverse" economic scenarios envisioned proved to be more difficult for traditional lenders to weather than banks with large trading and markets operations.
This seems to either contradict the popular belief that the financial system would be better off if the supermarket banks were split up or calls into question the methodology of this year's test itself.    
It's notable that the bigger a bank gets, the more it has at stake in the tests and the more it's able to justify large amounts of spending to pass. Think of these tests like the SATs: Some students can afford tutors or special classes to prepare, some can afford only study-guide books, while some can barely afford the registration fee.
All of the banks tested are required to devote a huge amount of money and human resources to these tests. That's resulted in a booming cottage industry for accounting and consulting firms hired to give advice on how to pass the tests, as the Wall Street Journal detailed this week. The added costs to complete stress tests helped push global spending on consultants to $29 billion last year, according to AML Intelligence:
If smaller banks are preferable when it comes to safeguarding the financial system, these tests may actually have the opposite effect: Regional lenders are being incentivized to get bigger to handle the regulatory costs.
Consider, for example, Huntington Bancshares, which returned less than half a billion dollars to shareholders last year, and compare that with JPMorgan, which returned $11 billion. Huntington CEO Stephen Steinour recently told Bloomberg Television that his firm's stress-test submission was 15,000 pages long and that the costs of complying with regulations means it makes sense for lenders of this size to seek to grow to absorb the costs.
Huntington, which is acquiring FirstMerit Corp. for $3.8 billion, was able to boost its quarterly dividend by only a penny, to 8 cents a share, after the tests.     
The Fed should follow through on scrutinizing some of the requirements for smaller banks. While these stress tests are proving to be useful, they weren't meant to push banks to bulk up just so they could take them.
-- Rani Molla contributed charts
This column does not necessarily reflect the opinion of Bloomberg LP and its owners.
To contact the author of this story:
Michael P. Regan in New York at mregan12@bloomberg.net
To contact the editor responsible for this story:
Daniel Niemi at dniemi1@bloomberg.net