Foreign investors have long considered commercial real estate investments in the U.K. and U.S. to be safe havens in an unpredictable world. Brexit may change that calculus.
As the chart below shows, 2015 was a record year for recent foreign investment in U.S. commercial real estate, according to commercial real estate services firm JLL.
Many analysts thought 2015 would end up being the peak year for recent commercial real estate investment in the U.S. -- but that was before Britain voted to leave the European Union last week.
With London's future as a global financial center in play, investors are likely to focus on the U.S. because the economic climate currently seems more stable, according to Mitch Wasterlain, a founder of an online real estate investment firm, Capfundr. Much of the capital, Wasterlain said, is likely to go to so-called "gateway cities," which already receive substantial foreign investment. (Gateway cities are known as such because they are typically points of entry into a country for global travelers.)
Whether or not investment dollars in commercial real estate move permanently to the U.S. for the long-term hinges on a number of factors, including the U.K.'s future relationship with the Eurozone.
For now, expectations that U.S. interest rates will remain low -- or even be cut -- are also attracting overseas real estate investors. Low rates allow safe-haven investors an easier way to finance their purchases, of course. But a cheap pound might also convince foreign investors to pounce on the British real estate market instead as prices there plummet -- if investors are willing to stomach that risk. Whatever strategy wins will depend on Brexit's long-term impact. 
Canada is currently the largest foreign investor in U.S. commercial real estate, followed by Singapore, Norway and Germany, according to Real Capital Analytics, a commercial real estate data firm. The U.S. is the U.K.'s top foreign commercial real estate investor (and U.S. investors in U.K. real estate are likely to feel some pain from Brexit).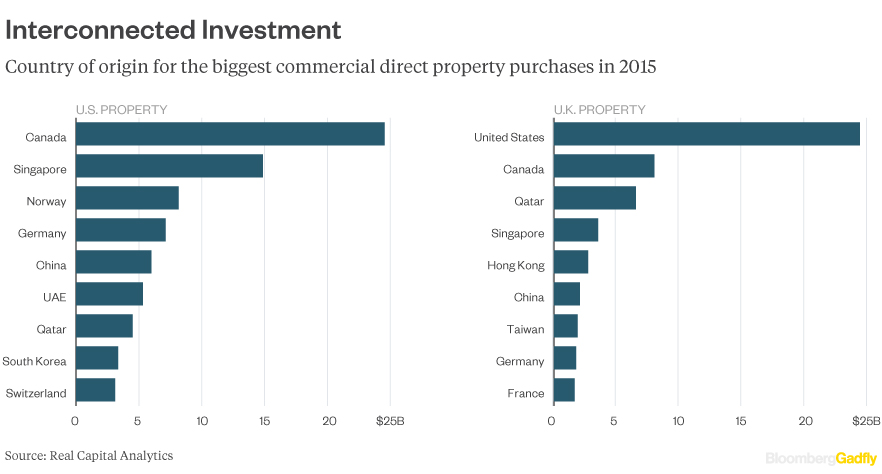 The U.S. and U.K are both home to global financial centers that enjoy heavy foreign property investment. Brexit has thrown an unusual disruption into the shared orbit of the two countries and it may have a lasting impact on the commercial real estate market.
This column does not necessarily reflect the opinion of Bloomberg LP and its owners.
To contact the author of this story:
Rani Molla in New York at rmolla2@bloomberg.net
To contact the editor responsible for this story:
Timothy L. O'Brien at tobrien46@bloomberg.net