General Electric has made no secret about its ambition to become a major force in technology. On Thursday, the $270 billion company showed off its digital expertise at a special investor day in San Ramon, California.
GE's gleaming Bay Area software center played its part well. The glass-heavy facade gives way to an open floor plan, with pops of color and numerous demonstration areas to show how clients are putting the company's cloud-based software platform to use. There's even a vending machine filled with tech doodads and a set of 3-D printers that employees can use to build gadgets and apps, you know, on their lunch break. During a three-hour presentation on the company's digital efforts, some executives even wore jeans (!).
But there's substance behind the cool surfaces. And GE's first-mover advantage in industrial tech has only become more valuable as the company and its rivals face an uncertain world made even less certain by the other big event on Thursday: the U.K.'s vote on Brexit.
From 1991 to 2010, industrial productivity increased annually by about 4 percent; since 2011, that's dropped to about 1 percent, according to GE. GDP gains have slowed accordingly. The U.K.'s decision to leave the European Union has only further clouded the world's growth outlook. T. Rowe Price now pegs the odds of a global recession at more than 50 percent. Others may disagree with the global part of that, but let's just say the added uncertainty doesn't do much to encourage giant purchases of equipment and machinery.
As Bill Ruh, the CEO of GE Digital, put it (pre-Brexit results):
``Industrial companies are going to have to do something; you can't just sort of wait it out. If your strategy is that growth of the world's economy is going to turn this around, I think we live in a slow growth world; that can't be it.''
The "it" that GE is going with instead is using data collected via sensors and analyzed through applications on its Predix operating system to digitally revamp its own industrial operations, as well as those of its clients. It's the next generation of the automation capabilities industrial companies have offered for decades. The idea is to sell access to GE's software platform and specific applications built within it that will help companies reap cost savings and productivity gains. That's a big selling point at a time when industrials and commodities companies are trying to do more with less and may not be up for the big capital investments that GE has traditionally courted (of course, it's still happy to sell you those big-ticket items as well).  
GE's been talking up its digital efforts for months, with varying degrees of success at conveying what exactly it all means. Words and big-picture numbers can only go so far, particularly when every industrial company under the sun is talking tech. Real-life applications (and real money) can paint a clearer picture.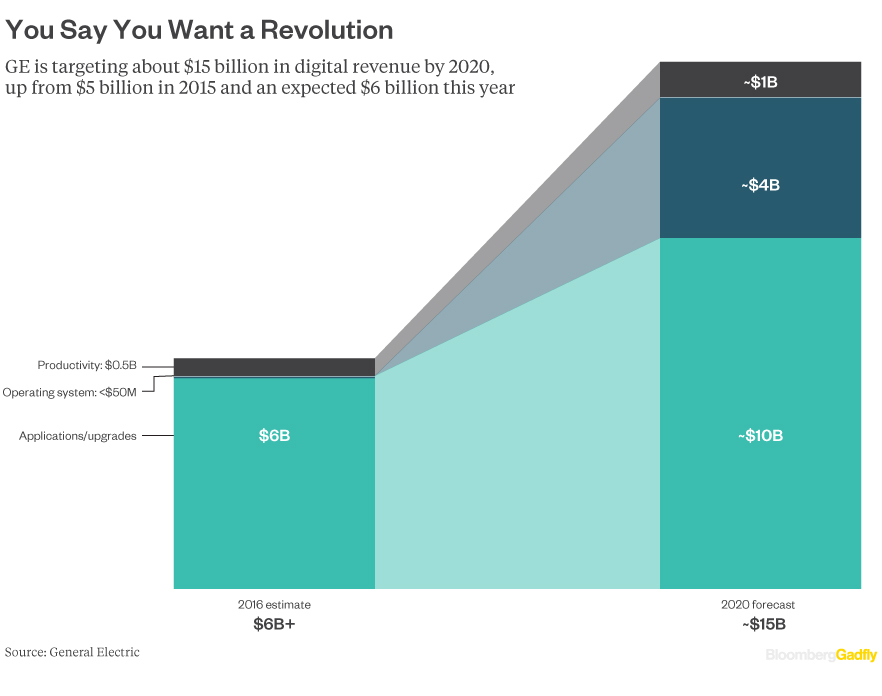 On Thursday, GE gave concrete examples of how clients are using its Predix platform and applications on everything from diaper production at Procter & Gamble to LNG facilities at Qatar-based RasGas. GE expects its asset performance management offerings, along with digital upgrades to existing service agreements, will account for $10 billion of the $15 billion in tech-related revenue it's targeting by 2020.
Digitally connecting its own factories through the Predix platform has allowed GE to do things like quickly match up and price available parts based on only a scan of a blueprint at a client meeting. The capability to produce faster quotes at its energy-connections business has already yielded $60 million in increased orders. Overall, GE expects $1 billion in productivity gains for itself by 2020. The last $4 billion of its revenue target will come from sales of the Predix platform as a service, whereby customers develop their own applications to fit needs across their business.
GE's plans are ambitious and the next big test will be whether it can actually deliver on its goals and justify its billions of dollars of investment. It beats sitting still. 
--Rani Molla contributed graphics to this story.
This column does not necessarily reflect the opinion of Bloomberg LP and its owners.
To contact the author of this story:
Brooke Sutherland in New York at bsutherland7@bloomberg.net
To contact the editor responsible for this story:
Beth Williams at bewilliams@bloomberg.net