Elon Musk is having a hard time selling the idea that Tesla Motors buying SolarCity is just the "obvious" thing to do.
Even Adam Jonas, the Morgan Stanley analyst who once jacked up his target price for Tesla on the basis of an imaginary business, isn't buying it. As of now, SolarCity's stock trades 8 to 15 percent below the implied offer, suggesting the deal's inevitability is anything but obvious to investors.
Let's focus on those investors -- specifically, Tesla's top 20 institutional shareholders below Musk. Like him, many also own a stake in SolarCity -- 14 of them, to be precise, according to data compiled by Bloomberg (I've consolidated them by institution here even if separate funds hold the shares in some cases).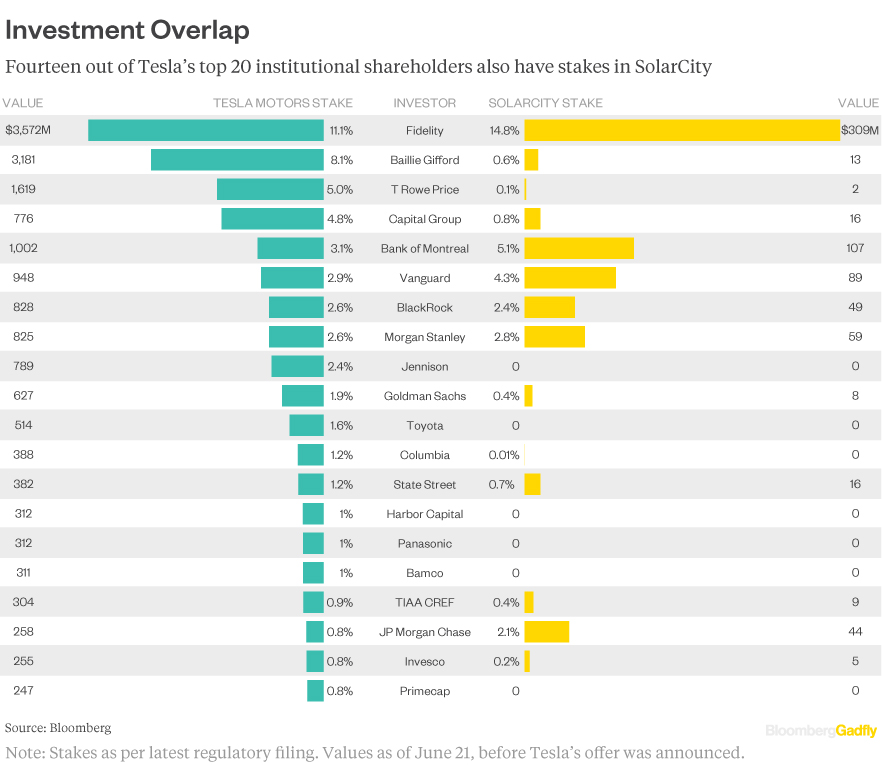 Collectively, these 20 own about 55 percent of Tesla and 34 percent of SolarCity. They're actually more powerful than that, as only "disinterested" shareholders will vote on whether the deal goes ahead. Assuming this means the exclusion of Musk, board member Antonio Gracias, and Lyndon and Peter Rive at SolarCity, the top 20 institutions control 68 percent of the Tesla vote and 48 percent of SolarCity's.
Which presents them with a bit of a quandary.
Consider these two numbers: $3.42 billion and $2.16 billion. The first is how much has been wiped off Tesla's value since the announcement, while the latter is SolarCity's market capitalization. You'll notice the loss is much bigger than SolarCity's entire valuation.
Say you're one of the 20 considering your options. If you happen to be among the 6 that don't own any SolarCity stock, then you have good reason to vote the deal down. Since Tuesday, they're nursing a collective loss of about $263 million. And, apart from the deal's questionable rationale and governance concerns, they face having their ownership diluted if it happens. Their problem? They control less than 10 percent of the disinterested shares in Tesla.
The situation with the 14 cross-holdings is a bit more nuanced. Here's how their fortunes have moved in the past couple of days.
If you can spot the value gained in their SolarCity stakes on the right-hand side, then I envy your eyesight. Collectively, their Tesla stakes are worth $1.58 billion less than before the announcement. Gains at SolarCity -- its valuation now largely a function of Tesla's stock price -- have offset only $27 million of that loss. So the chart doesn't make a great "Yes!" campaign poster for the deal.
These 14 institutions have one other issue to consider, though: What will SolarCity be worth if the deal falls through?
Its stock has more than halved this year, and a distinct note of existential concern has crept into the debate around the company. Musk even said Tesla might extend a bridge loan to SolarCity in the near term if needed -- he thinks not -- which is a confidence builder of the decidedly backhanded variety.
Take an extreme scenario. Say our 14 institutions, which control 59 percent of the disinterested vote at Tesla, block the deal and SolarCity eventually goes bankrupt (I said it was extreme, folks). Surely the risk of getting wiped out means they should grit their teeth and vote yes?
Not necessarily, even then.
Here's the math. Prior to the announcement, the 14 institutions' combined position in both companies was worth $15.69 billion. It's now worth $14.11 billion. If they vote for the deal and get the best exchange ratio currently on offer -- 0.131 of a Tesla share for each SolarCity share -- then they will own about 45 percent of an enlarged Tesla. Assuming the deal's drawbacks keep the stock stuck where it is now, at about $196, that would be worth $14.26 billion -- a bit higher than where they are today, but still worse off than before the announcement.
If they vote the deal down and SolarCity did eventually go under, then they would lose the entire $751 million they hold in that company. Ouch.
Yet if the deal goes away, then Tesla's stock ought to recover some of its lost value. Maybe not all of it; Musk's aura of invincibility has dimmed a little. Say it recovered two-thirds of it, implying a stock price of roughly $212 (it was about $220 when the offer was announced). Then, even with SolarCity zeroed out, the combined Tesla position would be worth $14.44 billion -- still worse off than before the announcement, but better than saying yes and risking Tesla's shares staying below $200.
Individually, 9 of the 14 would be better off under these assumptions, representing 33 percent of the disinterested shares. That isn't a majority, of course. Add in the 6 shareholders with just Tesla exposure, though, and this rises to 43 percent -- not a majority, but not far off, either. And don't forget that this is all calculated assuming SolarCity would go under on its own, which isn't a given and hardly the likeliest scenario in the mind of anyone that actually owns it.
Even Musk's formidable salesman skills are likely to be sorely tested with this one.
-- "Investment Overlap" graphic by Rani Molla
This column does not necessarily reflect the opinion of Bloomberg LP and its owners.
To contact the author of this story:
Liam Denning in San Francisco at ldenning1@bloomberg.net
To contact the editor responsible for this story:
Mark Gongloff at mgongloff1@bloomberg.net