It's merger time in utility-land. A stagnant electricity market and the growing threat posed by distributed energy like home solar has given big U.S. utilities a tremendous appetite for M&A. Cheap debt and high stock prices provide the means (as I laid out here and here).
So the question is: Who could be the next target?
To start, I downloaded a list of 70 U.S. companies from Bloomberg that screen as U.S. power or gas utilities with a market capitalization of $500 million or more. Nearly half of these could be screened out immediately. Some, such as NRG Energy or AmeriGas Partners, are in the business of power and gas but aren't the regulated utilities -- which operate transmission and distribution networks -- that are in the cross-hairs. Others, such as Duke Energy or Southern Co., are simply too big and natural predators rather than prey.
That leaves 40 regulated utilities with a market capitalization of $20 billion or less. It isn't just size that matters, though. With utilities, the fewer state regulators you have to deal with -- given their drawn out approvals processes and costly demands -- the better. So that's the first screen of potential targets: Are they small enough to buy, and are they focused on a few territories?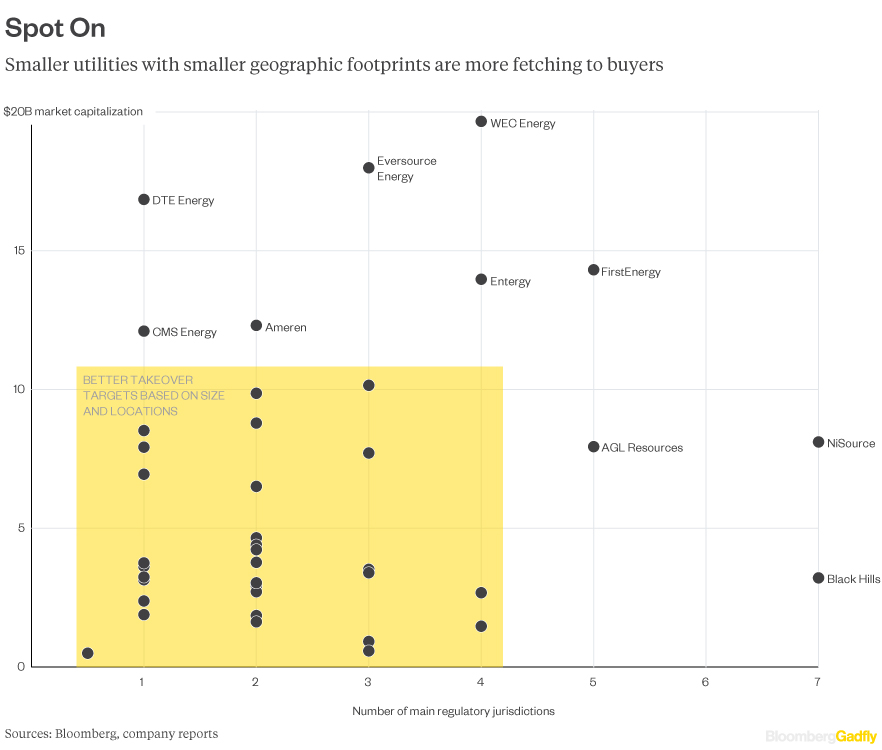 The most realistic targets sit in the bottom left of that chart. Setting a cut-off of around $10 billion on the market cap and four main regulatory jurisdictions gets rid of another 10 candidates that look too big, too complicated, or both.
Next up: finances and valuation. The best targets wouldn't be carrying a lot of debt -- all the better to let an acquirer load on some of their own -- and don't sport multiples more redolent of a social network than a transmission network. Here's how our 30 remaining contenders stack up on those scores.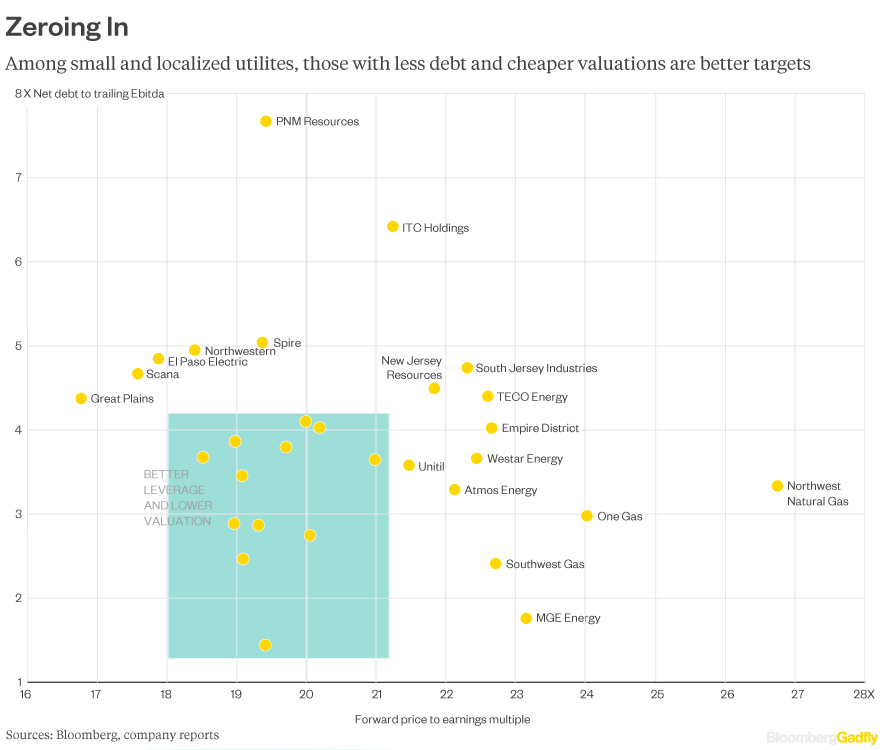 Deciding what is and isn't expensive is tricky when the whole sector is trading around its all-time high. Great Plains Energy just agreed to pay almost 25 times 2016 earnings for Westar Energy, a Kansas utility with so-so growth, so go figure. For our purposes, we'll set the valuation cutoff at 21.5 times forward earnings and the leverage threshold at about 4 times Ebitda. Voila: We're down to a dozen.
These look like the most promising candidates in terms of scale, complexity, leverage and valuation. This final chart plots these 12 potentials' valuation against their expected earnings growth and their market cap.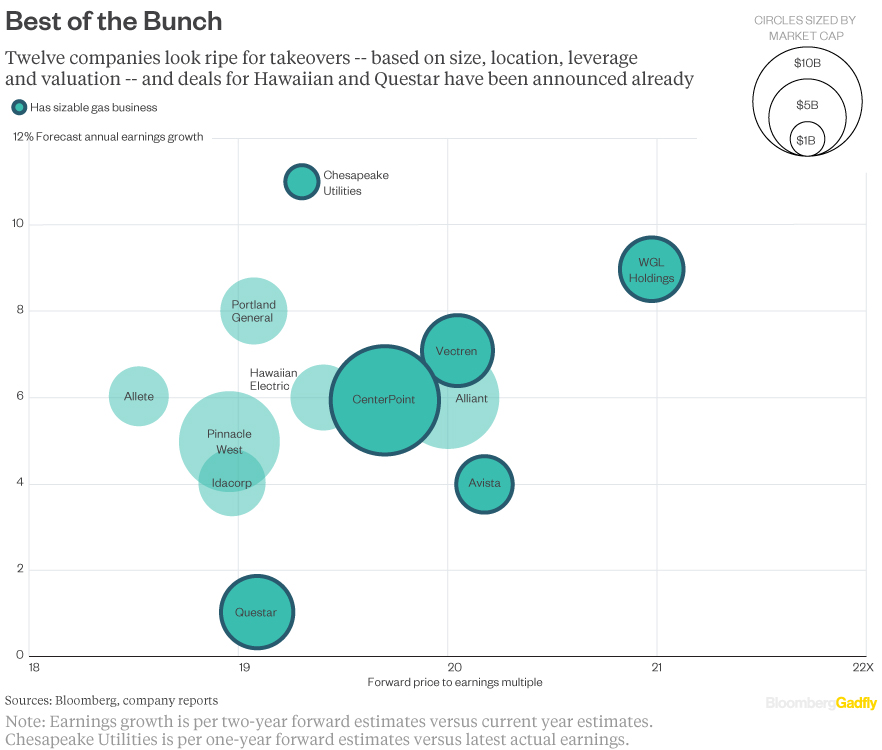 Half the names on there have big gas businesses and, Questar aside, tend to sit toward the right of the chart with premium valuations. Gas, with its higher growth prospects than electricity demand, has been the basis of several big utility deals over the past year, most notably the announced take-outs of Piedmont Natural Gas, AGL Resources, and Questar.
CenterPoint, the biggest utility here by market cap, combines a large gas business with an attractive electricity network centered on Houston, as well as a stake in a master limited partnership. With activist Elliott Management sitting on its shareholder register, it looks like an interesting break-up or takeover candidate (as I wrote about here).
Meanwhile, Portland General, Pinnacle West Capital and Idacorp are all relatively small, geographically-focused electrical utilities with reasonable growth prospects. They also all happen to be neighbors of utilities owned by Berkshire Hathaway -- run by a certain Warren Buffett, who declared in 2014's shareholder letter: "We will continue to buy and build utility operations throughout the world for decades to come."
There's no indication that Buffett, or anyone else for that matter, is ready to pounce on these utilities. This is just a screen of likely candidates. But with utilities a hot spot for deals right now, it's a fair bet that bankers are running similar analyses for the sector.
This column does not necessarily reflect the opinion of Bloomberg LP and its owners.
To contact the authors of this story:
Liam Denning in San Francisco at ldenning1@bloomberg.net
Rani Molla in New York at rmolla2@bloomberg.net
To contact the editor responsible for this story:
Mark Gongloff at mgongloff1@bloomberg.net