The campaign for the U.K. to leave the European Union has included a soundbite that Britons are fed up with expert opinion on what life would be like outside the bloc. 
But moves in share prices suggest some investors are keenly attuned to warnings on the consequences of Brexit.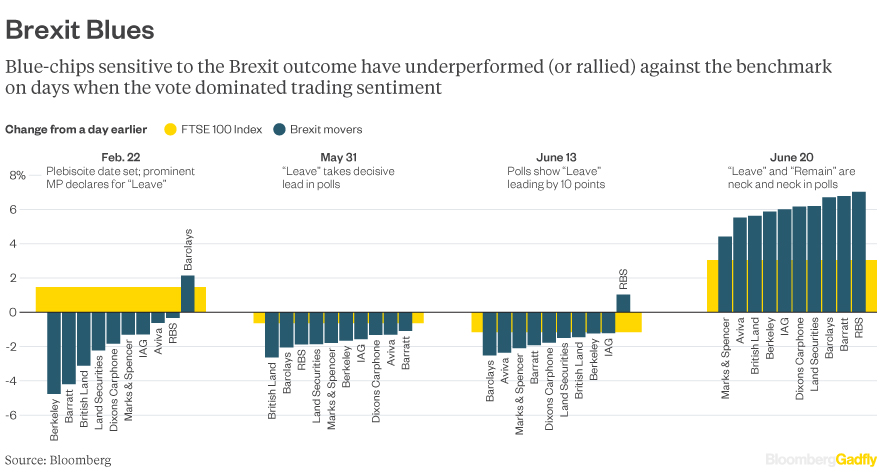 The IMF, OECD and a fair share of analysts at investment banks have warned of short- and long-term pain if the U.K. votes to leave the EU. Brexit, they say, could cause a collapse in sterling and a sudden drop in investment amid uncertainty about future trade relationships. Consumer spending might fall along with the housing market. Commercial property values may also dip. And in the immediate aftermath of the vote, financial markets could be extremely volatile.
Now look at the FTSE-100 index, where a small group of relevant stocks has reacted pretty consistently around some of the more significant polling developments. They are: lenders Barclays and Royal Bank of Scotland, homebuilders Berkeley Group and Barratt Developments, commercial property firms British Land and Land Securities, retailers Dixons Carphone and Marks & Spencer, British Airways-owner IAG, and insurer Aviva.
For this grouping, which captures the full gamut of Brexit concerns, there's a rough match between gains for Vote Leave and weakness in the shares, and vice-versa.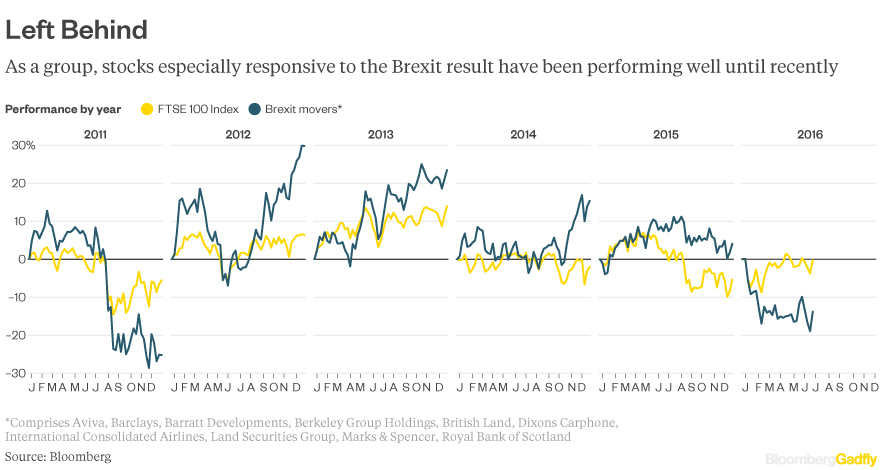 Berkeley specializes in high-end London flats often bought by overseas buyers who have been putting in fewer orders this year. Land Securities and British Land are sitting on shopping centers and London office developments, exposing them to both a consumer and business slowdown.
IAG is vulnerable because a greater proportion of its revenue is in sterling than its costs, according to research by Barclays. Moreover, a decline in business investment may hurt demand for business flights.
As a big insurer sitting on a sizable investment portfolio, Aviva is exposed to market volatility, and nearly half its revenue is from Europe. Barclays and RBS are clearly exposed to consumer credit, mortgage lending and commercial property, and, via their investment banks, market shocks.
It's an informal, not a scientific, analysis. But each of the 10 companies underperformed or outperformed according to swings in Brexit expectations on at least three out of four key trading sessions during the campaign: Feb. 22, the session after the plebiscite date was set, and high-profile MP Boris Johnson came out in favor of the Leave campaign giving it an early boost in the polls; May 31, after the polls gave Leave its first clear lead; June 13, after a poll put Leave 10 points ahead; and June 20, when there was a rally as polls put the two camps neck-and-neck once more.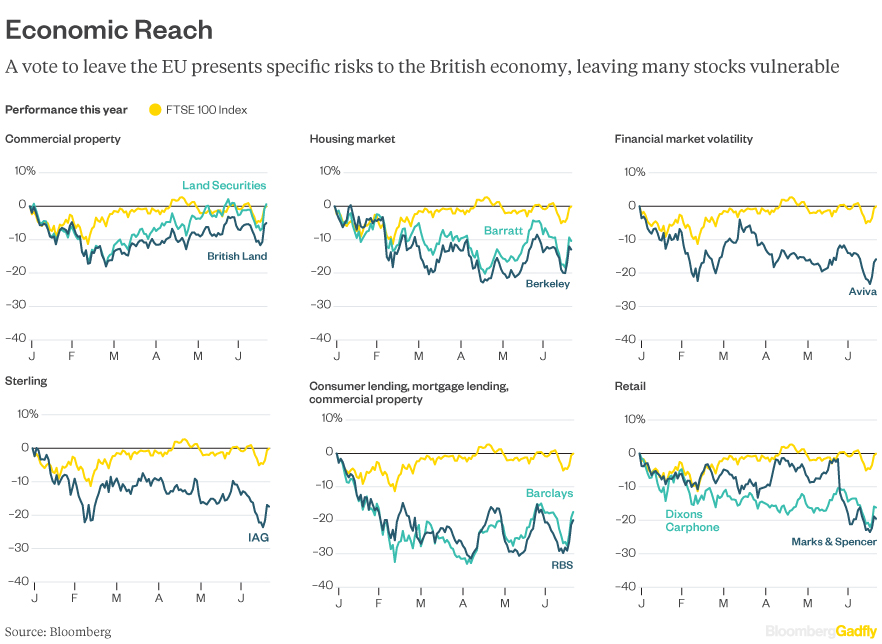 True, many of these are simply volatile shares in companies with specific challenges -- Barclays (which cut its dividend), RBS, IAG and M&S are among the top-10 worst performing FTSE-100 stocks this year.
But take a step back, and the grouping outperformed the FTSE-100 every year from 2012 to 2015, making particularly strong gains after the 2012 London Olympics and in the months following the 2014 Scottish referendum, according to Bloomberg data.
This year, as the Brexit threat has loomed, the 10 have underperformed a flattish FTSE-100. Today, the group is down about 14 percent -- and the polls are too close to call.
-- Gadfly's Elaine He contributed graphics.
This column does not necessarily reflect the opinion of Bloomberg LP and its owners.
To contact the author of this story:
Chris Hughes in London at chughes89@bloomberg.net
To contact the editor responsible for this story:
Jennifer Ryan at jryan13@bloomberg.net