A single number encapsulates the drastic shift in investor attitude toward software companies. 
Some technology stock buyers and investment bankers swear by a metric called the "Rule of 40," a number derived by adding a company's rate of revenue growth and its free cash flow margin.  
This sum of growth plus a cash flow measure is a handy shorthand for the ideal financial condition of a software company -- revenue increasing at a good clip, plus a healthy amount of cash generated by the business. The Rule of 40 neatly captures both.
In general, investors are willing to pay a premium to own companies with higher Rule of 40 sums. Among software companies in the top third of Gadfly's ranking of software companies by their Rule of 40 sums, the median valuation was nearly six times expected 2016 revenue. The bottom third of the more than 110 software companies in the Gadfly analysis had a median valuation of about 2.5 times expected revenue for this year.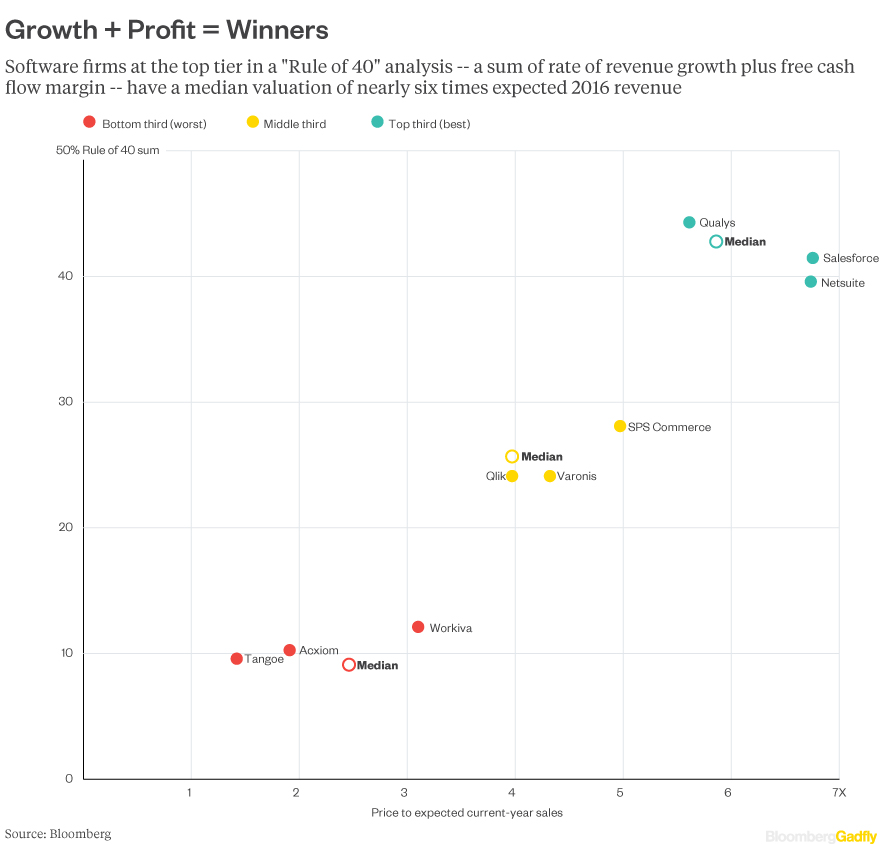 Better stock returns also correlate to companies with high Rule of 40 numbers. Shares rose 30.3 percent in 2015 for companies at the top rung of a Piper Jaffray Rule of 40 analysis. Collectively for the firms at the bottom rung, share prices fell 7.4 percent in 2015.
This performance premium for the Rule of 40 kings is the clearest sign yet of how sales growth at all costs has fallen out of favor with Silicon Valley investors.
Until recently, the software companies with the highest valuations were those with the highest rates of growth -- regardless of how much cash they were burning through to get there. The fact that some investors are starting to also incorporate a measure of profit into their assessments of a company's value shows how much things have changed for public software firms, and their private peers, too. 
U.S. software firms with the highest Rule of 40 numbers include ServiceNow, which makes software used by corporate IT teams. ServiceNow's magic number is 60, the sum of its expected 2016 revenue growth of 36 percent, and its estimated free cash flow of roughly 24 percent of sales, according to estimates compiled by Bloomberg. Other companies in the top tier include Atlassian, Adobe, Workday and Splunk. All are valued well above average for software companies, Bloomberg data show.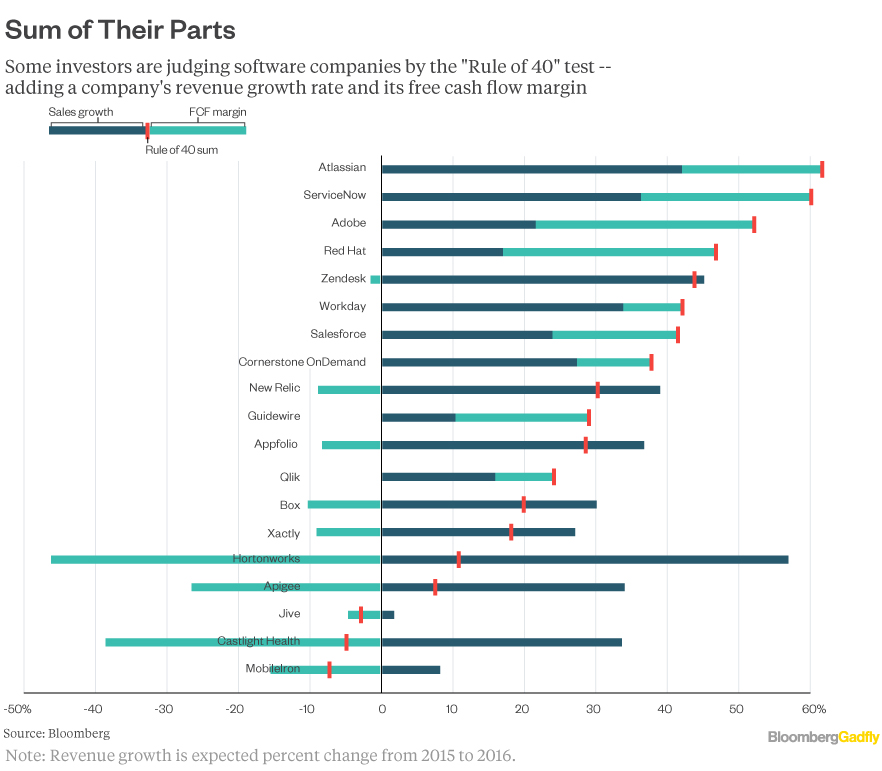 The biggest victims of investors' mind shift are those companies that have rapidly climbing sales but are are also burning through cash. Box's Rule of 40 number is 20 -- sales growth of 30 percent and negative free cash flow of 10 percent of sales -- putting it below the median of companies in the Gadfly analysis. The company's shares were valued at nearly six times forward revenue estimates just after its January 2015 IPO, and 3.5 times on Tuesday, Bloomberg data show. 
Contrast that with Proofpoint, which has about the same revenue growth rate as Box but has a free cash flow margin of about 10 percent of sales. Proofpoint's sum of 43 puts it in the top tier of companies in Gadfly's Rule of 40 analysis, and its multiple of revenue has expanded from about six in early 2015 to seven times now. 
The Rule of 40 is elegant, but there are many cautions here. Any numerical shorthand is inherently too simplistic. It's dangerous to lean too heavily on a single financial evaluation, particularly in a software industry that is already swimming in metrics, both illuminating and obfuscating.
No matter the imperfections of numbers, it's clear tech companies are paying homage to investors' newfound appreciation for profits. At a recent Bloomberg technology conference, Dropbox's CEO didn't boast about growth in users or climbing sales, but rather about how his startup is free cash flow positive. That tells you a lot about what matters for technology companies now. Revenue growth is lovely, but investors are sniffing out the ones that burn too much cash to get there. 
This column does not necessarily reflect the opinion of Bloomberg LP and its owners.
Others use Ebitda instead of free cash flow in the Rule of 40 calculation. The point is to add sales growth and some measure of profit or ability to generate cash. 

There doesn't seem to be anything necessarily magic about the number 40, although that sum does seem to be a rough dividing line between the highest ranking software firms and all others.  
To contact the authors of this story:
Shira Ovide in New York at sovide@bloomberg.net
Rani Molla in New York at rmolla2@bloomberg.net
To contact the editor responsible for this story:
Daniel Niemi at dniemi1@bloomberg.net