Asia Is Oil's 21st Century Battlefield
The tectonic shift puts pressure on prices, OPEC and global peace.
By and
There's a reason why, when it comes to oil, President Lyndon B. Johnson used to worry about the Suez canal closing, while President Barack Obama has agonized more about the Keystone XL pipeline opening.
Oil's world tilts increasingly toward Asia. In 1965, the Asia-Pacific region used about 3.1 million barrels of oil a day, about a seventh of what was used on the other side of the world. Today, India alone uses far more than that, and the Western Hemisphere is on the verge of being overtaken.
Demand is only half the equation, though. From the market's perspective, what really matters is the interplay of supply and demand, otherwise known as oil trading. Look at the same chart, but this time showing how much each region needs to import.
It isn't just that Chinese and Indian consumers are getting richer and want bigger cars (or just a car) and that American and European demand has mostly topped out. Rising output from North American shale and oil sands, as well as Brazil, has also had a big impact, squeezing out imports.
For example, look at what is still the single biggest market for oil: the U.S. Back in 1965, it was the largest market by far, taking almost 4 out of every 10 barrels the world was producing. It was importing, on a net basis, 2.3 million barrels a day. Data from BP show the majority of those imports flowed from the Caribbean, likely a mix of crude oil from Venezuela and Middle Eastern oil processed at Caribbean refineries. Middle Eastern barrels shipped in directly also figured large in the mix.
Since then, America's thirst for foreign oil has swung around dramatically -- and so have the sources.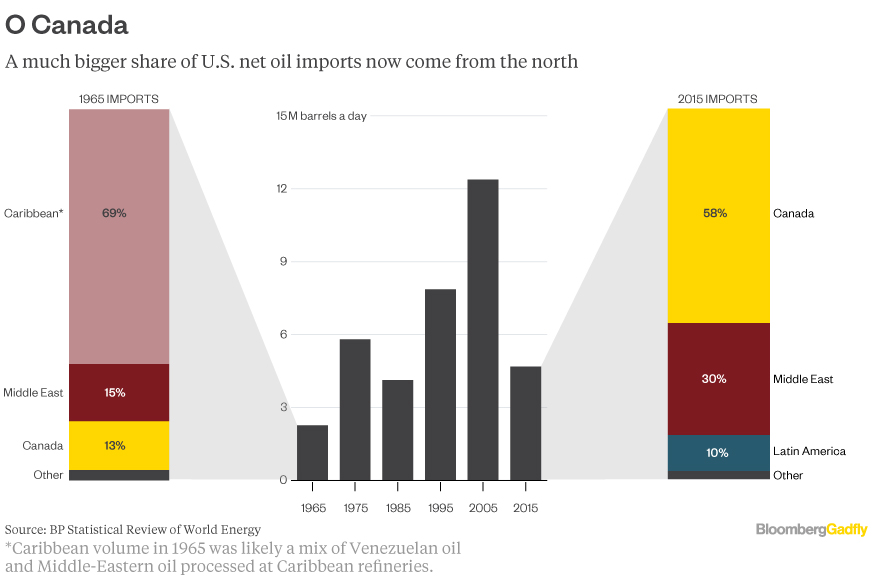 This shift in flows has profound implications for oil suppliers. Consider Africa and the Middle East. Broadly, African barrels used to flow mostly north to Europe and west across the Atlantic. But slowing demand and competing shale barrels have forced producers such as Nigeria to turn their sights eastward -- competing directly with Middle Eastern suppliers also targeting the world's new center of gravity when it comes to growth in oil consumption. Take a look at what's happened in just the past 15 years.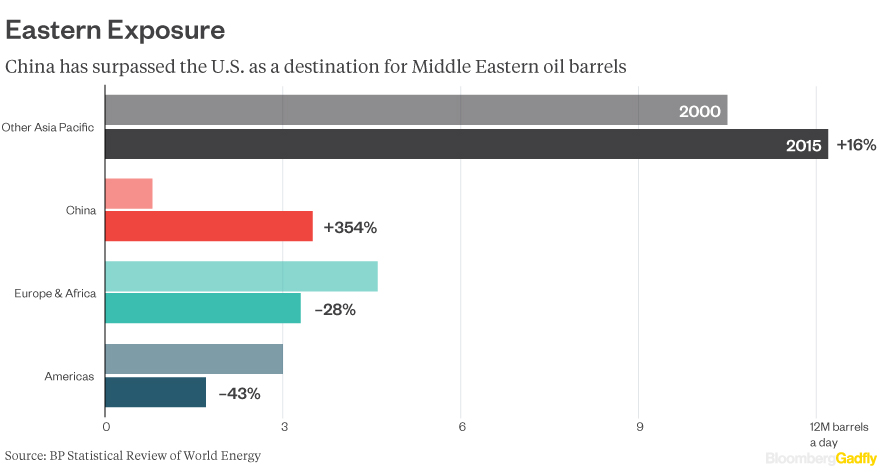 The resulting competition caps oil prices. It also widens the cracks inside OPEC. And it is potentially problematic for the world's refiners, especially those in Europe, as old markets stagnate and new competitors arrive.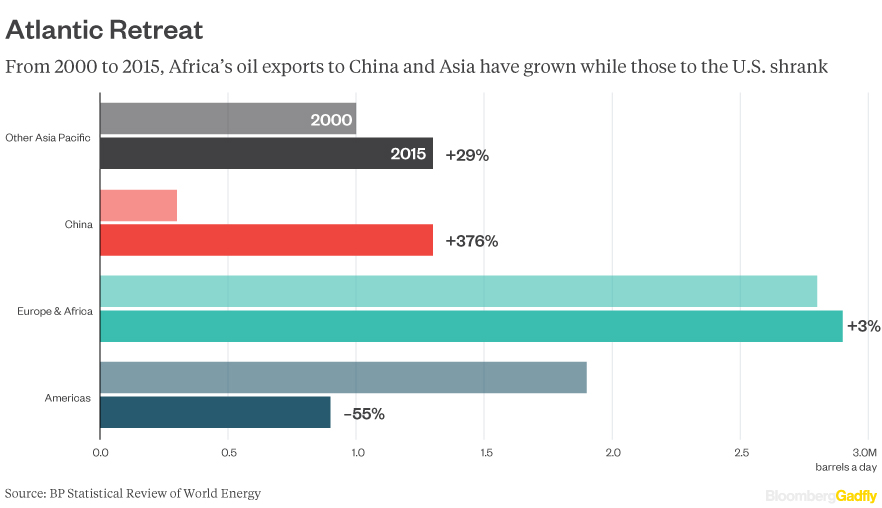 Beyond this, there are wildcards such as the U.S. dollar: Will it be structurally stronger as the country's oil account deficit shrinks, and will that pressure prices?
The shift in flows also raises, as if we needed them, new geopolitical tensions. Saudi Arabia, for example, frets about a less import-dependent U.S. stepping back in the Middle East. Meanwhile, the Energy Information Administration estimates that, in 2013, more than a quarter of the world's seaborne oil trade went through the Strait of Malacca. That's a vital waterway linking the Indian and Pacific oceans -- not a million miles from where China is facing off against virtually every other Asian power (and the U.S.) about who controls the South China Sea.
But that's something for the next president to worry about. 
To contact the authors of this story:
Liam Denning in San Francisco at ldenning1@bloomberg.net
Rani Molla in New York at rmolla2@bloomberg.net
To contact the editor responsible for this story:
Mark Gongloff at mgongloff1@bloomberg.net
Before it's here, it's on the Bloomberg Terminal.
LEARN MORE