Autocratic regime seeks willing buyers of minority stake in national oil champion.
This time, it isn't Saudi Arabia talking about offloading shares in one of its crown jewels, but Russia. Bloomberg News reports President Vladimir Putin is considering selling a 19.5 percent stake in Rosneft to Chinese and Indian buyers.
Like Riyadh, Moscow is under pressure from low oil prices in a more competitive market. At 40 percent of the federal budget, Russia's reliance on oil and gas revenue isn't as high as Saudi Arabia's, but that's not a particularly high bar to clear. One look at Russia's foreign exchange reserves tells you what fuels the Kremlin's finances.
But there are important differences between Saudi Arabia's plans and Russia's, which any prospective buyer should bear in mind.
Selling 5 percent or so of Saudi Aramco is, to some degree of course, about money. The Deputy Crown Prince, who is championing the plan, has boasted that Aramco could be valued at $2 trillion. However fanciful that figure may be, it is clear Saudi Aramco would rank as one of the biggest initial public offerings ever.
Yet this isn't just about shoring up the kingdom's coffers. As the (ahem) somewhat ambitious "Vision 2030" project shows, Saudi Arabia is seeking to shift its economy away from its overweening dependence on shipping combustible stuff to foreigners. Coming alongside the country's policy of maximizing market share in oil supply rather than supporting prices, the implicit message is that conservation efforts and shale may have ushered in a long period of lower prices.
Russia's privatization plans look more geared to just raising cash. The history of the post-Soviet oil industry began with privatization in the 1990s, when President Boris Yeltsin needed cash to fund an election campaign and thereby created the oligarch class that gained control of Russia's strategic assets for a song. Putin aggressively rolled that back, most starkly in the case of Yukos, helped in part by the confidence and wherewithal granted by the boom in energy prices after 2000.
Now, the government needs money again. Even if it sells almost a fifth of Rosneft, though -- worth about $11 billion today -- Moscow would still be the majority owner. The experience of the 1990s, when the Russian state's poverty led to the humiliation of the initial privatizations, is deeply ingrained not just in Putin's memory but the collective one. In a survey published two months ago, state pollster VTsIOM found about two-thirds of Russians opposed selling off state assets. Sovereignty is all.
As fellow Gadflies David Fickling and Andy Mukherjee point out, companies such as India's Oil & Natural Gas Corp. may well see an opportunity to fulfill expansion plans by taking a stake in Rosneft and thereby potentially gain access to upstream projects in Siberia and elsewhere. India's demand for oil is, after all, surging; and it can possibly negotiate better terms if it ties a deal to guaranteeing Russian oil a slice of that market.
Any buyer ought to bear in mind, though, that they would be laying out billions to take a large but still minority stake in the national oil company of a country that ranks 119th of 168 in Transparency International's Corruption Perceptions Index (Saudi Arabia is ranked 48th).
BP's 19.75 percent stake in Rosneft notionally grants it about 6.8 billion barrels of oil equivalent of reserves under SEC rule. Yet BP's own history in Russia offers a cautionary tale, with its first investment in Sidanco in the late 1990s unraveling and its stake in Rosneft resulting largely from its need to deal with another major investment that was also unraveling, TNK-BP. With the latter, it is notable that BP paid itself back its initial investment in TNK-BP via dividends in the early years of the joint venture, providing some insurance against the eventual in-fighting with its Russian partners.
Moreover, as I wrote here, booking reserves for the sake of booking reserves increasingly looks like an obsolete strategy for major oil companies. The Aramco IPO plan hints at a future where the value of barrels in the ground may not necessarily rise over time. In a more competitive oil market, what counts is access to low-cost supply, preferably with shorter project timetables and without a lot of political baggage -- not Russian oil's strongest suit. Rosneft's potential new partners should demand a discount.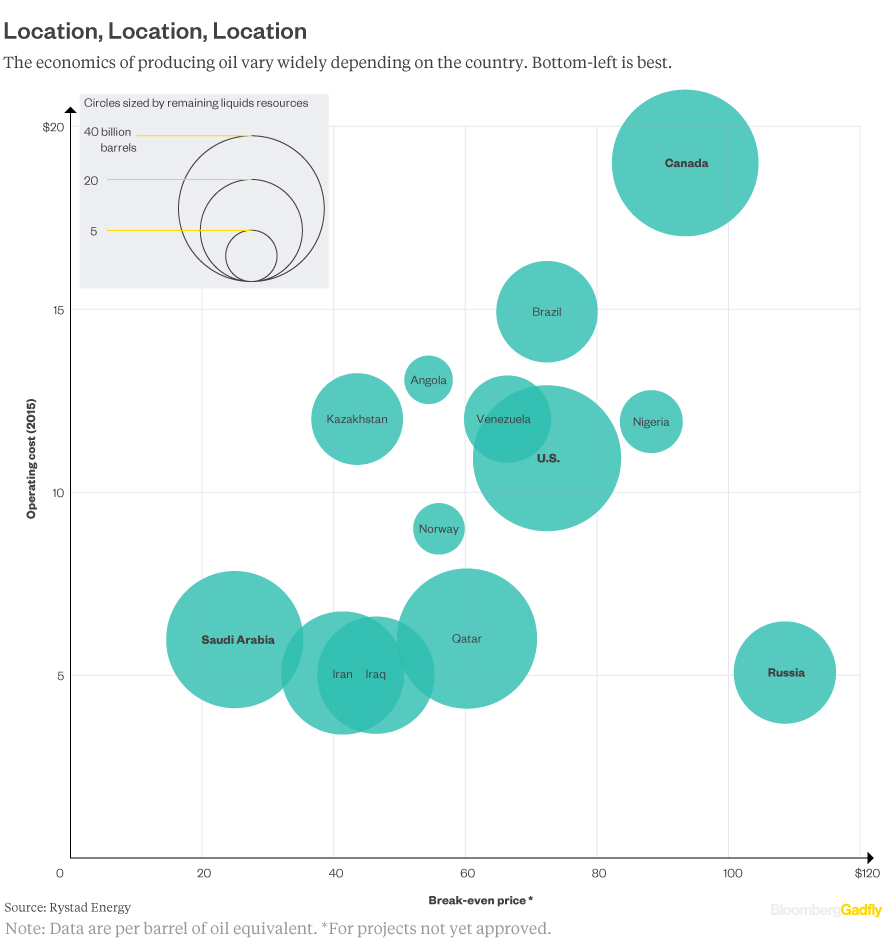 This column does not necessarily reflect the opinion of Bloomberg LP and its owners.
To contact the author of this story:
Liam Denning in San Francisco at ldenning1@bloomberg.net
To contact the editor responsible for this story:
Mark Gongloff at mgongloff1@bloomberg.net