If Microsoft were a smarter company, LinkedIn would never have existed.
Under CEO Steve Ballmer starting in 2000, Microsoft expanded its foothold from desktop computers into nearly every corner of the workplace. Cubicle jockeys grew reliant on Outlook email, Word documents and PowerPoint presentations. Their bosses built their technology systems around Microsoft's operating software for computer servers, SharePoint corporate file systems and software programming languages. Microsoft became the undisputed king of the office, and its collection of interconnected workplace software seemed unassailable.
But slowly, the ruler of the professional world allowed insurrections to weaken his kingdom. Microsoft's rigid allegiance to its clunky corporate file storage system helped give birth to Box, Dropbox and other widely used technologies for workers to share documents over the web. Itching for ways to interact beyond email, workers gravitated to chat technologies like Hipchat, Slack and Yammer -- which Microsoft bought in 2012 for $1.2 billion. 
Document-signing services such as DocuSign, videoconferencing systems like GoToMeeting and other whole categories of workplace technology capitalized on Microsoft's shortcomings and lack of vision to create new ways of communicating with colleagues or different modes of doing work.
LinkedIn likewise has become a staple of the white-collar world outside of Microsoft's reach. People have whispered that Microsoft had a chance to buy LinkedIn years before the company went public, when a purchase price would have been in the millions instead of the more than $26 billion that Microsoft said it would pay now in one of the biggest technology acquisitions in history.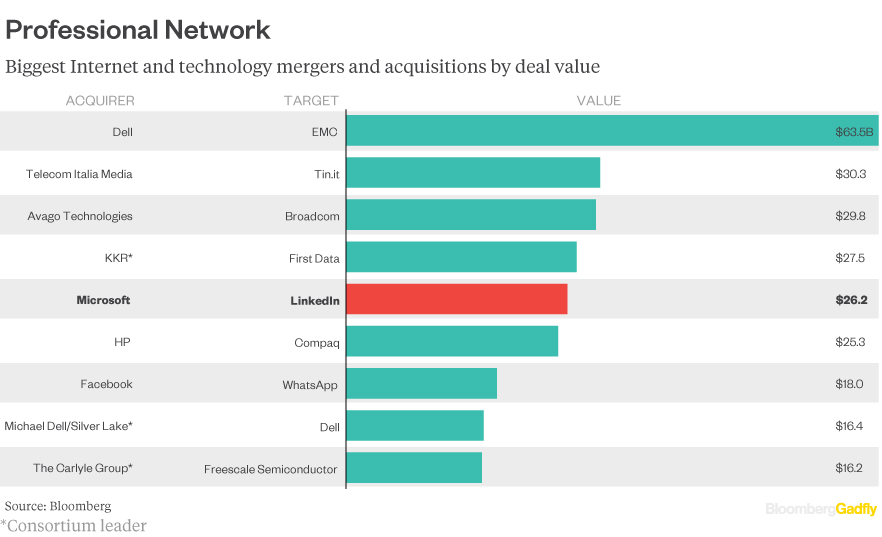 At the point of its missed LinkedIn opportunity, Microsoft executives thought that there was nothing special about LinkedIn's technology and that the company could create an online professional network on its own. It never did. 
With Satya Nadella in Microsoft's CEO job for the last two years, Microsoft seems to have shed its aversion to technologies that weren't invented inside the company's walls. Nadella purchased an email app newcomer called Acompli in 2014 and replaced its own mobile email technology with the startup's superior ones. Microsoft did the same with a calendar app called Sunrise. 
Microsoft's other acquisitions under Nadella have mostly been small purchases of software firms that help Microsoft incorporate computerized analysis and predictions into the workplace. If successful, those technologies should keep Microsoft entrenched at the office for the next generation. 
The challenge for Microsoft now will be to prove it can own LinkedIn without breaking its new toy -- something Microsoft does with alarming regularity. Microsoft's recent history is marked by acquisitions that seemed puzzling at the time, and then Microsoft made them even worse.

The company acquired Nokia's smartphone business for more than $7 billion, and Nadella has been busy firing Nokia's former employees and executives ever since, writing down nearly the entire value of the deal and making no progress in smartphones. Microsoft bought Skype five years ago for $8.5 billion, and the web-video calling company promptly lost ground to better options from Apple's FaceTime, WhatsApp and others. Microsoft in 2007 paid more than $5 billion for online advertising firm aQuantive in a bid to catch up to Google, and then Microsoft couldn't figure out how to run an online advertising business. Yammer is now a relatively neglected corner of Microsoft's workplace software. Microsoft could have had a chance to ruin Yahoo, too, but deal-making missteps and the 2008 financial crisis quashed the potential $40 billion acquisition.
It's remarkable that Microsoft has held onto and expanded its empire even after making so many mistakes. On Day One of Microsoft's biggest-ever acquisition, the company's shareholders and millions of workplace professionals should hope the company can buck its pockmarked history with the LinkedIn deal. 
This column does not necessarily reflect the opinion of Bloomberg LP and its owners.
To contact the author of this story:
Shira Ovide in New York at sovide@bloomberg.net
To contact the editor responsible for this story:
Daniel Niemi at dniemi1@bloomberg.net