Last year's oil price rally ran out of steam in early May after 112 days. This year's has already lasted longer (140 days so far) and prices have risen further, but there are worries that, it, too, may be running ahead of market fundamentals. While prices seem unlikely to collapse again, there are good reasons to expect a pause in their upward march.
Crude prices have nearly doubled from the lows reached in mid-January. Brent rose above $50 a barrel last Monday and stayed there all week. West Texas Intermediate crude narrowly failed to do the same after breaking through the psychological barrier on Tuesday. Brent prices have risen an average 18 cents a day since mid-January, remarkably similar to the 19 cents a day early last year.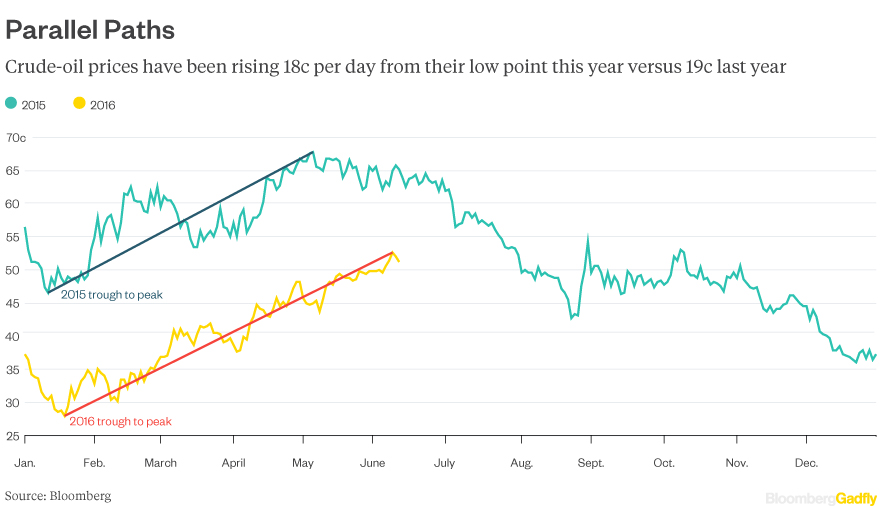 Sure, there's a real risk of structural supply shortages down the road, as oil companies have slashed spending on new projects, but they're not here yet. What we do have is a number of unforeseen disruptions, most recently in Canada and Nigeria, with a further deterioration in Libya, which have helped eliminate the surplus.
The U.S. Energy Information Administration saw disruptions removing more than 3.6 million barrels a day of potential supply in May, probably more than at any time since Iraq invaded Kuwait in 1990. Many stoppages have lasted years already and may last many more. Some output may never be fully recovered.
But some might return quite quickly. The biggest new disruption is already being resolved: the wildfire that swept through Alberta's oil sands and cut daily production by about 1.2 million barrels. Canadian production is returning slowly and will continue to add supply.
And while even the cheeriest optimist would hesitate to call an end to U.S. output declines, production there has just risen for the first time in three months on a week-by-week basis. Continental Resources has started fracking wells that it had drilled, but left uncompleted as prices collapsed. There were 4,290 such wells in the U.S. at the end of 2015 and others may follow Continental's lead, although Bloomberg Intelligence's Peter Pulikkan believes crude may need to rise another $5-$10 per barrel before that happens.
It's true that other lost supply is much less likely to return quickly. Nigerian output remains highly uncertain, with Shell indicating that workers' safety will remain a priority over repairing infrastructure and every day bringing reports of fresh attacks. "There's clearly better organization and targeting," Shell's finance director Simon Henry said this week, comparing the latest attacks with those of 2009. Nevertheless, they remain focused on nearshore and onshore facilities, with deepwater platforms untouched so far.
Libya's political chaos also means there's little chance of output there recovering soon. It fell to 250,000 barrels a day on average in May, the lowest since February 2015, though it was reportedly back above 300,000 barrels by early June.
Yet despite the outages, the EIA still sees global inventories building through August. The resumption of Canadian supply, or any lasting evidence that U.S. output has stopped falling, could quickly tip bullish sentiment bearish again. Doubly so if there's any improvement in Nigeria or Libya. Crude's upward trajectory is still a fragile thing.
This column does not necessarily reflect the opinion of Bloomberg LP and its owners.
To contact the author of this story:
Julian Lee in London at jlee1627@bloomberg.net
To contact the editor responsible for this story:
James Boxell at jboxell@bloomberg.net