Can Live Events End Music's Swan Song?
A business besieged by digital needs to find new ways to perform.
By
In the music world, digital thumped vinyl. Now it looks like live performances may be the traditional recording industry's best hope for salvation.
Despite a boost from subscription streaming services like Spotify, annual recorded music sales have plunged more than 60 percent from $19.7 billion in 2000 to $7 billion in 2015. But more than half of U.S. music revenue came from live events last year and that share is expected to grow steadily over the next five years, according to data from consulting firm PwC.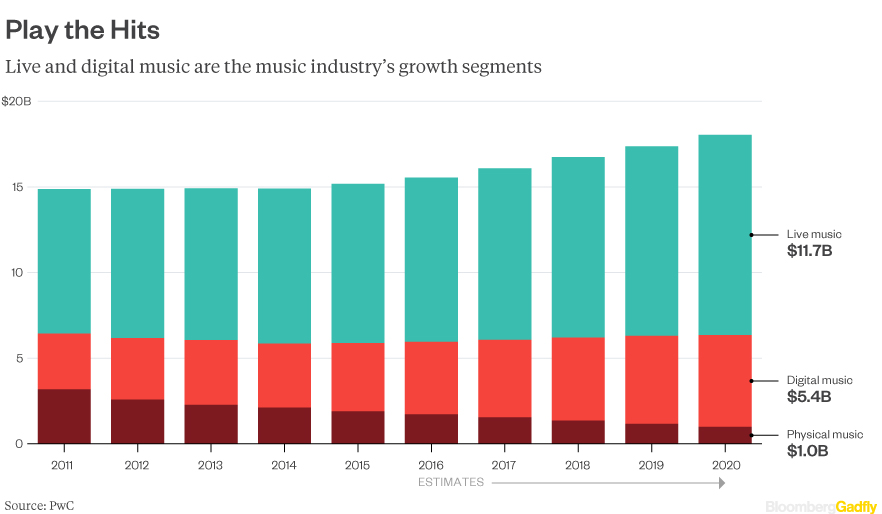 Overall, North American ticket sales rose 11 percent in 2015 to about $7 billion, according to Pollstar, a concert information company.
Much of that growth is due to the increased popularity of music festivals: multi-day events where attendees can see a wide range of acts.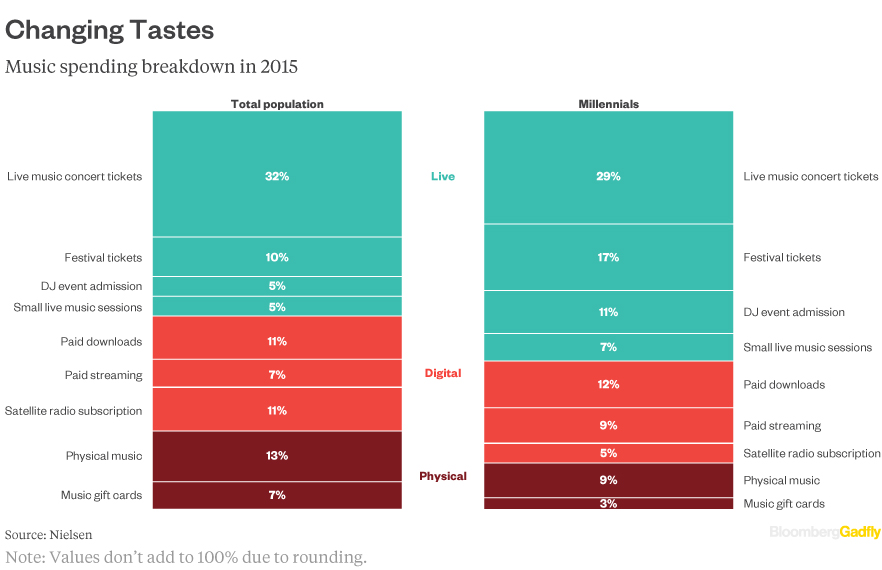 Eleven percent of Americans say they attended a music festival in the past 12 months, with millennials making up 44 percent of that group, according to entertainment analytics company Nielsen.
Brands see live music attendance as an opportunity to get in front of millennials, through sponsorships. ABInBev, PepsiCo, Brown-Forman and Uber are leading sponsors, according to IEG, a research group.
Two music entertainment companies, AEG Live and Live Nation Entertainment, have gobbled up most of the music festival pie. AEG Live owns Coachella Valley Music and Arts Festival, the world's best-selling festival last year, as well as stakes in popular American festivals Firefly, Hangout and the New Orleans Jazz and Heritage festival. Live Nation Entertainment, which owns Ticketmaster, recently bought into Bonnaroo, Electric Daisy Carnival and Lollapalooza.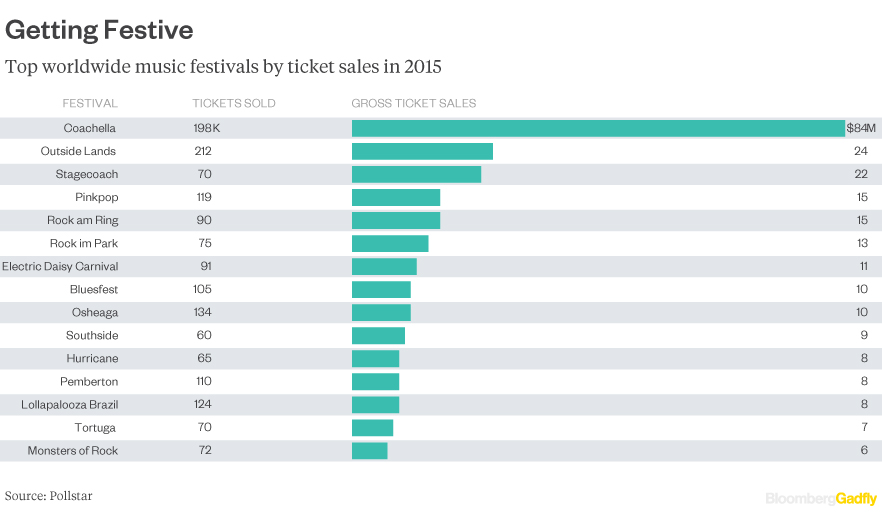 While live music isn't going to save the music industry, it's offering business options that might be worth listening to.
To contact the author of this story:
Rani Molla in New York at rmolla2@bloomberg.net
To contact the editor responsible for this story:
Timothy L. O'Brien at tobrien46@bloomberg.net
Before it's here, it's on the Bloomberg Terminal.
LEARN MORE