Even as Cristiano Ronaldo fired home the winning penalty for Real Madrid in Europe's Champions League final on Saturday, the club's president Florentino Perez was anticipating an even more valuable victory.
The billionaire is CEO, chairman and 12.7 percent shareholder of Actividades de Construccion y Servicios, an infrastructure and industrial-engineering company that until recently was drowning in debt. The Spanish construction market collapsed in the wake of the global financial crisis, and ACS had made a disastrous attempt to build a stake in Iberdrola, a Spanish utility.
These days ACS is in much better shape, chiefly because of its acquisition in 2011 of a majority stake in the German construction company Hochtief.
Following a bumpy start, Hochtief's minority shareholders have also profited handsomely from ACS's empire building, but they now need to be alert to possible dangers ahead.
While the creeping takeover of Hochtief caused a fuss in Germany at the time, it allowed ACS to consolidate the German company's earnings and gave it a platform to grow beyond Spain. The real prize was Hochtief's majority-owned Australian subsidiary, Cimic. Last year, the Asia-Pacific region contributed four fifths of the German group's pretax profit.
Hochtief's stock has more than trebled over the past four years as new management pursued cost cuts and asset sales. 
ACS now owns 66.5 percent of Hochtief, according to data compiled by Bloomberg, and it effectively controls more than 70 percent, because 7.3 percent of Hochtief's shares are held in treasury. Hochtief in turn owns 71.5 percent of Cimic.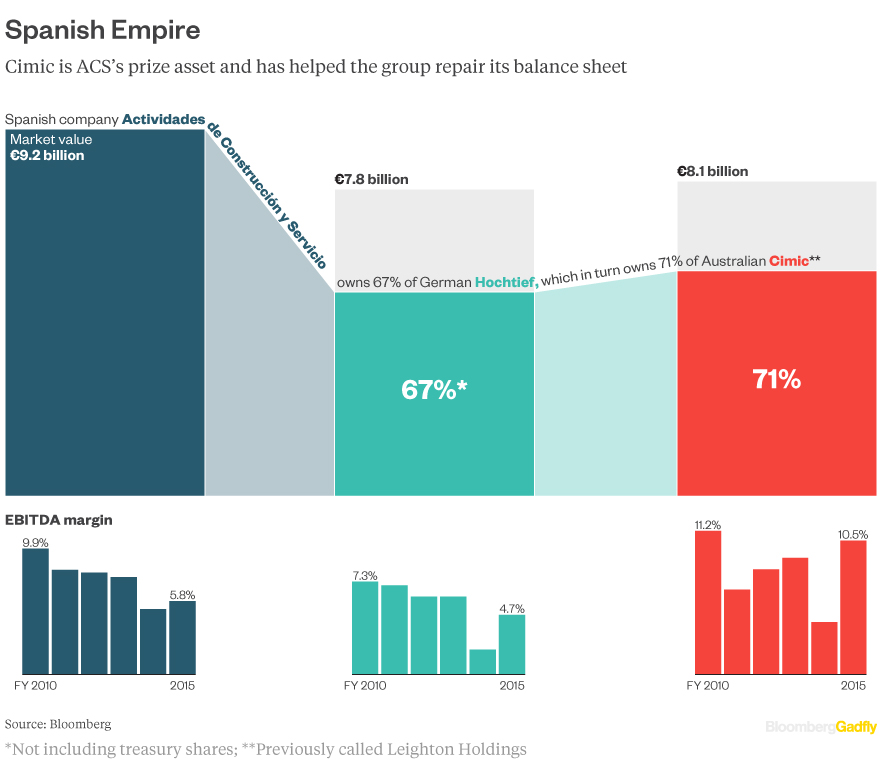 Ultimately, ACS is likely to acquire 100 percent of Hochtief's and Cimic's shares, according to analysts. Still, it's far from clear how and when that will happen -- and therein lies the danger for minority shareholders.
Following a blistering run, Hochtief trades at 34 times earnings, compared with 12.5 times for ACS. 
The discount partly reflects the Spanish company's complex structure and its industrial unit's exposure to the oil and gas industry. ACS's gross debt also remains high -- more than 10 billion euros ($11.2 billion). But the P/E gap is also perhaps an indication that Hochtief's valuation is stretched.
How come? Well, ACS is nominally in construction and industrial services, but its talents really lie in financial engineering.
The Spanish company still depends mostly on expensive bank loans to finance its operations, while Hochtief has lower borrowing costs and a net cash position.  Cleverly, ACS has therefore arranged for Hochtief to pay for its own takeover.
The German company has been buying back bundles of its own stock. When those shares are canceled, the share count is reduced, which pushes up ACS's holding without the Spanish group spending a cent. Cimic has also made buybacks, to similar effect.
Curiously, however, Hochtief abruptly halted the latest buyback program in March, when the stock rose above 100 euros.
ACS management later explained that it did not see Hochtief's current price as attractive. But if it hoped this would cause Hochtief shares to fall back, enabling it to complete the takeover on the cheap, ACS was out of luck.
Hochtief has barely budged since then, and its elevation to the benchmark Euro Stoxx 600 index this month means it could attract yet more investment flows.
It's a similar story with Cimic, which trades at more than 24 times earnings, roughly double the typical valuation of Asia-Pacific construction companies.  
Hochtief's minority investors seems to be in a tug of war with ACS, betting they will be offered a rich takeover premium to enable a squeeze-out. Will they?
Buying out the free float at the current price would cost ACS about 2 billion euros before any premium. That's a stretch for ACS, though in theory it could fund the purchase with proceeds from the sale of its Urbaser environmental-services subsidiary.
Beside providing a neat conclusion to Perez's stewardship of ACS -- he has already anointed Hochtief CEO Marcelino Fernandez Verdes as his successor -- there aren't a lot of strong reasons for ACS to buy out the minorities right away.
So unless Hochtief decides to resume buybacks, there's a risk of a share price correction.
Minority holders have had a good run to this point. Now they should be wary of taking on Perez in a penalty shoot-out.
-- Gadfly's Elaine He contributed graphics.  
This column does not necessarily reflect the opinion of Bloomberg LP and its owners.
Last year ACS sold 500 million euros in bonds maturing in 2020 with a coupon of 2.875%. In 2014, Hochtief sold a similar amount of five-year bonds with a 2.625% coupon.
To contact the author of this story:
Chris Bryant in Frankfurt at cbryant32@bloomberg.net
To contact the editor responsible for this story:
Paul Sillitoe at psillitoe@bloomberg.net