Try figuring this one out.
Investors are desperate to lend to companies as long as they don't truly need their money.
For example, if a cash-flush borrower like Apple or Microsoft wants to issue bonds, investors will line up around the world to binge on as many of them as possible. That is because it's more appealing to own safe, low-yielding corporate credit than negative-yielding government debt in this time of ultralow rates.
But if a distressed borrower like Toys "R" Us or Sears asks for some cash, most investors will run far, far away, regardless of how much premium they are willing to pay.
This trend is illustrated by the growing divergence in bond sales so far in 2016. While U.S. investment-grade company bond sales are on track for the second-biggest annual volume ever, high-yield debt issuance is poised to be the smallest amount since 2009. Even May, which set a record for top-rated U.S. debt sales, was the slowest for junk-bond issuance for the month since 2012, according to data compiled by Bloomberg.
Diving a little deeper, it's clear that even risk-taking bond buyers are increasingly selective, as Bloomberg Intelligence credit analyst Noel Herbert pointed out last week. The lowest-rated junk bonds account for a shrinking proportion of new debt sales, and troubled companies are turning to unconventional financing options and filing for bankruptcy as a result.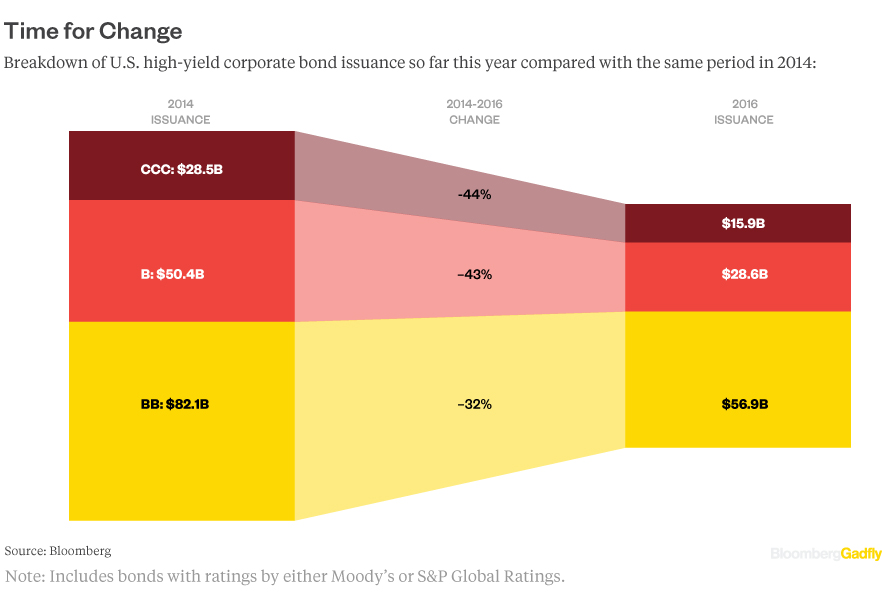 This is a particularly notable development because on the face of it, it's been a fantastic year for riskier credit. Dollar-denominated junk bonds have returned 8.1 percent, the most for a similar period since 2009. The riskiest of these notes have gained 15.9 percent.
This performance isn't a sign that everyone believes in corporate America. It simply shows that many investors are comfortable betting that last year's commodity-driven sell-off went too far. Junk-bond prices are rising from a bad spot last year, while investment-grade bonds have rallied from higher ground. 
Bond buyers want yield, but many are not willing to take bold risks as the credit cycle turns. While the biggest, richest companies are enjoying an embarrassment of riches, trouble is brewing among smaller and more-leveraged ones. Traders may win big this year by timing the latest junk-bond recovery, but they won't provide much of a net for falling stars, which are finding themselves with fewer and fewer benefactors.
This column does not necessarily reflect the opinion of Bloomberg LP and its owners.
To contact the authors of this story:
Lisa Abramowicz in New York at labramowicz@bloomberg.net
Rani Molla in New York at rmolla2@bloomberg.net
To contact the editor responsible for this story:
Daniel Niemi at dniemi1@bloomberg.net