A lot has been written and said about the problem of hedge funds crowding into the same stocks, often with, uh, interesting results.

But have you ever wondered what exchange-traded funds the 2-and-20 set likes to crowd into? Whoa, Nelly, it's even more, uh, interesting.
Before we start, it's important to note that the publicly available data on ETF ownership isn't complete because it's based only on large institutional investors required to report holdings. In short, it's a blurry look because it indicates the popularity of these products among hedge funds compared with other institutional investors required to report holdings, but not all investors.
 Anyway, here's what that blurry glimpse looks like: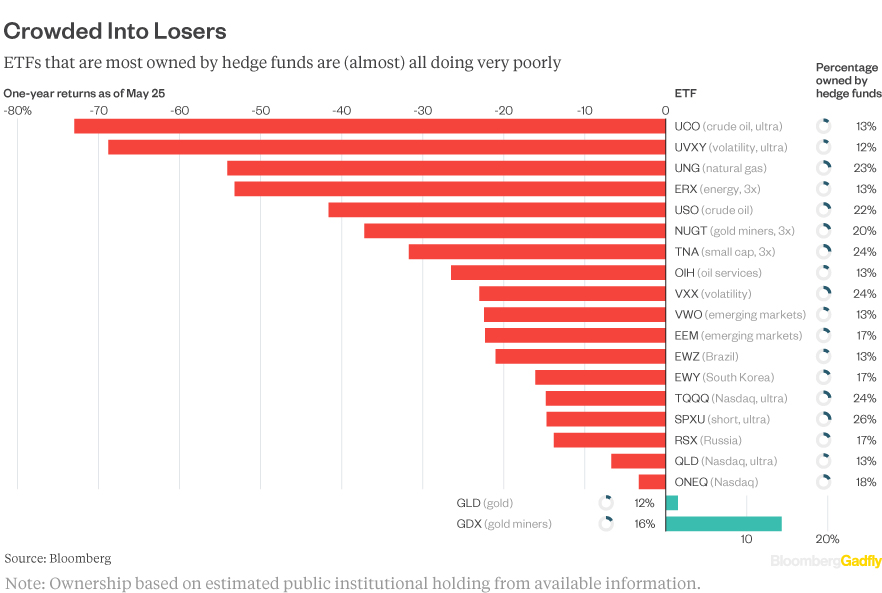 Of course, this chart tracks the most recent data on hedge-fund ownership versus trailing one-year returns, so it doesn't necessarily mean the managers have suffered all those losses on these holdings. Though it is sort of suspicious, isn't it? And the lineup of exchange-traded funds with the highest proportions of hedge-fund ownership at this time last year shares six of the names listed above and has a similar record: Only two of the 20 ETFs are positive in the past year. That's like a Ryan Howard batting average -- 2016 Ryan Howard, not 2006.  

There's an obvious reason funds are holding such large pieces of some of these losers: They're actually hedging. The SPXU is an "ultrashort" ETF that attempts to deliver three times the inverse of the daily performance of the S&P 500. The VXX and UVXY offer exposure (and double exposure) to short-term futures on the VIX volatility index, meaning their prices should also go up when the market declines. So maybe it's unfair to criticize hedge funds for crowding into these because it's akin to criticizing someone for stockpiling water when meteorologists are forecasting a drought. Though their performance during the bull market means it has been more like stockpiling water in buckets with holes in them: The plunging prices mean they have to keep refilling.
What's more notable are the ETFs that hedge funds are not crowding into. And by now you can probably guess which ones they are: the ones that have done well. On average, less than 2 percent of the reported holdings of the 20 best-performing big ETFs over the past year are currently owned by hedge funds: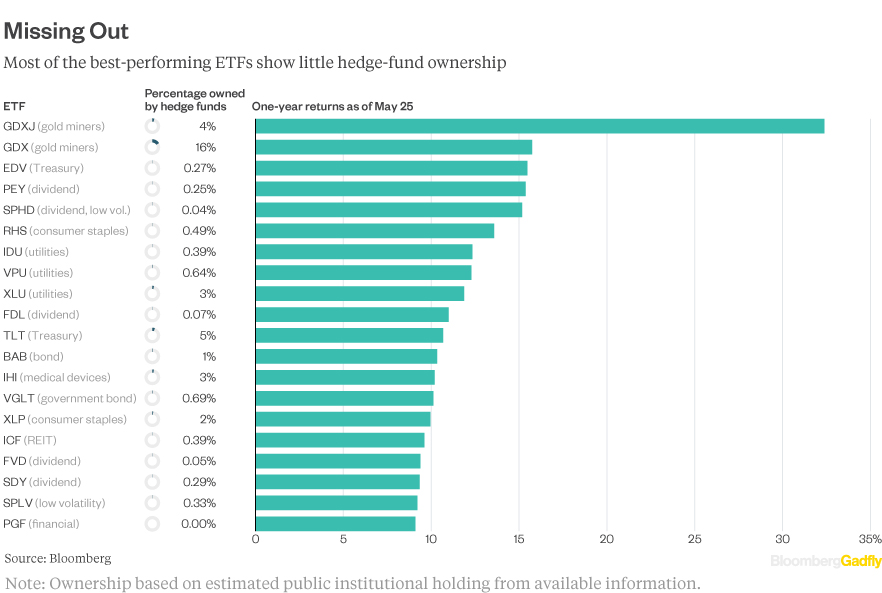 "Hedge funds use ETFs more as hedging tools than as directional investment vehicles," Goldman Sachs strategists including Ben Snider and David Kostin wrote in their latest review of the industry's trends based on regulatory filings. Hedge funds hold $133 billion worth of ETFs, compared with $1.8 trillion worth of gross exposure to single stocks. In other words, for every dollar hedge funds invest in ETFs, they have almost $13 in individual stocks. And 85 cents of that dollar is invested in short-ETF positions, according to Goldman. 
There are exceptions. Ray Dalio's Bridgewater Associates has loaded up on exchange-traded funds tracking emerging markets, and ETFs made up six of the top 10 positions in the firm's latest 13-F filing. But otherwise, hedge funds are not major combatants in the ETF revolution. While allocations to ETFs increased in the first quarter, they represented just 2.1 percent of long holdings compared with nearly 6 percent in 2009, according to Goldman. 

Why is this? My theory is that there's some sort of behavioral finance psychology at work. (Paging Dr. Kahneman.) Investing in ETFs probably just doesn't seem cool to hedge-fund managers. Or, more important, there may be a worry that investing in ETFs does not seem too cool to the people paying the 2 and 20. Imagine writing a monthly letter: "Dear Investor, last month we loaded up on the Vanguard ETF that tracks the utility sector!" It sounds more like something you'd hear from a financial adviser at the retirement home than a swashbuckling, stock-picking hedgie.  

Anyway, that one has returned 12 percent in the past year while the HFRX Global Hedge Fund Index has lost 8 percent. Wonder if Dr. Kahneman has any room on his couch? 

-- Gadfly's Elaine He contributed graphics and Bloomberg's Wendy Soong contributed data analysis.  
This column does not necessarily reflect the opinion of Bloomberg LP and its owners.
To contact the author of this story:
Michael P. Regan in New York at mregan12@bloomberg.net
To contact the editor responsible for this story:
Daniel Niemi at dniemi1@bloomberg.net