Hot shots of new media are like twentysomethings who live in their parents' basement.
Many of the popular digital news and entertainment newcomers like BuzzFeed, Fullscreen and Vice are backed or owned by some of the media dinosaurs they're trying to usurp. For example, Comcast's NBCUniversal or the company's venture-capital arm have invested hundreds of millions of dollars in BuzzFeed, Vox Media and Tastemade, a network of food-oriented websites. 
The interlocking relationships have obvious benefits for both old and new media companies -- and some risks. The old-guard companies such as Disney and Hearst, which publishes Cosmopolitan and the Houston Chronicle, want to have a hand in digital news and entertainment companies that draw younger people who are spending less time watching TV or reading newspapers than prior generations did. 
For their part, the young media companies need the money from old media, and in some cases benefit from their established owners' or investors' expertise in areas like advertising sales.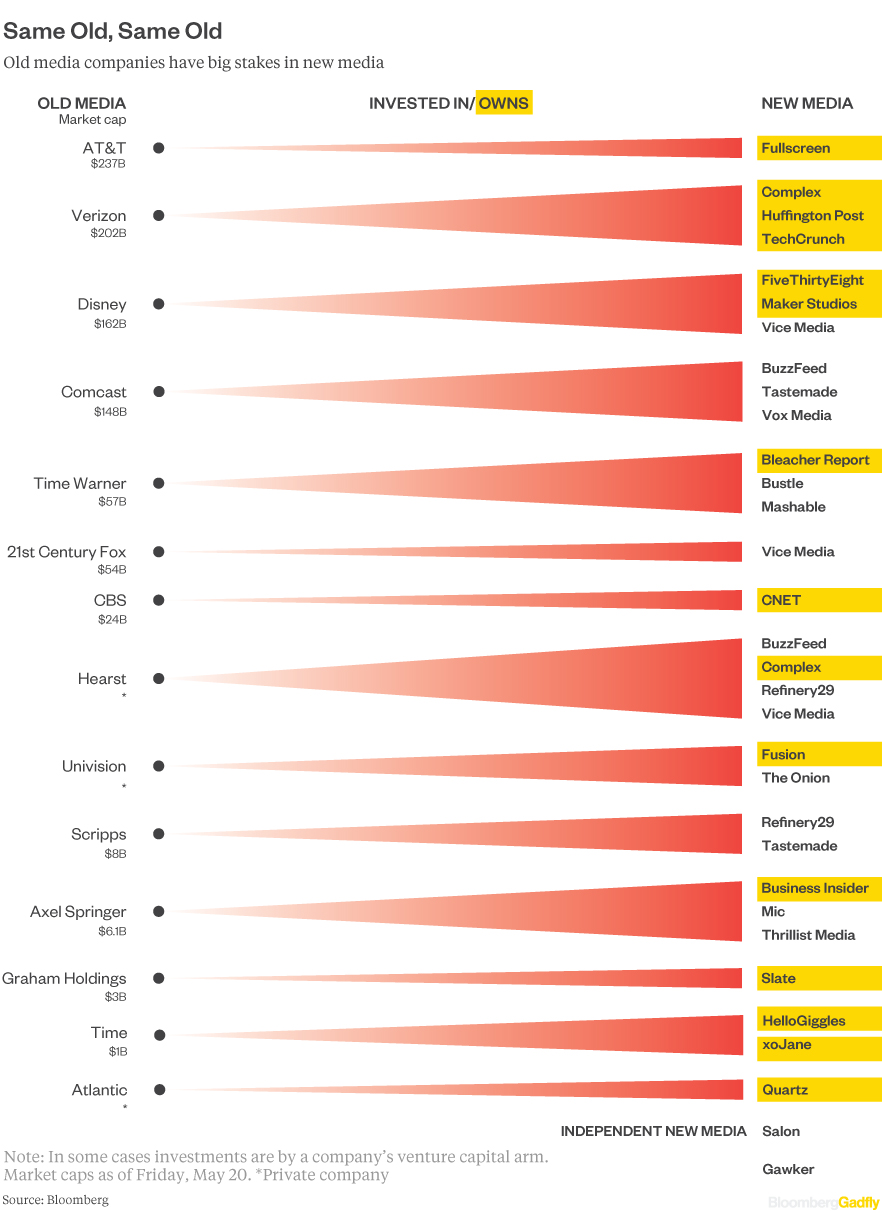 Investments also give the old guard an inside track to buy faster-growing digital properties. Verizon and Hearst, for example, agreed last month to buy Complex Media, a collection of websites about fashion, hip hop, entertainment and technology. Hearst had previously been among the investors in Complex.
There is also potential for awkwardness when upstarts are dependent on money from established companies they're trying to unseat. And the old guard could be wasting their money on new digital media companies if they don't pan out.
Tensions will undoubtedly arise when the upstarts start to test their parents' boundaries. For instance, Disney reportedly chafed at Fusion's publication of articles based on documents hacked from Sony's film studio in 2014. Disney agreed last month to sell its half of Fusion to Univision, the other owner of the millennial-focused news outlet. 
So like those twentysomethings and their parents, media companies will be grappling with the question of whether the arrangement is a phase or a permanent life-changing condition.  
This column does not necessarily reflect the opinion of Bloomberg LP and its owners.
To contact the authors of this story:
Rani Molla in New York at rmolla2@bloomberg.net
Shira Ovide in New York at sovide@bloomberg.net
To contact the editor responsible for this story:
Daniel Niemi at dniemi1@bloomberg.net