Boom periods often foster all kinds of financial mischief, which tends to be uncovered when bubbles deflate.  Anyone still in doubt about the severity of China's downturn need only look at the rapid pace at which corporate scandals are multiplying.
The white line in the chart below shows the number of stories about fraud in China, while the orange tracks economic expansion. Press reports on shenanigans typically rise roughly a year after growth starts to soften, and a similar pattern can be found in the U.S.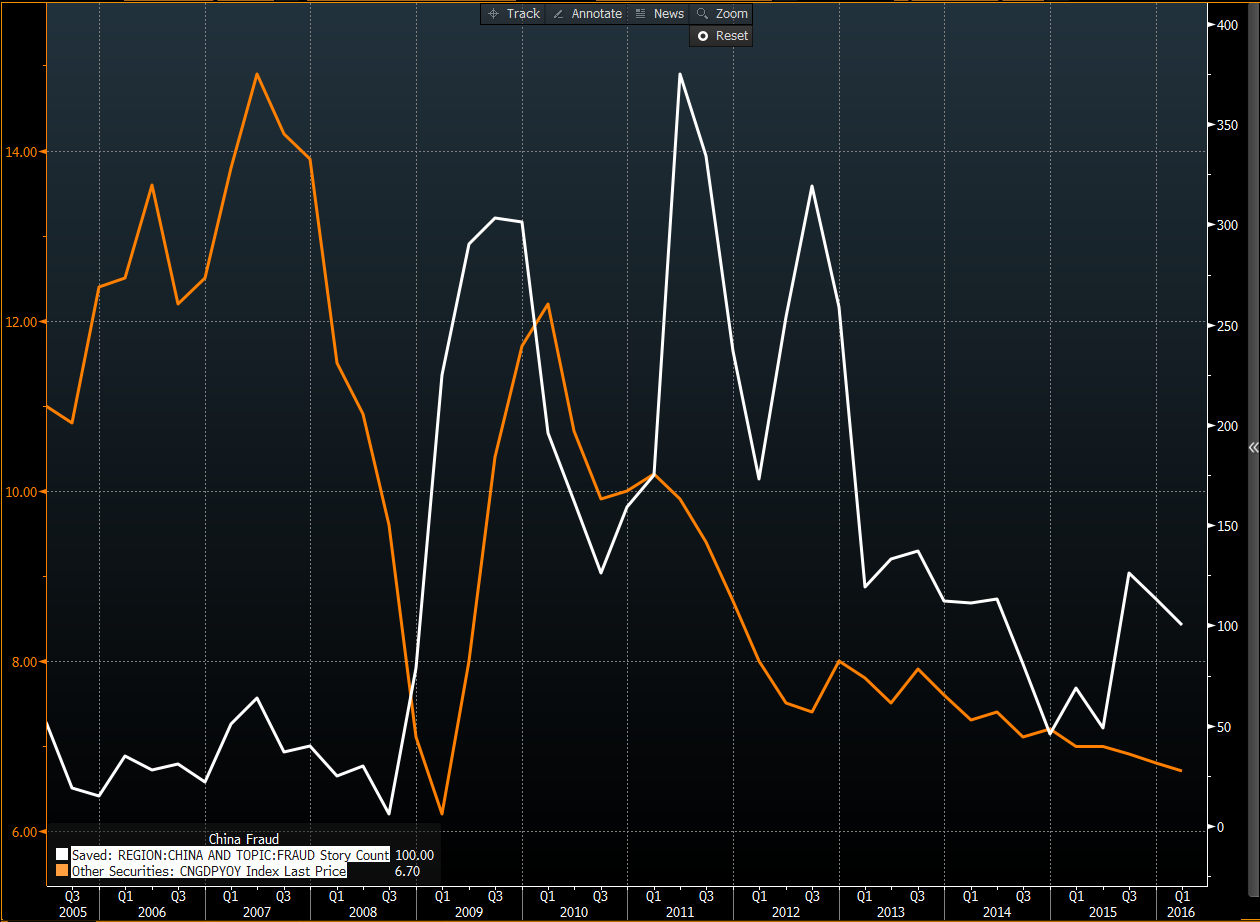 It's clear that China's latest expansion adjustment hasn't resulted in as many reports of fraud -- at least not yet.
Amber lights have been flashing for a while, though. Two years ago, Standard Chartered provisioned for $175 million after it transpired that stockpiles of commodities weren't as big as invoices initially suggested. The case, which was followed in quick succession by several smaller instances where creative ways had been used to get money out of China, had elements resembling the notorious 1963 salad oil swindle that caused huge losses to several U.S. financial firms.
American economist Hyman Minsky famously coined the stage where a company needs to borrow in order to keep paying interest as Ponzi finance, and noted that defaults often follow once liquidity tightens. In China, 2015 marked a record year for missed payments, and 2016 is on track to beat that.
This means China is ripe territory for short sellers, and those already invested should be reviewing their homework.
It isn't easy, but recent months have seen an increase in hedge funds sending analysts on undercover visits and the like. Are trucks leaving the factory? Do purportedly occupied apartments have laundry out the back? In a similar vein, companies that specialize in gathering on-the-ground intelligence are flourishing.
As China's economic downturn deepens, it will become harder to fireproof investments, which isn't to say money managers should abandon the country.
Asia's largest economy harbors a wealth of cheap companies with very promising futures, some of which will doubtless go on to become world leaders in their various industries. The CSI 300 Index, for example, which includes most of the nation's blue chips, trades at 12.4 times expected earnings, versus the S&P 500 at 16.5 times and the FTSE 100 at 17.5.
Even so, there's no way merely plugging numbers into a spreadsheet in New York or London is enough to sort the wheat from the chaff.
This column does not necessarily reflect the opinion of Bloomberg LP and its owners.
As Charles P. Kindleberger showed in his book, Manias, Panics, and Crashes: A History of Financial Crises.
To contact the author of this story:
Christopher Langner in Singapore at clangner@bloomberg.net
To contact the editor responsible for this story:
Katrina Nicholas at knicholas2@bloomberg.net