When Saudi Arabia nationalized its oil industry in 1980 , it marked the end of an era dominated by western majors such as Exxon, Chevron and BP. The proposed re-privatization of those same oilfields threatens to upend their world once again. 
Getting kicked out of the Middle East forced the majors to exploit other tourist traps, such as the North Sea. Like OPEC, they assumed the value of their reserves of this finite, critical commodity would, more or less, keep rising over time. So a barrel not produced today, even if it cost a lot to find or acquire, is effectively money in the bank. This is why the majors obsess over their reserves replacement ratio, measuring how many new barrels come in to replace the ones they pump out.
Now, the upcoming Saudi Aramco IPO raises one troubling possibility: That the assumption of endlessly rising reserve value may no longer hold true.
A flurry of paradigm-shifting announcements out of Saudi Arabia came soon after a speech in October by BP's chief economist. He posited that the shale boom undercut the notion of peak oil supply, while efforts to curb carbon emissions raised the possibility of peak demand.
Saudi Arabia's sudden desire to sell shares in its national champion and generally shift the entire economy away from its oil addiction suggests it at least entertains those possibilities. It also provides a rationale to maximize production at any price, rather than risk barrels being left worthless in the ground. Certainly, while near-term oil futures have rallied hard, the overall price level remains low compared to recent history. And longer-dated prices haven't recovered as quickly.
Faced with an all-out fight for market share and the possibility of this new oil order , Big Oil's single-minded obsession with replacing reserves looks obsolete -- and costly. The industry's splurge on new projects in high-cost businesses such as ultra-deepwater fields and Canadian oil sands during the last boom hammered profits and balance sheets, with even Exxon losing its triple-A credit rating.
Doug Terreson at Evercore ISI calculates that in 2005, Exxon, Chevron, Royal Dutch Shell, BP and Total collectively produced 16.6 million barrels of oil equivalent a day, had $15 billion of net debt and returned 22 percent on capital employed. By 2015, their output had actually slipped by 1.5 million barrels a day, but net debt had risen 10-fold and the return was just 7 percent.
That the majors are now borrowing heavily to maintain dividends isn't just a matter of pride. For shareholders, having seen hundreds of billions put into the ground only to see production fall and returns slump, those payouts are an insurance policy against money being squandered.
As in prior downturns, the majors are slashing spending. But if the world really has changed, that won't be enough.
For one thing, a large part of that cost-cutting has come from an old standby: squeezing suppliers. Compared to 2014, combined trailing revenue and net profit for the the big three oil-field services firms -- Schlumberger, Halliburton, and Baker Hughes -- have plunged by 37 and 70 percent, respectively, according to Bloomberg figures. They will try to claw some of that back as soon as project work picks up again. Moreover, squeeze too hard and the majors risk damaging their own supply chain.
A better approach for the majors, with increasingly complex projects having eroded profitability, lies in standardizing equipment and involving contractors at an earlier stage in planning, say Iván Martén and Sylvain Santamarta of the Boston Consulting Group. Those recommendations were echoed in a recent presentation by Paal Kibsgaard, chief executive of Schlumberger.
Meanwhile, presenting earlier this month, Chevron offered a grim assessment of how well an oil industry which prides itself on technical brilliance actually delivered in recent years:
Nationalization, and the arrival of new, state-backed competitors such as PetroChina, have pushed the majors into ever-more-challenging and expensive territories -- always predicated on those expectations of ever-higher demand and scarce supply. Question those, however, and multi-decade projects in places such as Canada or Russia look harder to justify.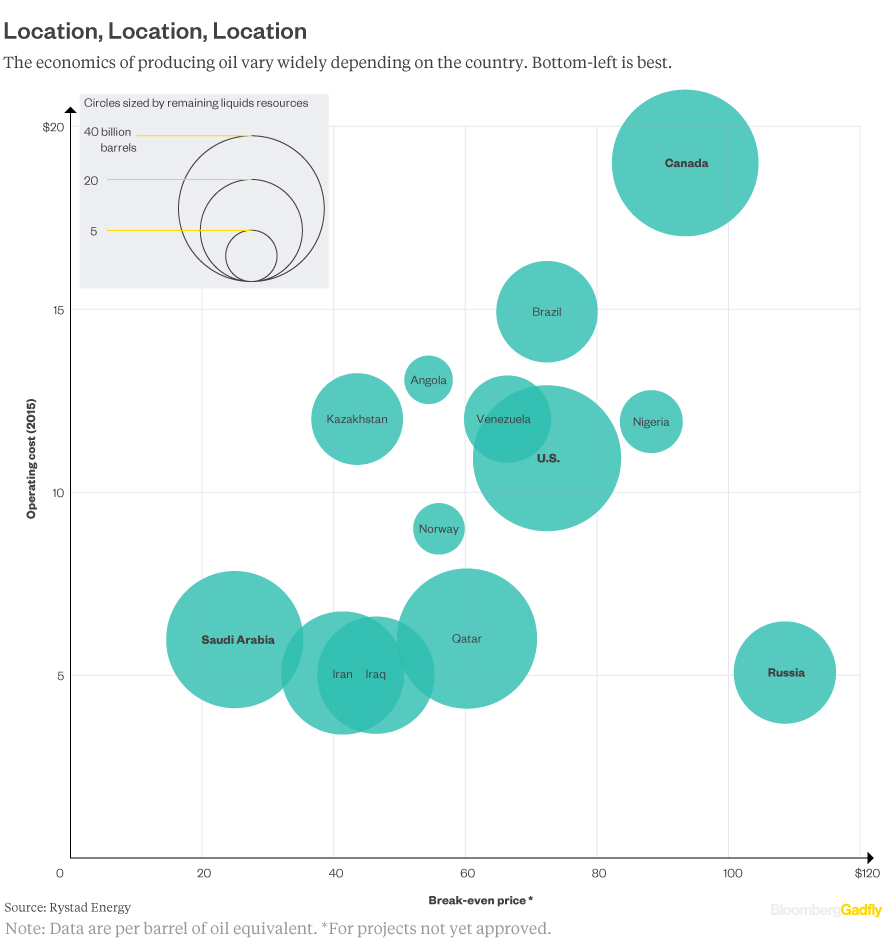 The majors have pulled back in some areas already, such as the Arctic and Canada's oil sands. Chevron, meanwhile, has emphasized greater exploitation of its U.S. shale assets, which aren't the cheapest in the world but can respond more quickly to oil prices and enjoy big gains in productivity. Curiously, the majors haven't yet pounced on U.S. shale producers to buy reserves at rock-bottom prices. If the oil rally holds, then they may have missed their best chance. Meanwhile, all are also pushing further into natural gas, although this too suffers from excess supply.
One intriguing possibility is that the majors might actually use lower-for-longer oil prices to regain access to some of those barrels beneath the Middle East. After all, if those governments need capital and want to maximize production, then they might be willing to cut a deal. And surely even Saudi Arabia might court foreign capital if it meant pulling those dollars away from arch-rival Iran?
The question is whether lower prices have softened resource nationalism enough for oil majors to cut good deals -- their current experience in Iraq hasn't provided much encouragement.
For now, it is hard to see Middle Eastern countries rolling out the red carpet and rolling back half a century of history.
But one way in which the majors could ingratiate themselves would be to tout their skills outside of just pumping oil. Saudi Arabia, for example, wants to use more crude oil to make higher-value products, rather than just export raw barrels. That could provide an opening for a company like Exxon, which made more profit from its giant chemicals business than oil production in the past four quarters.
A more radical approach to courting governments would be for the majors to forgo their traditional demand of booking reserves for the sake of that all-important replacement ratio. The majors don't like such arrangements partly because it relegates them to contractors rather than resource owners. Earlier versions, such as Iran's old "buyback" contracts, were inflexible and paid a pittance.
But if tough times motivate governments to offer sweeter terms, then the majors should consider them.
Because if a new oil order is indeed arriving, then the majors' priority has to shift decisively from growth to delivering reliable cash distributions to shareholders. And being able to produce and sell the lowest-cost barrels, even under long-term service contracts, may be a better guarantor of that than planting a multi-billion-dollar flag in the next wild frontier. 
-- "Location, Location, Location" graphic by Rani Molla
This column does not necessarily reflect the opinion of Bloomberg LP and its owners.
Strictly speaking, the nationalization of the Arab-American Oil Co. (Aramco) began in 1973, when the Saudi government bought a 25 percent stake, reaching full ownership in 1980. Even more strictly speaking, as Dan Yergin relates in "The Prize", the government didn't formally sign the agreement for the takeover until 1990, long after it had taken effect.

One possible effect of this new order, discussed here, is that Saudi Arabia's attempt to shift away from reliance on oil leads to social unrest and destabilization across the Middle East. In that scenario, expect another oil-price spike. Even that wouldn't be great for the industry's long-term future, though.
To contact the author of this story:
Liam Denning in San Francisco at ldenning1@bloomberg.net
To contact the editor responsible for this story:
Mark Gongloff at mgongloff1@bloomberg.net