Singapore Airlines has had a rotten week. Thanks to some downbeat annual results and the announcement of an underpowered alliance to maintain the foothold of its low-cost airline units, the shares have suffered their sharpest three-day drop since 2011.
Investors thinking this might a good time to short the stock should think twice.
U.S. equities markets were once believed to be backstopped by the "Greenspan put" -- the perception that former Federal Reserve Chairman Alan Greenspan would always cut rates if the Dow slipped too low, effectively giving investors a guaranteed floor through which their holdings could not drop.
Something similar appears to happen in relation to Singapore Air shares. Whenever the stock drops significantly, Chief Executive Officer Goh Choon Phong breaks out the buybacks: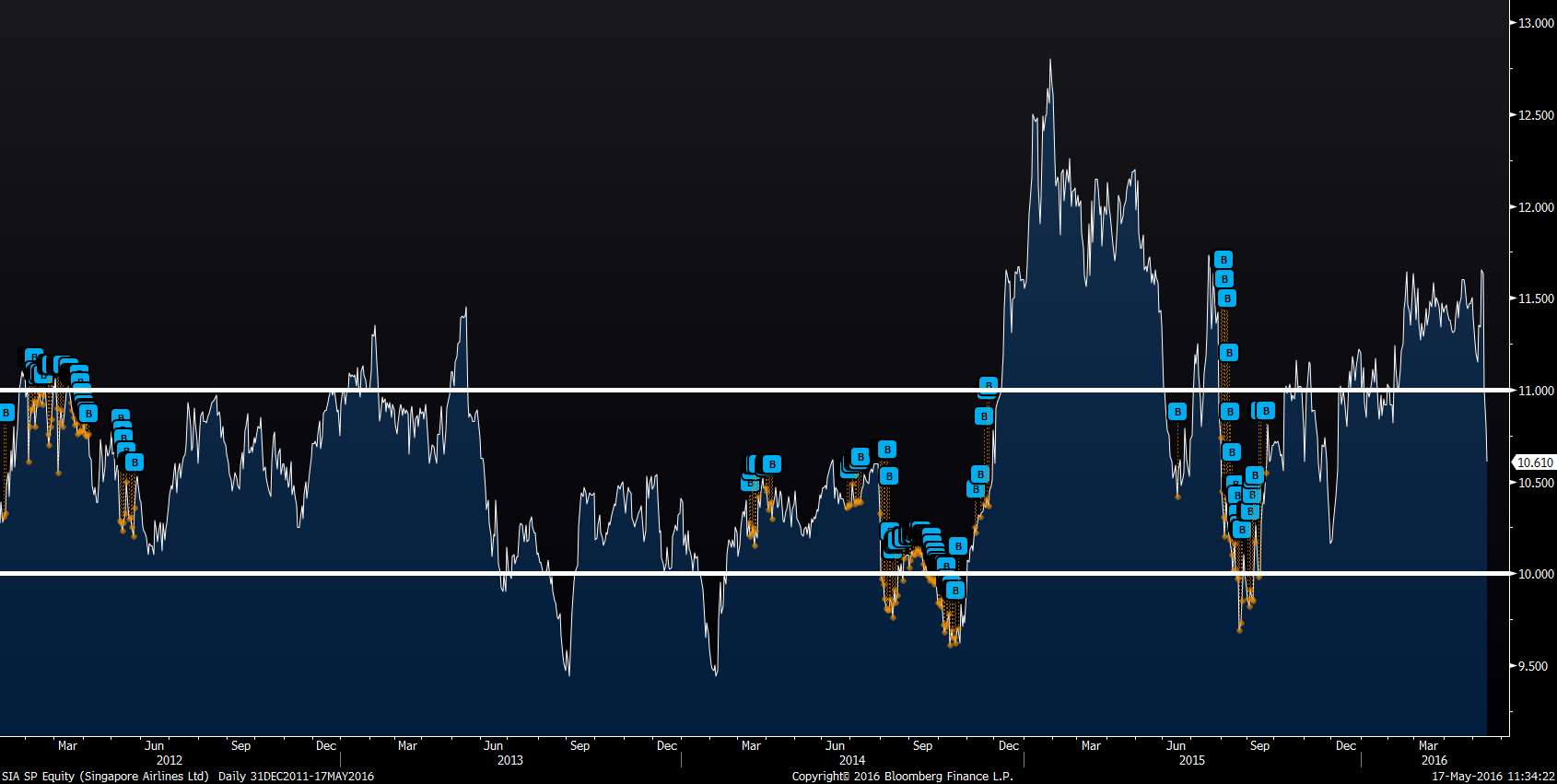 As you can see from the chart above, we are already well inside the S$10-to-S$11 territory where Goh's chief financial officer is likely to be firing up his spreadsheets to work out how much to spend.
The company has bought back about 49 million shares in 194 separate transactions over the past five years, according to data compiled by Bloomberg. That's equivalent to about S$519 million ($380 million) at today's prices, almost as much as the carrier spends on in-flight meals in a typical year.
There's nothing wrong with this activity per se.
The company has $2.34 billion of net cash, the second-largest pile in the industry after Japan Airlines' $2.92 billion. Buybacks have never been the most creative way to deploy capital, but repurchasing shares when they're looking cheap is still a better use of spare funds than leaving them in the bank at current interest rates.
Indeed, it's probably a comfort for shareholders to know that the company's balance sheet stands ready to protect them from some of the turbulence that causes other airlines' share prices to sometimes fall so dramatically.
Some buybacks are needed just to mop up the new shares that Singapore Air issues as part of its employee and executive bonus programs. Not quite this many, though: As of a month ago, there were about 31 million fewer shares outstanding than there were five years previously, Bloomberg data show, meaning the company as a whole had shrunk its share issuance by about 2.6 percent .
While some buybacks have been tiny -- as few as 1,000 shares on one day in November 2014 -- they've averaged about 250,000, equivalent to about 20 percent of mean daily trading volume. That's quite enough to move the market, and it's been sufficient to keep Singapore Air's shares from drifting much below S$10 during a savage period for the global airline industry.
Not many investors short Singapore Air -- just 0.3 percent of the float at present, according to data compiled by Bloomberg -- but the volume rose Friday to its second-highest level since at least 2013. Traders who made that play should consider taking profits. There'll be a big buyer coming round the corner any minute.
This column does not necessarily reflect the opinion of Bloomberg LP and its owners.
To contact the author of this story:
David Fickling in Sydney at dfickling@bloomberg.net
To contact the editor responsible for this story:
Matthew Brooker at mbrooker1@bloomberg.net