A French Billonaire Reveals His Hand
Comments on Havas tie-up throw light on plans
By
It's official: Vivendi is Vincent Bollore's family fiefdom. Shareholders can come along for the ride, but they must accept the risk that the chairman -- and largest holder with a 14 percent stake -- puts his interests before theirs.
The Breton billionaire installed his 36-year-old son Yannick on Vivendi's board last week, and in a rare newspaper interview on Tuesday openly evoked bringing Havas, his ad agency, into the Vivendi fold. Yannick's already CEO of Havas.
Let's be honest. Such a deal would make little strategic sense and risks returning Vivendi to the bad old days of being a conglomerate of disparate assets trading at a discount to their value. But it would complete something Bollore has long desired, though previously denied in public: to create a European media powerhouse to hand over to the family.
It all looks like part of a wider plan to bequeath the two sides of the Bollore empire when Vincent retires in 2022. 
Bollore Group, the ports and logistics company he built from the ruins of his father's paper company in Brittany, is in decent shape (even if the oil price slump has knocked 40 percent off its shares in the past year). But Vivendi and Havas, the media bit, remains a work in progress.
Way back in August 2012, just before Bollore closed the sale of two free-to-air TV channels to Vivendi that left him with a 4.4 percent stake, a longtime lieutenant laid out this plan in a newspaper interview. "Since he has a dynastic vision, he is preparing his exit… he wants to leave communications to Yannick and energy to Cedric," French ad man Jacques Seguela told La Tribune, referring to two sons. "His desire is to rebuild the grand Havas."
The pieces on the chess board are advancing. Vincent told Les Echos today: "It's obvious that one day there will be something between Vivendi and Havas," adding that nothing was in the works yet.
For investors, though, his comments are the latest sign that Vivendi's not a normal company with a coherent strategy, rather it's a kind of Bollore-run special acquisition vehicle sitting on 4.8 billion euros ($5.4 billion) in net cash.
The official line since Bollore and his predecessor took Vivendi out of telecoms by selling three operators is that it wants to be a European media powerhouse to compete with Netflix and Rupert Murdoch's Sky. In reality, it consists of two largely unrelated businesses: the world's biggest record label Universal Music Group and French pay-TV provider Canal Plus.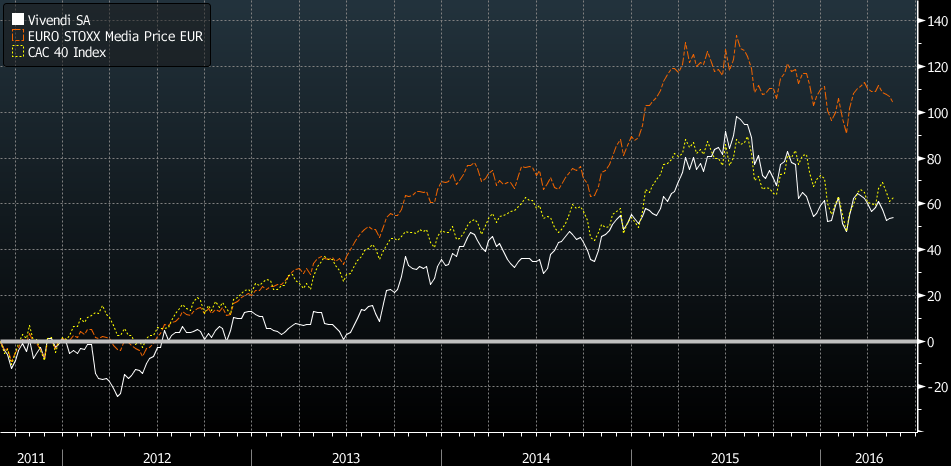 Vivendi has also spent 3 billion euros on an almost 25 percent stake in Telecom Italia, with the rather flimsy justification that it will help distribute its content. It's bought minority stakes in French video games companies Ubisoft and Gameloft, against the will of their founding families. (It did this despite previously selling out of the best video games company on the planet, Activision Blizzard, the wisdom of which is called into question by this excellent Bloomberg News piece.)
Oh, and recently it spent 159 million euros on a 15 percent stake in FNAC, a French electronics and media chain store. So maybe the vision is a vertically integrated media something or other? 
Shareholders have tended to back Bollore, who's delivered in the past. But this time with Vivendi it's all been a bit "meh," with returns under his regime trailing the European media average. Regardless, sticking Havas on to Vivendi would surely result in one thing. The family grip would be even tighter. With Bollore Pere going public, investors can't claim ignorance.
To contact the author of this story:
Leila Abboud in Paris at labboud@bloomberg.net
To contact the editor responsible for this story:
James Boxell at jboxell@bloomberg.net
Before it's here, it's on the Bloomberg Terminal.
LEARN MORE