Singapore Airlines has an enviable reputation. Loyal passengers pay a premium to fly on its spanking new planes, despite grumbles about its clunky website and stingy frequent-flier program. Its shares trade on the highest valuation of any of the big carriers with at least $10 billion in annual sales.
No one even appears to mind that, in 2016, it still seems to be getting marketing advice from Don Draper by mooning over the fragrant charms of the Singapore Girl: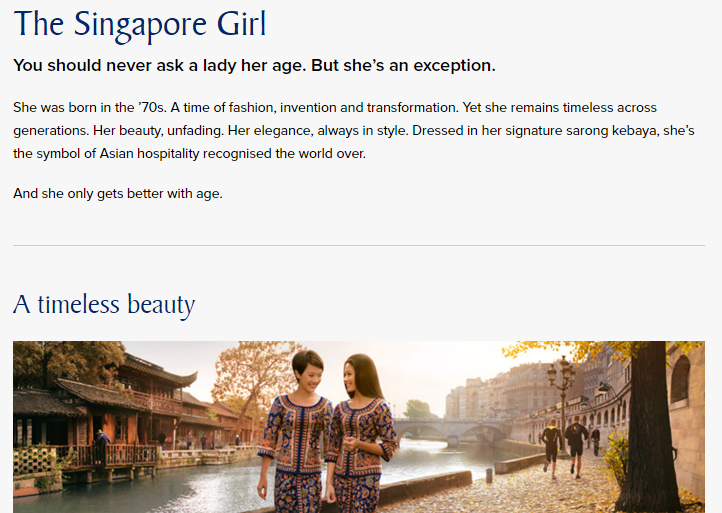 While it's all very well being the belle of the ball, sooner or later you need to take someone's hand and dance. Chief Executive Officer Goh Choon Phong doesn't have time to be a wallflower.
Net income in the fourth quarter through March came in about 10 percent below analyst estimates and yield -- a measure of revenues per passenger, per kilometer -- fell to its lowest level since 2006. Ticket prices are under pressure as Gulf carriers expand their footprint in Asia, while Chinese airlines that don't hedge their jet-fuel purchases have taken advantage of falling oil prices to up their game.
After years spent hoping the threat from the big three Gulf carriers will go away, almost all of Singapore Air's regional rivals have decided that if they can't beat them, they'll join them. Qantas finally paired with Emirates in 2012, a path Malaysia Air followed in 2015 when it inked a code-share deal that covers more than 90 locations. Cathay Pacific and Japan Airlines both have code-shares with Qatar Airways via the OneWorld alliance, while All Nippon and Air New Zealand are in bed with Etihad.
Such alliances have significant advantages. Getting passengers to change planes in a hub city maximizes the odds that aircraft will be flying close to capacity, which improves profits and makes it easier to serve a wide range of destinations more frequently. People flying from Southeast Asia to Rome must travel on Tuesday, Friday or Sunday if they want to take one of Singapore Air's direct flights. On Malaysia Air's codeshare with Emirates, they can go any day of the week.
Goh is moving in the right direction. A planned revenue-sharing alliance with Lufthansa should allow him to get passengers to a wider range of European cities without funneling them through the cattle-yard-like hub airports used by the Gulf carriers. A tie-up with Air France that La Tribune reported last month (without saying where it got the information) would be even better.
Singapore Air, like Singapore itself, is a remarkable testament to what can be achieved by carving out a place in the world on one's own. Even so, the city-state has been working for years to project a more welcoming image, opening arts centers and casinos to turn itself into a major destination for Chinese tourists.
Singapore Air should heed that achievement. Staying aloof from the chaos of the dance floor is all very well, but you don't want to be left without a partner at the end of the night.
This column does not necessarily reflect the opinion of Bloomberg LP and its owners.
To contact the author of this story:
David Fickling in Sydney at dfickling@bloomberg.net
To contact the editor responsible for this story:
Katrina Nicholas at knicholas2@bloomberg.net