The music industry's biggest powers are in open war with YouTube. If they lose, the record labels can in part blame their own greed and mistakes that wiped out nearly all potential allies in the battle with Google.
More than half of Internet users in the U.S. listen to music on YouTube -- by far the most popular access point -- but YouTube is responsible for only 4 percent of revenue to the industry, according to a music industry trade group. The biggest record labels say Google should pay more, and they want more control over music that is responsible for what Bernstein Research estimated is one-quarter of all YouTube videos watched . 
Google pays the record labels a share of the advertising revenue it makes on a YouTube page when someone listens to a song. The company has said those payments amounted to $3 billion over the years to a music industry that badly needs the cash. Google also trumpets its unique ability to expose new and old music to YouTube's 1 billion monthly users. But unlike most other digital music services, YouTube doesn't pay a fee to the record labels for each song played. The labels estimate that streaming-music services such as Spotify pay them five to seven times more money each time a song is played.  
Although Google and the music labels have made this a debate over fairness and high-minded principle, it's really a fight about money and power between two rich adversaries. That doesn't change the stakes on the labels' side: The music companies believe this is a life-or-death battle -- Napster War II. They worry that YouTube's size, cost advantage and huge library of free material will eventually strangle all other digital music options. And that would mean the slow sales growth of late won't turn into the full industry recovery on which many investors are betting.
 Unfortunately, the record labels are guilty of giving themselves little chance to win. And their sudden concern for the health of the streaming companies is a bit disingenuous given their track record.
After the panic sparked by Napster 15 years ago, the record labels squeezed to death nearly every upstart that wanted to become a Tower Records for the digital age. In contracts to license their music to Rhapsody, Musicbank, eMusic and other emerging Web music services, the record labels negotiated the rights to 60 to 70 cents of each dollar in music sales.
It was a reasonable split in the days of physical music retailers, but it left little room for young Web music services to invest in new technology and still turn a profit. And for the most part, they didn't. Out of the 175 digital music startups launched since 1997, all but nine sold at or near a loss or died, according to data compiled by David Pakman, a technology investor who was a longtime digital music executive. Spotify has said it pays about 70 percent of its revenue to the music labels, too, and reportedly the company doesn't turn a profit.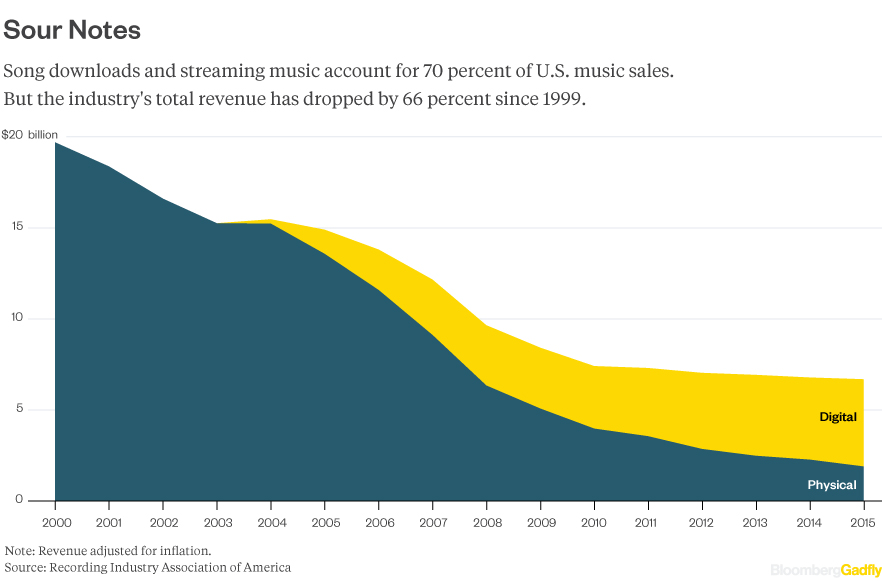 With the field of digital music options down to a handful, the record labels have little leverage over who is left standing -- the powerful tech companies including Google, Apple and Amazon that can subsidize music as a way to make their core businesses more attractive.
It's no coincidence that there has recently been a flurry of news articles and opinion pieces about how YouTube is crushing the music business; the major labels are set to renegotiate their contract with Google. The labels now want YouTube to pay them per song, as do other music services. And they want to control which of their songs are available widely on YouTube and which ones are restricted to people who pay for YouTube's subscription video service. 
Most of all, the record labels are trying to shift music listening away from YouTube, Pandora and other free, ad-supported outlets akin to radio and toward paid subscription options such as those offered by Apple Music and Spotify . 
Behind the labels' anti-Google publicity blitz lurks an uncomfortable truth: Music labels are schizophrenic about YouTube. Their A&R departments responsible for discovering and promoting musicians have long loved YouTube as the ultimate shop window and marketing tool. Meanwhile, the music labels' money guys see YouTube as something that needs to tamed and turned into more profits.
The music industry now makes a majority of its revenue from digital sources, but industry sales are a fraction of what they were in the peak year of CD sales in 1999. It's understandable, then, that the labels are trying to use YouTube negotiations to lock more music behind pay walls in the hope for more revenue. But they also must recognize their own mixed feelings about YouTube and deal with their complicity in making Google into one of the few remaining music outlets. 
This column does not necessarily reflect the opinion of Bloomberg LP and its owners.
To contact the authors of this story:
Shira Ovide in New York at sovide@bloomberg.net
Leila Abboud in Paris at labboud@bloomberg.net
To contact the editor responsible for this story:
Daniel Niemi at dniemi1@bloomberg.net