One nation is splitting the winners from the losers among emerging-markets investors this year: Brazil.
Fund managers who swallowed their fears about the nation's financial depression and political chaos and wagered on Brazilian stocks, bonds and currency heading into 2016 had a good chance of performing better than their peers. If they chose to stay away, then they most likely delivered disappointing returns.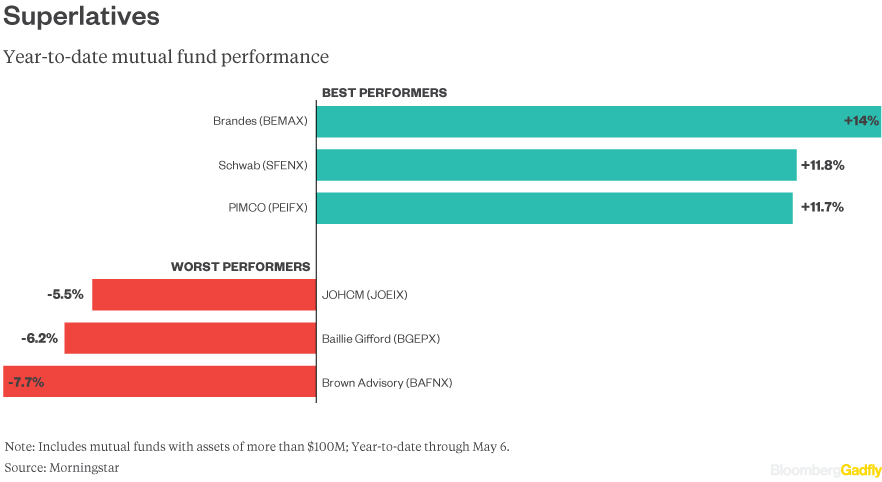 Consider, for example, the $1 billion Brandes Emerging Markets Value Fund, which has performed better than 99 percent of comparable funds so far this year, according to data compiled by Bloomberg. An estimated 22 percent of its holdings are tied to Brazil's fate, which is the fund's biggest concentration of single country risk, according to Bloomberg data based on the most recent filings. The South American country also weighs heavily in other leading mutual funds, while the laggards had smaller allocations to the nation heading into 2016. The Brown Advisory Emerging Markets Small-Cap Fund, for example, has lost 7.7 percent this year, with none of its money allocated  to Brazil as of its latest filings, while the $1.2 billion Baillie Gifford Emerging Markets Fund has fallen more than 6 percent year to date with about 2.5 percent of its assets tied to Brazil, according to data compiled by Bloomberg.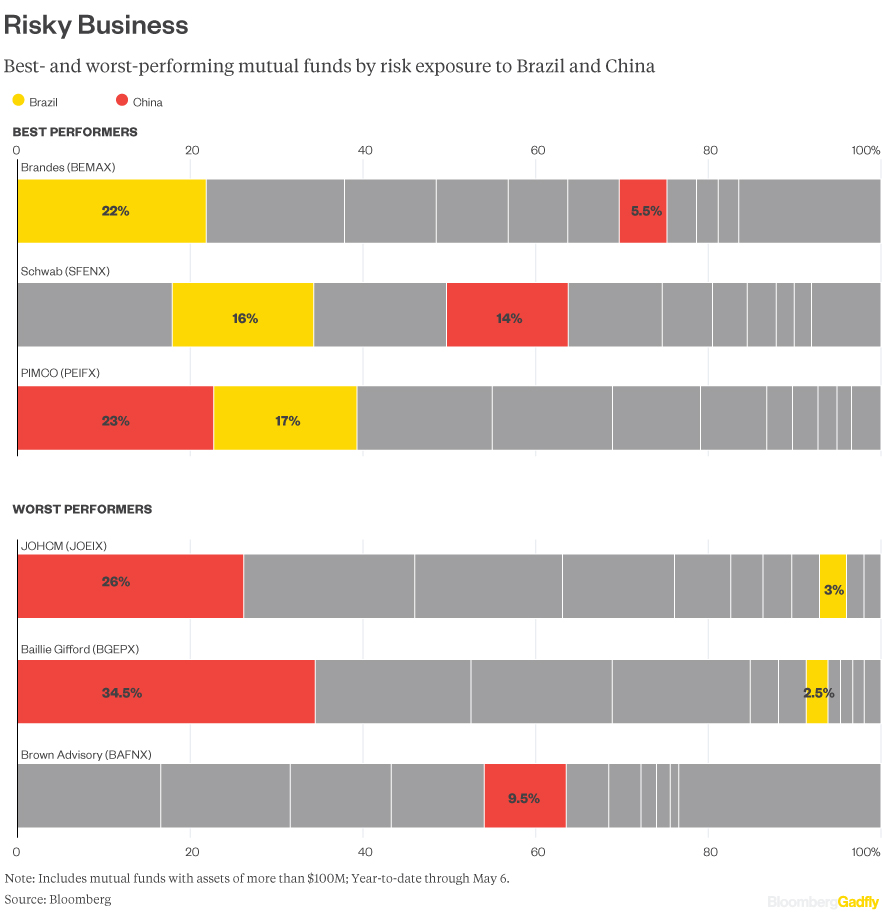 While these funds clearly had other wagers that determined their performance, Brazil was the standout common denominator. For example, while China is another big wager in many portfolios, it accounts for a big chunk of assets in both the outperforming funds and the underperformers. 
The question is, can these winning fund managers get out of Brazil in time to avoid a cooling off of this year's Brazilian market boom? Its assets are still fragile, especially considering that President Dilma Rousseff faces impeachment and the nation has yet to deal with holes in its fiscal budget. A bout of lawmaker wrangling this week threw Brazilian markets into a tizzy, highlighting the fragility of this year's tremendous rally. After all, stocks have gained almost 20 percent since the end of last year, and its government bonds have delivered a 15.4 percent return, even though the economic picture is still cloudy at best.
Perhaps the winners over the next six months are the ones who decide to bail on Brazil now for a new unlikely candidate.
This column does not necessarily reflect the opinion of Bloomberg LP and its owners.
To contact the authors of this story:
Lisa Abramowicz in New York at labramowicz@bloomberg.net
Rani Molla in New York at rmolla2@bloomberg.net
To contact the editor responsible for this story:
Daniel Niemi at dniemi1@bloomberg.net