In many countries, financial analysis is a confusing mass of speculation, ill-informed opinion and logical fallacies. Some commentators argue the world is heading toward a bright future, while others say we're on the brink of crisis.
Such a clash of opinions is all very well, but when 100 flowers are blooming and 100 schools of thought contending for supremacy, it can be difficult to know who to believe.
China rejects this disorderly approach, according to a report Wednesday in the Wall Street Journal:
Securities regulators, media censors and other government officials have issued verbal warnings to commentators whose public remarks on the economy are out of step with the government's upbeat statements, according to government officials and commentators with knowledge of the matter.
Gadfly welcomes the opportunity to discuss China in this constructive spirit.
Timid overseas analysts express doubts that their countries will be able to pay their debts. There are no such concerns in China, where total loans outstanding have been growing at double-digit rates since 2002.
Lenders are feeling so confident that they've advanced an additional 6.59 trillion yuan ($1 trillion) of new finance since the start of the year, up 42 percent from the first quarter of 2015. China Zheshang Bank, which listed on the Hong Kong exchange in March, has seen its total assets surge 50 percent since the end of 2014, according to Gadfly's Nisha Gopalan.
China's non-financial corporate sector now owes debt equivalent to more than 175 percent of GDP, the Institute of International Finance wrote this week -- more than double the mature market average of 87 percent.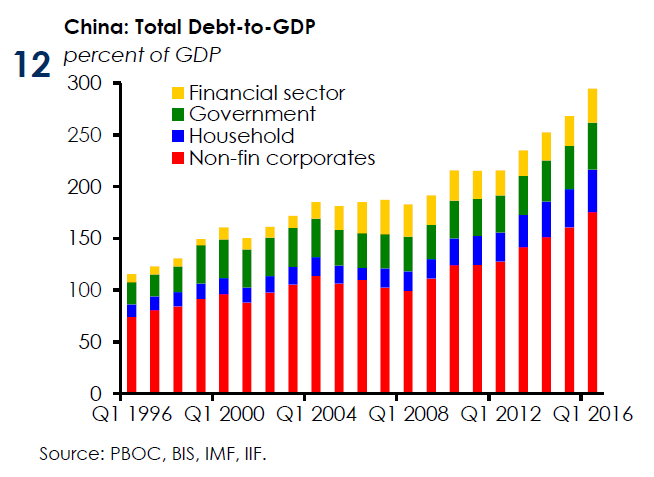 Professional cynics may see such credit expansion as rash, given an economy that even official indicators suggest is growing at the equal-second slowest rate since at least 1992. They may even question whether that growth is now coming from sustainable improvements in productivity, or from a credit bubble. 
Such skepticism surely is unfounded. The growth in lending is a reflection of the market's resolute faith in China's prospects. This is shared by banks like Zheshang; the life insurers offering wealth management products; online payments companies like Alibaba's $60 billion Ant Financial affiliate; and the peer-to-peer lenders that have at least 388 billion yuan in loans outstanding, according to industry news site WangDaiZhiJia.
There's no connection between orders to remove social finance companies from street fronts and the perceived risk of social unrest, after almost 1,000 online lenders collapsed over the past year. Nor should you lose sleep if a state-linked asset manager is suspended from issuing new products because of ``Ponzi scheme'' risks. This is just prudent management of a nascent industry.

It's Not Good to Have Just One Factory
Penny-pinching economies regard overcapacity as a problem. They see factories running at rates below about 80 percent of maximum output as risking losses. 
This miserly philosophy doesn't apply in China. Businesses that are aligned with the government's targets can expect robust growth, as solar equipment maker Hanergy Thin Film Power argued in the years before its shares were suspended and it posted an annual loss more than four times its revenue.
Subsectors of the country's chemicals industry were running at a median operating rate of about 50 percent in February, while LNG was at 46 percent, according to Christopher Balding, a professor of economics at HSBC business school in Shenzhen and a Bloomberg View contributor.
Weaker economies tremble if they face glutted markets. When capacity utilization in oil refineries falls, they may fear demand for petroleum products is on the wane, or that billions may have been wasted building vast networks of processing plants. China knows no such defeatism. While utilization at its refineries is running below 75 percent, that's nothing special: Returns on assets have fallen in almost every industry in China over the past three years, Gadfly wrote last week.
There is always a way ahead for the strong-willed and stout of heart. In steel, if China's economy can't digest the industry's output (which the second-biggest producer reckons may shrink 20 percent), it will make metal for the world instead.
Doomsayers get excited about the estimated $1 trillion in capital that flowed out of China during 2015. There's been $279 billion in outbound M&A from China over the past 12 months, accompanied by a tendency to overpay for acquisitions and anomalies in trade invoicing that look to some like attempts to evade capital controls.
Previously obscure businesses such as Anbang Insurance and HNA Group have become meal tickets for M&A bankers around the world.
The temptation to see this as a rush for the exits by businesses and individuals should be resisted. Chinese capital is simply embracing the world economy, in line with President Xi Jinping's One Belt, One Road policy.
Once such incorrect thoughts have been exorcised, it's clear that all the indicators are admirably predictable and consistent in their message: There is a bright future in China's dreaming.
This column does not necessarily reflect the opinion of Bloomberg LP and its owners.
(Adds reference to Ponzi scheme risks in 10th paragraph. An earlier version of this column was corrected to fix the color-coding label on the capacity utilization chart.)
To contact the author of this story:
David Fickling in Sydney at dfickling@bloomberg.net
To contact the editor responsible for this story:
Matthew Brooker at mbrooker1@bloomberg.net